Crossing by Totem Creative
We caught a screening of Crossing at Anifest India 2019, where it was competing in the indie short films category and found the beautiful black and white visuals quite refreshing. Crossing is that rare animated 'thriller' that has been produced by Totem Creative, an animation production house currently based in Mumbai, India - producing and directing animation content, stories, ad-films, promos and other animated video content. We tracked down their founding partners (and recently turned life partners) Nikita Prabhudesai and Arvind Jeena to tell us more about their company and the film.
AG: Tell us a bit about Totem and your individual backgrounds.
Totem: We both graduated from MIT Institute of Design in Animation Film Making. Arvind has worked at Glitch as an animator, and later worked as a freelancing animator for various brands. I (Nikhita) worked with Regh Animation and Design as a pre-production artist and then as a freelancing pre-production artist. With commercial work, we wanted to have more creative control on the projects we took up and team up with equally motivated fellow artists. Moreover, since we both wanted to make films in the near future and didn't see many Indian studios creating original content at that time, we decided to start on our own with 'Totem'.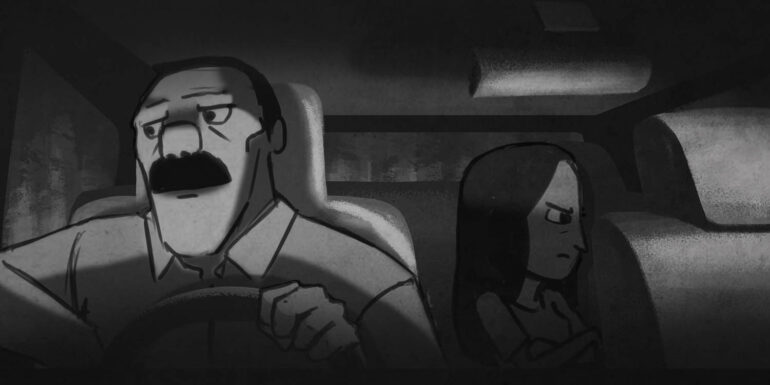 AG: Tell us a bit about Crossing. Is this your first independent film?
Totem: Well, kind of! 'Paperplanes' is actually our first, but since it's still in production, I guess 'Crossing' is our first independent short film to come out. Going forward with making our own films, we knew we wanted to experiment with more genres and stories not limited to a particular age group. We decided to go with the horror/thriller genre, and wrote the script for 'Crossing' early in 2019. You don't see many thrillers, horror films in animation, certainly not in India. This is what excited us the most! Gaurav, one of the people interning with us at the time wanted to strengthen his 2D animation skills. We thought animating 'Crossing' would be the perfect starting point for him. With a little bit of help and guidance from Arvind and me (Nikhita), Gaurav pretty much single- handedly storyboarded, designed and animated the film. I worked on the visual development building on Gaurav's initial attempts and our pre-production artist Apeksha helped with the backgrounds. The film took about 7 months to complete from script to screen.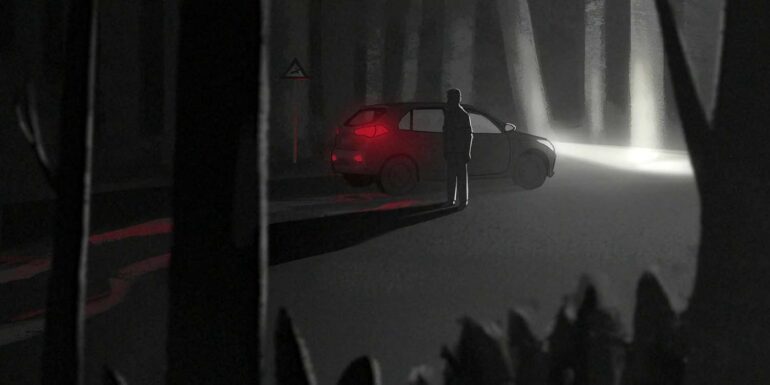 AG: How did you conceive the idea behind it? The story is very unique, is there a personal anecdote that inspired it?
Totem: At the end of 2018, we wanted to write a story that explored the horror/thriller genre that we could produce in the new year, along with Paperplanes. But like all the horror films we enjoy, we didn't want to make a film full of jump-scares, rather see a story where the characters go through psychological and emotional change with the element of horror serving as just a device. There isn't any personal anecdote actually. I (Nikhita) have always had a very strong and close relationship with my father, as most daughters do; but I thought of writing a story where a parent and child don't have that - the bonds that keeps us emotionally stable and happy. As we kept developing the script, the story became less of a horror movie and more of a drama; but we were liking how it was going and decided to keep the characters as the soul of the film. The story is entirely fictional, with no resemblance to any living person. However, I think when we write stories, we always tend to bring in a part of ourselves and the people in our lives into the characters.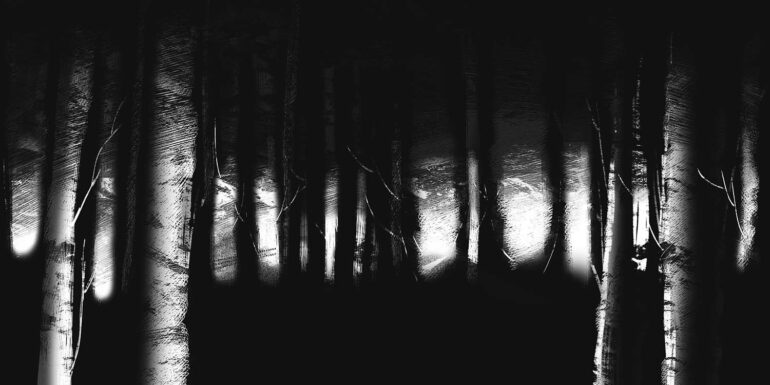 AG: Tell us about your process of visual development - what made you go black and white?
Totem: After we locked on the script, we started the storyboarding process. It took about 1-2 months just to lock the animatic, because there was a lot of back and forth with the direction and story. We were constantly taking feedback from friends and fellow filmmakers. It needed to be crisp and hit a chord at some level with the audience. As for the visual style, we thought going BnW would keep the mood grim and keep focus on the story. We used hints of red to subtly highlight some aspects of the shots. The challenge was to get great lighting that brought in the chills and give the spooky eerie feeling that we wanted the audience to feel.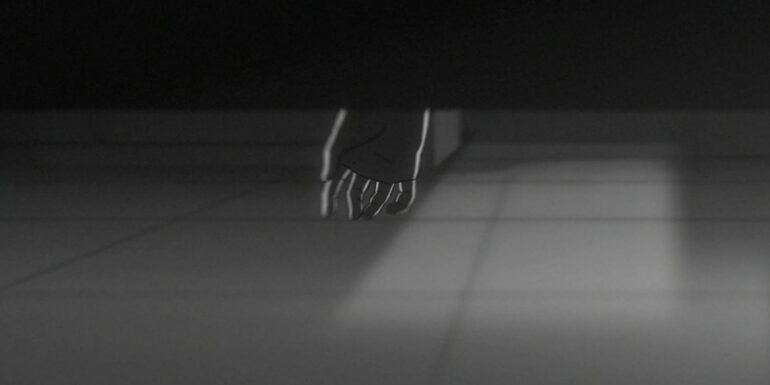 AG: Tell us about some of the challenges faced by you trying to create an indie film alongside running a commercial studio.
Totem: Creating over 6 minutes of hand-drawn animation with just 4 people is borderline madness! The biggest challenge for us was time-management and funding. I'm sure you've heard this from any studio trying to do independent work. We had saved up some money from the commercial projects completed in 2018 to fund this film. Gaurav (who we mentioned earlier) was working with us as an animation intern. Technically he had a lot of challenges in the beginning. He had a long way to go with his drawing, storyboarding and animation, but with constant feedback and some help, he quickly levelled up. Even for us as directors, we had to constantly switch between working on 'Crossing' and managing other clients, ideating and producing commercial work, as well as all the mundane administrative tasks that are mandatory for a studio.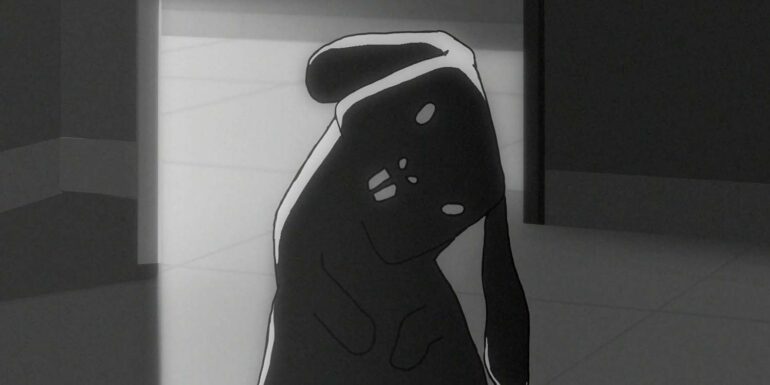 AG: What type of a response has the film generated its viewers?
Totem: It's been very rewarding! The film is getting a really good response at Indian and International festivals. It's difficult to tell audience responses unless you are at the festival yourself. When the film screened at Anifest this year, we got a general idea that the audience enjoyed the film and had their own interpretation of the events in the film. Since the festivals are only limited to some audiences, we decided to release it publicly on 12th November on our Youtube content channel - TotemPlay. TotemPlay is dedicated to quality independent animation content from Totem. The plan is to create and release all our short films, animated experiments and web show pilots for public viewing. That way, we hope that our films can reach more people and there can be more of an audience for independent Indian animated shorts.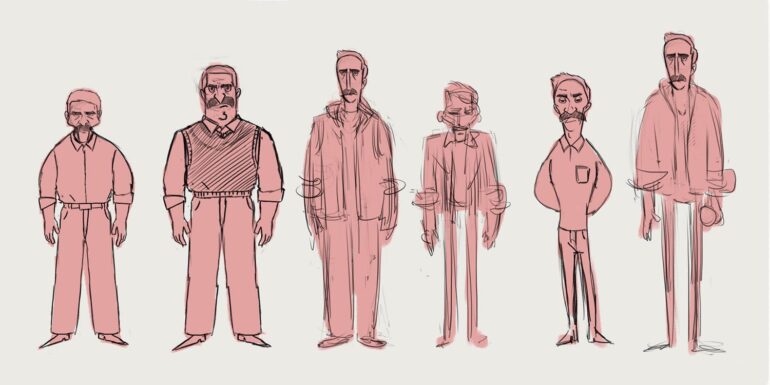 AG: Are there any other interesting projects we should look forward to?
Totem: Yes!! We are so excited for you to see 'Paperplanes', the next short film from Totem. The film is based in a primary school classroom and the learning and fun that takes place within its walls. The film is in hand-drawn 2D animation, roughly 5 minutes in duration. We've been working on the film since 2017, and can't wait to share it with you soon! It is expected to be completed around March 2020.
AG: What are your top 3 favourite animation films and some of the artists that inspire you?
Totem: This is the most difficult question yet! For me (Nikhita), it's Ratatouille, Kiki's Delivery Service, Up, Wolf Children, and The Breadwinner. There are too many artists we admire and love. Glenn Keane, Milt Kahl, Bobby Chui, Vaibhav Kumaresh, Anand Babu, Peter De Seve, Alberto Mielgo, Shiyoon Kim, Cory Loftis, Claire Wendling, Nathan Fowkes, Carter Goodrich, Frank Frazetta, Robert Valley, Paul Briggs - the list is endless.
AG: What are your thoughts on the Animation Industry of India?
Totem: So far we have seen animation as mostly a service industry rather than a content industry, but we think that's going to change fast. We've got so much talent here, but the audience isn't getting to see it. Animation is very labour and skill intensive, and so it's expensive as well; and producers and channels don't want any risks. The only way the 'industry' can move forward is when we (the artists, film-makers, small & big studios) bring quality independent animated content to the masses and build an audience for it, so that producers are willing to pay for good art. Indian animation has come a long way, and studios like Vaibhav Studios has taken us internationally with IPs like 'Lamput'. Ghost Animation has also produced some kickass short films this year, and there's more to come! Studios like AUM Animation in Mangalore are doing inspiring independent content like 'Andy and Pirki', which is now airing on Pogo. At this point we are only optimistic about the industry.