Time and Again – Sand Animation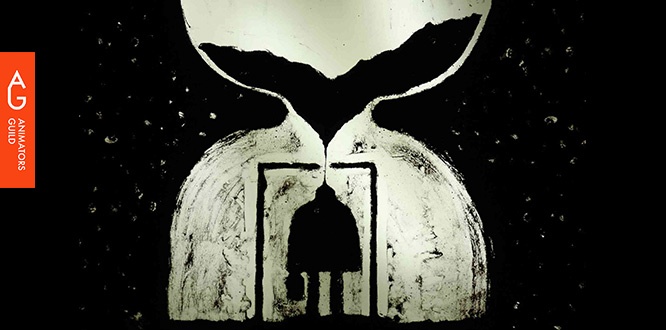 I recently saw Time and Again and was instantly mesmerised. A beautiful sand animation film, the outcome of a contemporary animation course at MITID, Pune. Below are excerpts of my conversation with Binoj John, Department Head at the Institute, Mr. Narayan Shi, Visiting Faculty for the course and the students themselves.
What was the scope of the assignment?
Binoj: The course was focused on experimenting animation with different materials, medium, and technique which encourage a learner to innovate, express and take through their experience on the selected topic. The emphasis was more on a practical approach and the learners were focusing on their demonstration to showcase animation on a different perspective or medium for example it could be any installation art, experimental animation which is not necessarily done on a computer.
Narayan Shi: As an animation student in NID, I was always doing experiments with different techniques of animation like cut out / back lit/ 3d object ....even when i look back into my animation portfolio I have mostly experimental animation, so today when i get to teach animation, I try to share my experiences with the student. For a short time course its helps students to explore in the right track and at end of the course create a complete product like a short film/ PSA / promotional Ident and so on.
Students: A week prior to this particular assignment, we were introduced to the medium of Sand Animation. All of us were very captivated by the dynamic nature of sand and decided to work with it, breaking away from the shells of 2D and 3D animation that we were previously exposed to.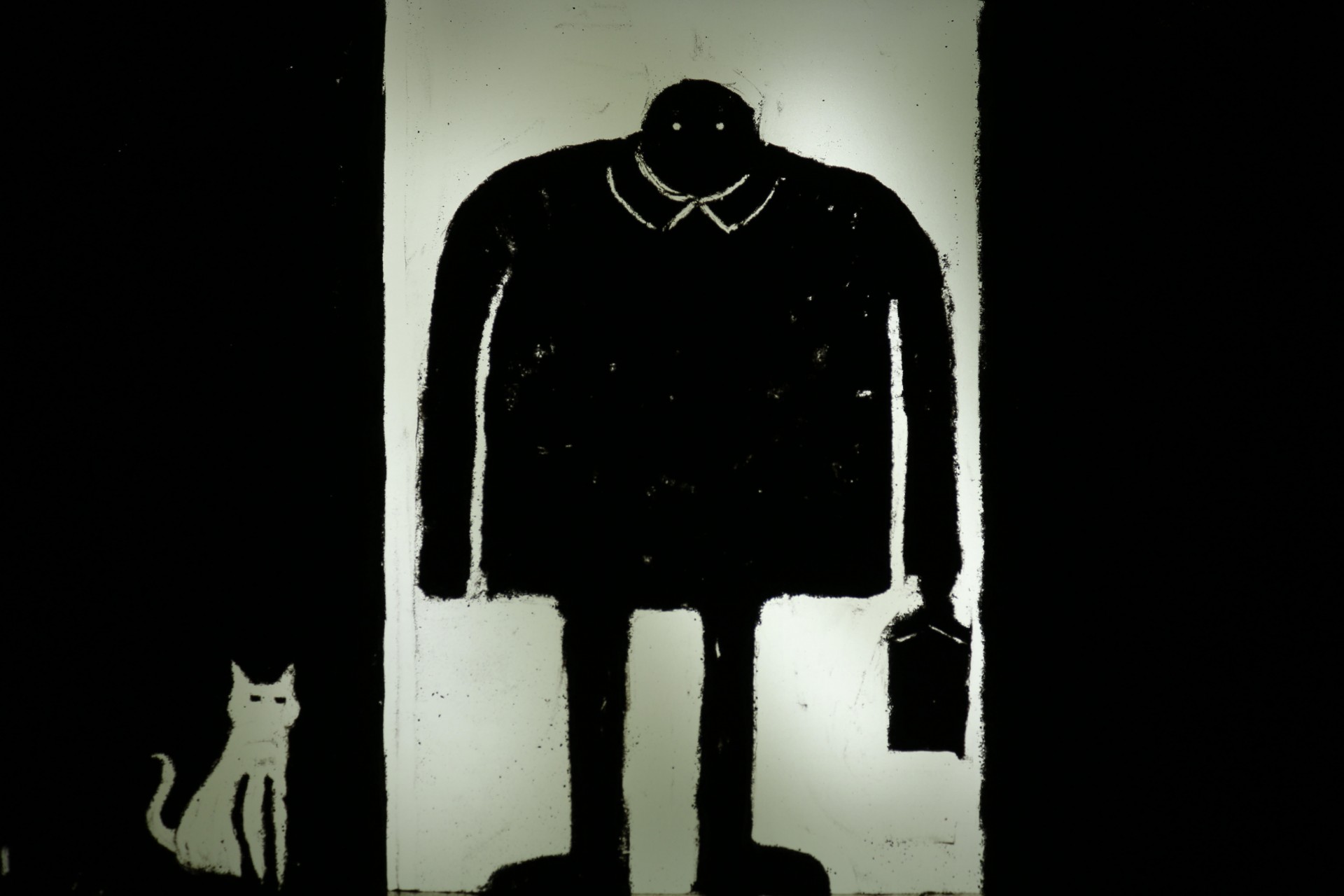 As a mentor why did you choose Sand animation as a medium?
Binoj: I remember my childhood days, drawing on the sand and the sheer joy of it. It's beautiful to look at. With the back light and front light technique, the artwork becomes more appealing. Although it doesn't last long in nature as its fragile but the beauty always remains, long in your mind. If the Design institutes won't teaches these beautiful art techniques, then who will? With the same passion, I have fabricated with the support of Makers Lab @MITID the sand table and overhead stand. I am very happy each semester as all the learners get a chance to try their hands on it. Sand art is a modern art form to come around in recent decades. It's very fluid, dynamic and as joyful as when we draw on a blank paper or a canvas by brush/pen/pencil. I'm proud that our student team has utilised the quality and beauty of sand in this film.
Narayan Shi: Sand is a material using which one can do elaborate animation and very smooth, like conventional drawing animation. Its like sand becomes your frame, so u can draw like your are drawing on paper. Yes ,there is one important thing, once u change anything in one frame u can't go back to to previous frame! And so u need to have your animation clear on the story board.
How did you go about the process? What was the mentor's role and involvement in guiding you?
Students: The process was based on extensive planning and meticulous animation. As it was the first time we were animating a film using sand, it was important that each member of the team knew their task, the team knew the shot thoroughly and no one worked hastily. It was of paramount importance that all of coordinated and were aware of each of us was up to and help each other out where needed. Our mentor's role was to intercept and intervene at different points of the production and planning stage to ensure we were going in the right direction and also not being too ambitious for the time we were allotted.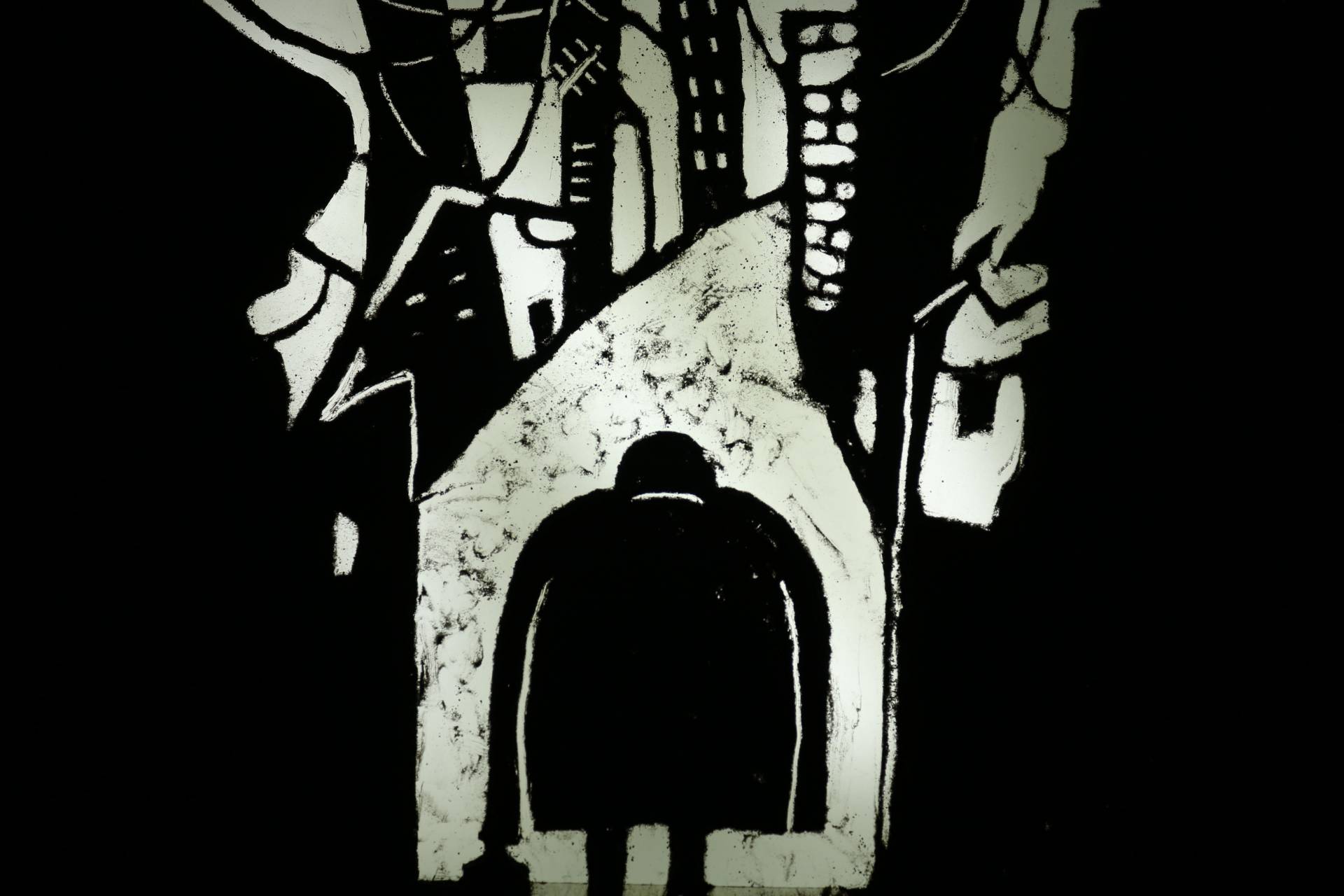 How was working as a team?
Students: Working with sand taught us a lot about teamwork. Each person on the set was involved in the process of animation as each frame needed multiple changes that one single person was incapable of remembering. Before each shot, each team member was assigned the responsibility of one or more components and hence everything worked in tandem. It was literally a team effort because before every frame all of us stepped back from the table, took a minute to see if the frame was perfect in every way.
The funniest moment during the making?
Narayan Shi: Sand animation you have to do in the studio as you will be using the institute equipment. So this group had the maximum attendance in the class...which is rare in a creative class....
Students: All of us were excited to work with sand, because it was a novel medium for us, but I'm sure during the time we animated the film, all of us regretted this decision of ours at least once. It felt like even our life has become like the character in the film- doing the same thing repeatedly for three days on repeat. The last shot really took a toll on us! The first time we did it, it wasn't satisfactory. As soon as our mentor left, we removed all the sand and redid it. Yet again we weren't very happy and so we did it for the third time to have us all on board with the treatment. Doing a shot 3 times over in sand with the time we had was funny in its sadness! Being stuck in a small dark room, with a huge light table, for around 12 hours a day, doing straight ahead animation- was somehow fun in it's own way.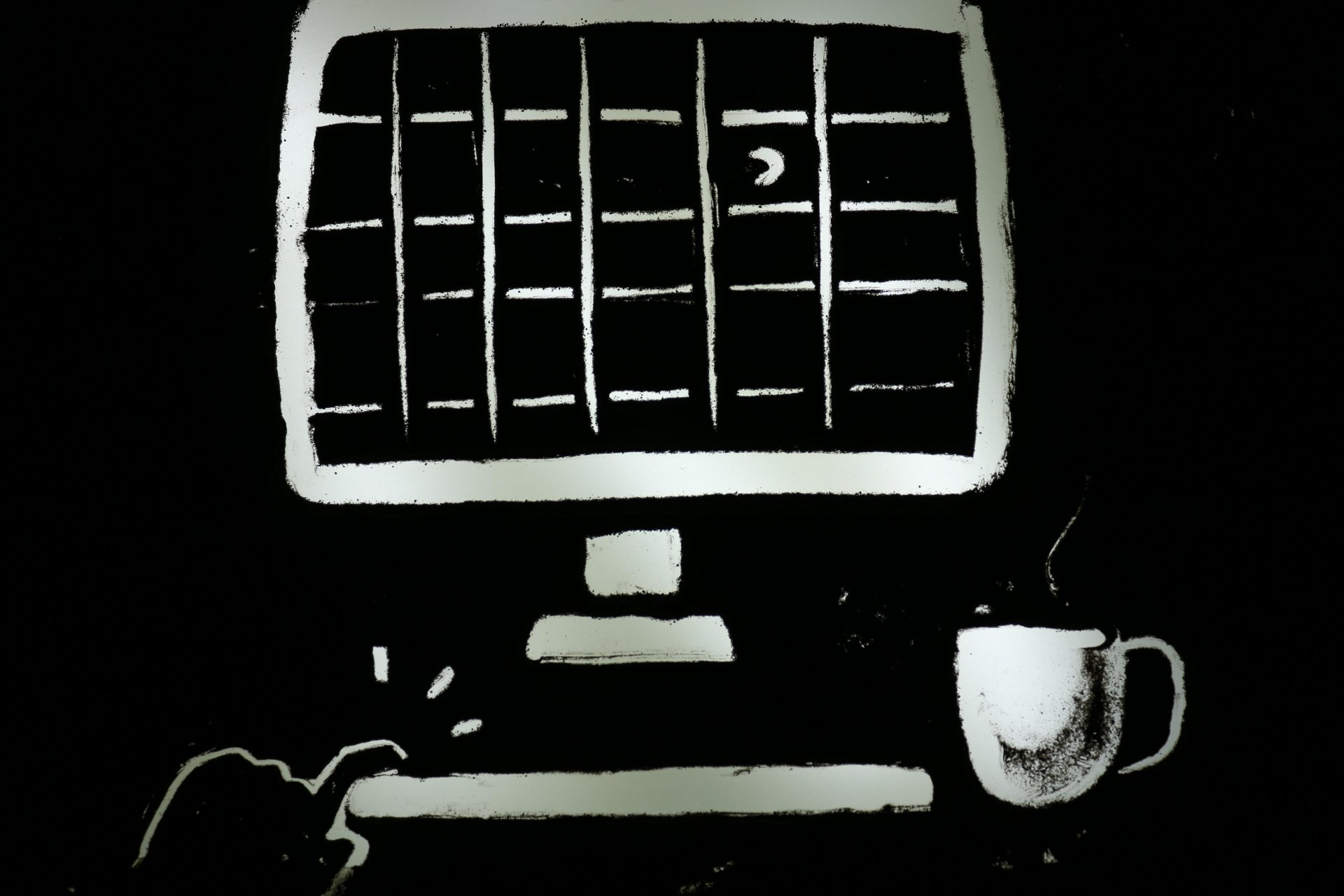 The toughest moment during the making?
Students: Oh, where do we even start with this. Our film was around a minute and a half, and we had to finish it in three days. That was a challenge in itself. Being third year animation students, we hadn't really animated a shot, much less an entire film. The toughest moments were the few times we got stuck in transitioning. Although our planning was quite thorough, a couple of times we realised that as we cannot cut, we needed to keep continuity in mind as one frame gone could never be recreated. Another tough moment was when we had to animate a front walk in perspective, that to in sand- I think we took around 3 hours for those 10 frames!
Students: We didn't, actually. Out of the week we had, we spent 2 days on making the storyboard, shot breakdown and animatic, trying to get every shot, every transition nailed down to the final thing. The next three days were tough, because we realised that we took atleast 10 minutes for a single frame, and the frames that had transitions took more than that. We used to work from 9 in the morning to 9 in the night and then composite the shots we'd finished that day later on. All of us were drained of all our energy by the time the film was completed.
Tell us more about the sound design. The reason / logic behind the design, instrumentation and sfx.
Students: In certain areas like the cat meowing or the monotonous typing, sound provided cues to anticipate action and emotion. The sound transitioning was done seamlessly from one scene to the next keeping in mind the fluid and seamless nature of the sand; Hence there are no cuts in the sound design, only transitions. Also it is heavily dependent on incidental sounds and sound effects without the use of an underscore to add to the mechanical and structured rigidity of the film.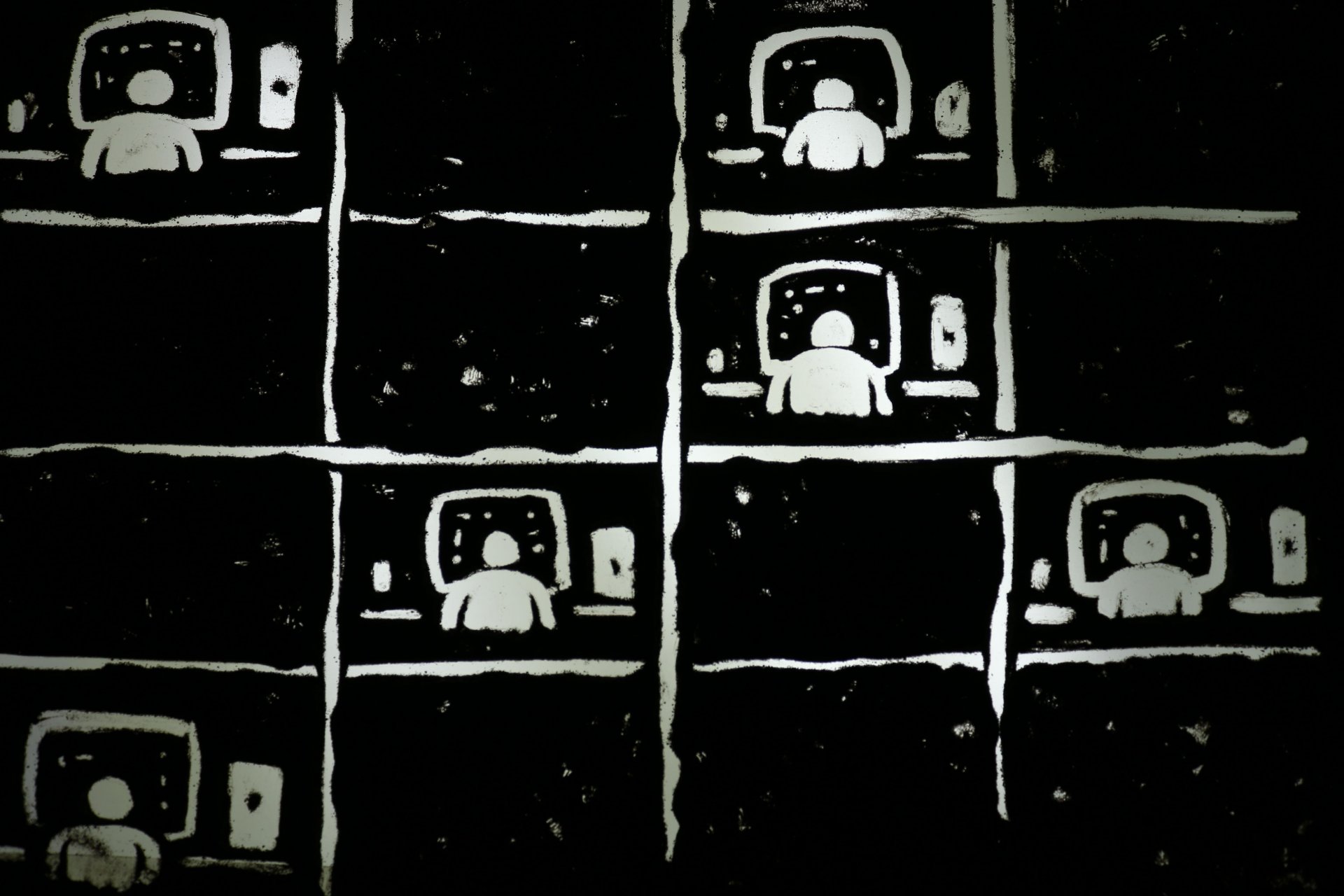 What was the most important learning from the course and the film?
Students: The course was fun because this was the first time we explored other mediums through which we could animate, other than the traditional 2D and 3D. The most important learning was that of proper coordination and planning while creating a film with a dynamic medium like sand. We understood how the story of the film depends on the medium and the treatment of it, so as to best get the message across. And also, teamwork was such a crucial thing in the course of this film, even though we were classmates before this, we bonded over the film and our distresses like never before!
How was the film's reception?
Narayan Shi: Initially students were sceptical about the project....but once they started seeing the moving elements, what they animated ...they all were charged up....
Binoj: I felt the learners themselves were initially not convinced as they thought its nothing special since they were just animating sand, like any other medium, 2d-3d( they have never worked with sand animation before). As the course progressed they started liking it. More and more contribution/improvisation started coming from them, despite knowing they have to put extra effort and time, which they were happy to do so. Upon completion, the film is participating in various film festivals and competitions. Our Respected Board of studies members, Prof. Prakash Moorthy, Mr. E Suresh, Ms. Manisha Mohan have appreciated the work very much. It was more satisfying when these Pioneers personally conveyed it.
Thoughts on the Indian Animation scene as you are young learners on your way to take on the big world?
Students: In India, the Animation and VFX industry are very fast growing, as there is a lot in demand. The independent films in the Indian animation scene seem specially promising with smaller studios now working on projects to make content rich films and students who are trying to break barriers of technique and story.
Binoj: I always look for reasons and opportunities to experiment and trying new techniques as we progress with a lot more relevance to animation. Although it is difficult to convince the learners as they learn a few things based on industry demands and trends. For me this is an opportunity to create something new and unique. I tell them, maybe you will do this work in the industry and become a trendsetter rather than just a follower.
Narayan Shi: We should encourage students to do more experiments with different technique in their future projects. As the industry becoming digital, when they are out in the real industry, it will help them to grow better...