The Story Behind "Chitta"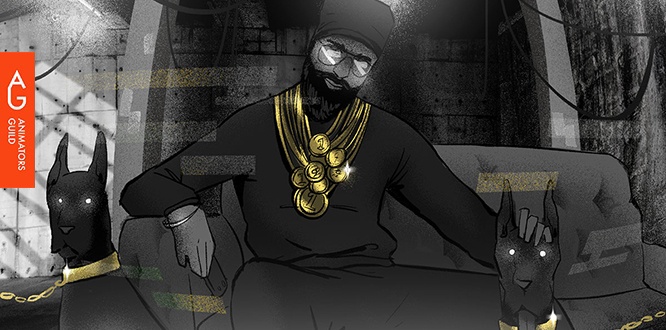 I am Debjyoti Saha. I'm an Animation filmmaker from Kolkata, now based out of Mumbai. It's been a year since I graduated from NID and I'm still proactively getting my foot into everything that moves me and celebrating my happy mistakes and the journey it's slowly taking me on. I work across various mediums of storytelling; Illustration, Animation, Comics, with an intent to continuously expand my horizons. My work revolves around people and their socio-political environment and today I'm here to talk with Aakash Bhatia, the director of our latest collaborative project - the music video 'Chitta' for the singer Prabh Deep. The music had a lot to talk about and we immediately realised the opportunity we had right in front of us, to take the experience up a notch. It was a great collaboration to bring out an original homegrown piece of work with utmost honesty and freedom; "Shudh Swadesi Hip Hop" and "Shudh Swadesi Animation". This project had just the right amount of cynicism and satire for me to hop right in! Time to introduce the Director, Aakash Bhatia.
Deb: Aakash, give our readers a little background on yourself.
Aakash: I'm the Co-Founder / Director of LoudMouth. I started my film-making career with a hybrid documentary that doubled up as a Music Video. Titled 'Suburban King/Top-Girl', the film had its World Premiere at the prestigious SXSW Film Festival in Austin, Texas. The film's European Premiere was at IDFA, Amsterdam and it went on to be screened at festivals across the globe.
I've directed award-winning commercials and the second season of the Emmy nominated series 'Inside Edge', an Amazon Originals show produced by Excel Entertainment. Currently working on my debut feature film, 'Loop Lapeta', being produced by Ellipses Ent. and Sony Pictures. My production, 'Buddha.mov' has played at Tallin Black Nights Film Festival, Ann Arbor Film Festival and MAMI Film Festival.
THE STORY
Deb: Let's talk about how this project began. What is the story and how did you come up with the concept?
Aakash: Since the release of his seminal debut album Class-Sikh, Prabh Deep has established himself as one of the region's most innovative and captivating artists. The Delhi-based multi-faceted artist has evolved into one of the region's brightest visionaries, making his mark as one of the best storytellers in the game today. While ClassSikh, produced in collaboration with Sez On The Beat, was a deeply autobiographical project, Prabh showcased his ability to craft intricate and vivid narratives that spoke to larger audiences on his critically acclaimed K I N G EP and his appearances on songs with fellow Azadi Records' labelmates Ahmer and Tienas.
Prabh and I have collaborated before on branded projects and have vibed even then. When he came to me with 'Chitta', it spoke to me on many levels and I thought the only way to attack this would be to turn it into a passion project.
The storytelling was interesting and it felt like a song that could belong to both, the protagonist and his antagonist. So I came up with a concept and a story that would play up this sort of a conversation and was rooted in our collective politics - a satire of sorts that was self-aware.
It needed to be something that would have many layers of interpretation. I haven't revealed most of these to the team even now. The idea was that whoever cracks their level should feel intellectually rewarded. The conversation should be about who understood what of the film because that's what would be a good debate. Where people might be on a different side of the aisle in their interpretation but the aisle still leads to the film and it's various messages. It was a jigsaw puzzle, with pieces that can go fit into different spots and still make sense and the more you watch it the more you pick it, the detail, the symbolism, the jokes.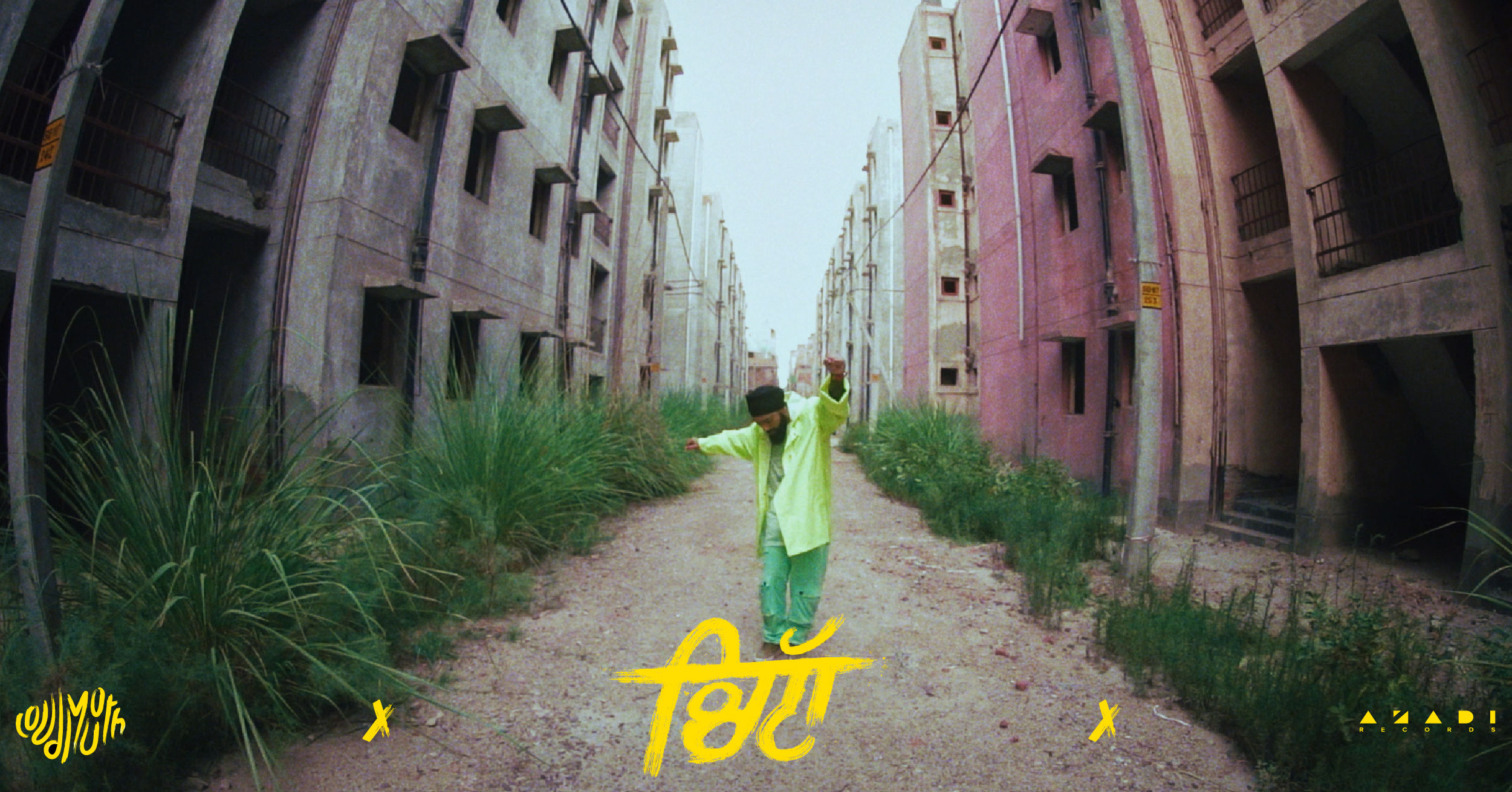 BUILDING A WORLD WITHIN
Deb: Tell us about the research and the thought process. Tell us about the style chosen and the intent behind the direction we went towards?
Akash: The film is about the state of creative expression today, where you're dealing with having an ideology and yet having to play within the realms of permissible expression. For everyone's choice of drug there's a drug lord, peddling it to them. It's this idea of faux power, and how you feel that power and project it which almost compares to being on some form of a cocaine trip. I wanted something that was mix-media because the story needed a constant reminder of its sutradhar and his presence in reality - the spaces, the locations, the costumes were all chosen to reflect that.
It is a funny, distorted mirror to the power structures of the society so we chose the lensing to capture it like you would see yourself in a distorted mirror at a fair. The idea to keep this mix-media tone was to constantly create the question of what is performative and who is grandstanding - the real performer or his alter ego. The animation style needed to be something that could marry that idea and take the story into a graphic space, while mirroring my aesthetic for live action. It eventually was a process of elimination more than anything else working with Debjyoti, who took the lead on coming up with concepts that mirrored his style and were true to the overall aesthetic of the film and its storytelling.
We collaborated to ultimately push the storytelling to the top, every other thing would be secondary to it. The intent of the video was to create a dialogue within and amongst ourselves. From a design point of view, the idea of creating a morbid and corrupt world in a strange part of not-very-familiar North India was crucial. The black and white visuals give a very distorted, almost claustrophobic third person's gaze into the life of Prabh Deep's alter ego and the singular colour standing out throughout the film becomes a symbol in itself of how the world is being painted in a singular hue, leading to a decreasing sense of dialogue and opinion.
The various characters that appear throughout the video have certain common features in their design and personality that leads us to wonder whether all these characters are an extension of our protagonist himself; the good, the bad, the young and wise.

THE PROCESS OF PATIENCE
Deb: Let's talk about how the creative and production process was like, especially under this lockdown, how we faced certain challenges and found all our tiny "Jugaad" for it.
Aakash: This project was an opportunity to say that making films may have been tough in a lockdown due to our dependence on the many variables but filmmaking wasn't locked up. I always look at traditional handicaps as a chance to come up with a treatment that's authentic to the times but also doesn't feel compromised. Bringing a team together that saw my vision and collating their perspective was important but it was more important that they saw this for the passion project that it was for me. So the initial bringing together of the stakeholders was a challenge.
Once that was down, we began the shoot in the stricter part of a lockdown. Done remotely over video calls, it was this hard period where the major instinct took over. The on-ground crew killed it and got everything I wanted, basically making it happen in the scorching Delhi heat. Editing and colouring it was all done remotely then.
The animation was what would then raise the film because the story was there. It came down to iterations after iterations to be able to see the film for what it was in my original vision. The process anyway is that of patience and this film required ten times the usual amount. It was a creative process that needed time and was something that was emotionally rewarding.
Deb: For me it was quite an intense experience jam packed within a short span of time. Aakash had a vision that I helped push it through what I do. We both trusted our instincts and adopted various cheats and ways of communicating in order to set everything right. This was also the first time I was working and coordinating work with a small army of talented folks. A big shoutout to Arindam K Dutta, Partha Mahanta, Alendev R Vishnu, Pratik Dey, Saksham Arora and Yamini Sujan, without whom the project wouldn't have been the same. Communication was quite smooth and quick and they stuck around till the last minute and helped give this beast of a project, life.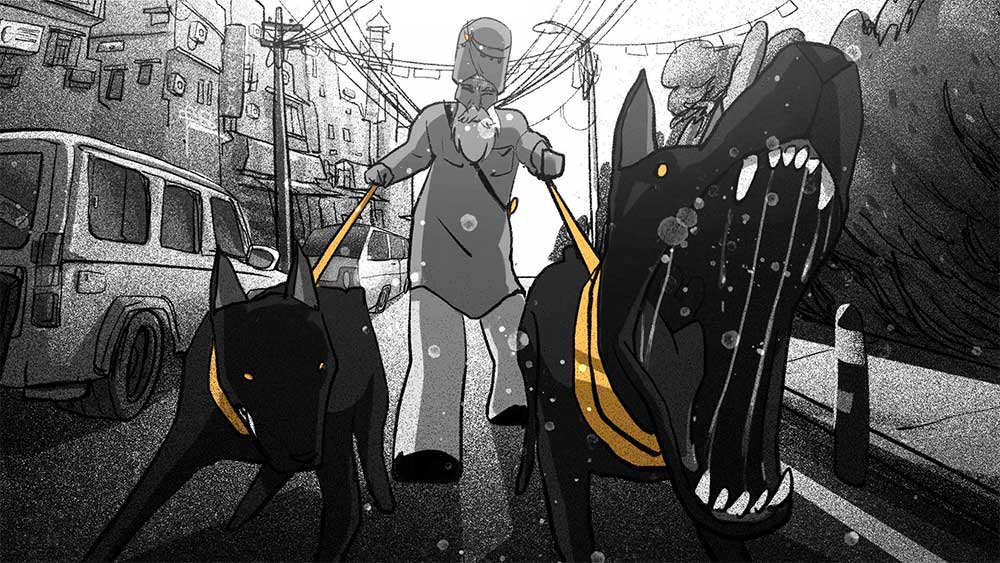 THE DEAD-LINE!
Aakash: Deadlines are called so for a reason - you're emotionally dead by the time you cross them, this particular one was again a game of patience. For Debjyoti it was a different story —
Deb: (laughs) It was a mad race against time. About 45 days is what we had to build this film from start to end, which leaves you with hardly any window to catch your breath. But sometimes you are willingly wanting to give up everything for something you truly connect to and that is what happened. You willingly take it up as a challenge to complete the film and see to the end of it. Then you count the joys of finishing each shot and feed off each other's enthusiasm, motivation and the overall vision of the film to keep you going, in the hope of that extreme sense of satisfaction when this will be out there for everyone to consume.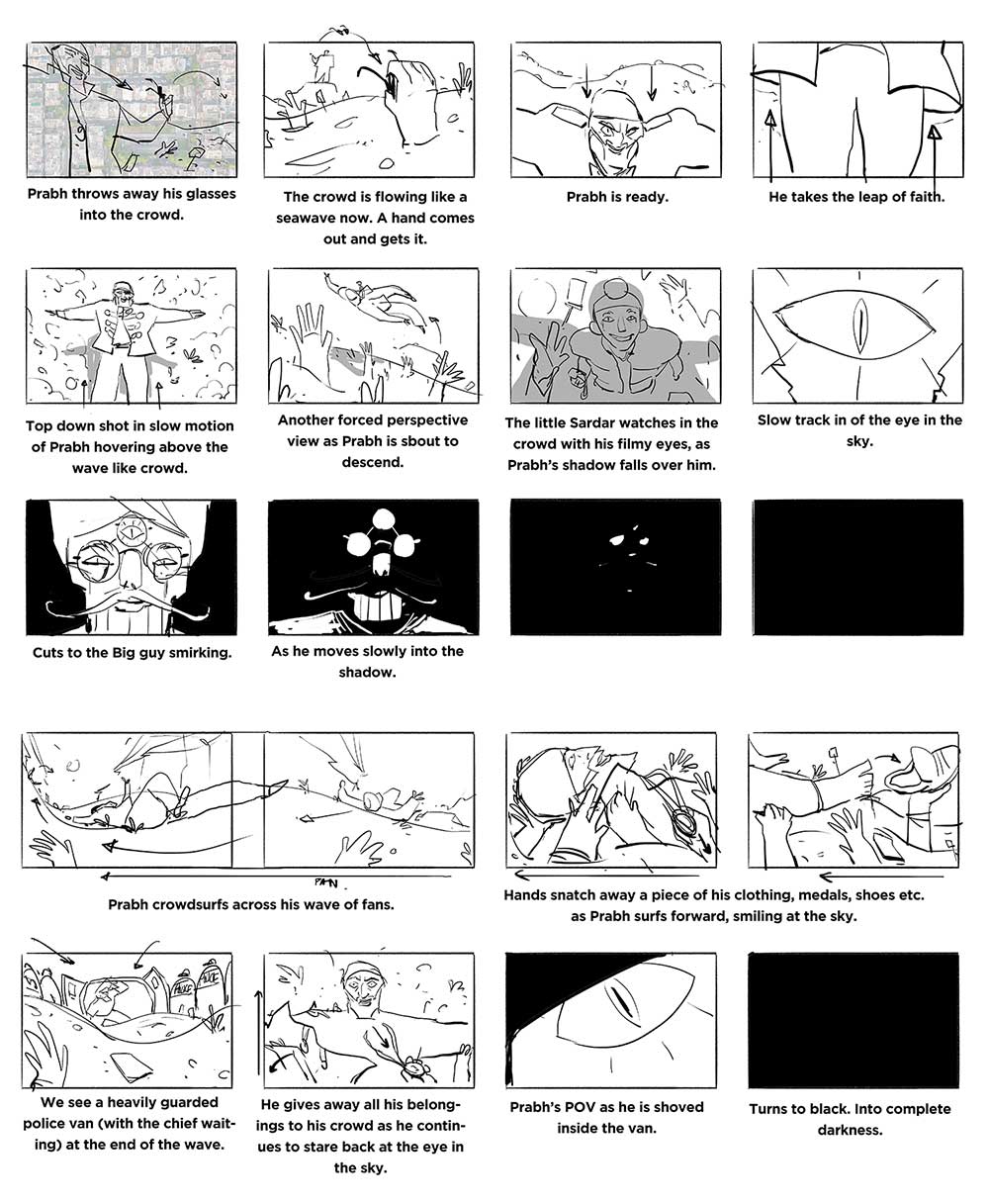 Deb: Is this your first foray into animation? What was it like working the animation team?
Aakash: Yes it's my first foray into animation, I still don't know what to say technically. I always see it in terms of live-action. I see cameras and lenses and perplexed people. So this was an excellent opportunity to learn and am definitely going to do more animation based work. I have tasted blood 🙂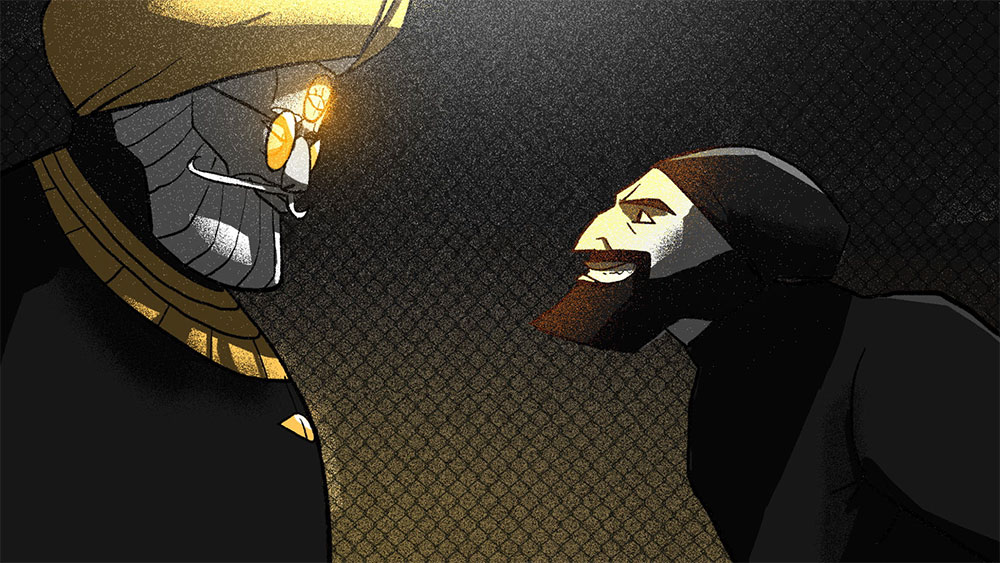 Deb: Your thoughts on the "Post-Covid future" (personal, industry, humanity!)
Aakash: The uncertainty is very cruel - mentally and emotionally. But there's literally never been a time in our history when the entire humanity is facing a common singular crisis. The fucked-up levels of inequalities have always been present but were revealed in a very different light. This industry is no less impacted than any other; it's probably a good time to reflect and create a new normal that doesn't normalise marginalisation. Personally the only question is when new stories get to be told, not just how it'll be made to happen. But who are the characters that exist in these stories, and when in the humanities timeline do they exist? Has Covid impacted them emotionally? The future is what we make of it.
Watch the animated music video of CHITTA by Prabh Deep! Support the Independent scene, artists and their work. We are all part of this community, this movement. This is how good work thrives.