The Matchbox Matinee
Today we walk down the streets of Chennai (virtually, of course) to Chitrakoothu Studio to catch their Matchbox Matinee (a term coined by us) - a collection of tiny animated films based on Matchbox art from all over India. Matchboxes has always been an object of fascination for artists and designers alike. Years ago, Gitanjali Rao created her award winning short film Printed Rainbow using various matchbox design styles to tell a heartwarming love story, Kokaachi came up with their 'matchbox comics', Illustrator and Designer Shreyas Krishnan did a whole Instagram series on 100 days of painting matchboxes. And today we are here to talk about the beautiful little clips we've seen on Instagram where Chitrakoothu Studio has brought the art from various rare matchboxes alive by creating little animated stories around them. We have founder Jagannath Radhakrishnan aka Jagan and Animation Director, Aithihya Ashok Kumar speaking to us today.
AG: Tell us a bit about yourself and Chitrakoothu Studio.
Jagan: The word 'ChitraKoothu' is an amalgamation of two Tamil words which roughly translates to 'Dance of Images'. Chitrakoothu is primarily a production house and content development company for both live-action and animation. We identify our inner calling with the words of the great Satyajit Ray -"Somehow I feel that an ordinary person–the man in the street if you like – is a more challenging subject for exploration than people in the heroic mould. It is the half shades, the hardly audible notes that I want to capture and explore."
As a 3D animator turned live-action film director I founded Studio Chitrakoothu in 2018 to do live-action films, along with animation films where Aithihya Ashok Kumar has been working as an animation director and senior animator. Our dear friend Vivette Kajal supports us in our writing department. Besides, collaborating with artists with distinctive styles on a project to project basis has been a continuous endeavour to push the envelope.
Our vision is to explore the art and beauty inherent in our people, culture, landscape, and use that as a canvas to narrate our stories.
AG: Tell us how the matchbox series idea came about.
Aithihya: Matchbox as an art dawned upon me while watching Gitanjali Rao's 'Printed Rainbow' (also the reason I left every other career option and sought out animation!). Years later, Jagan showed me a box full of vintage matchbox collected for a project he wanted to animate into a short film, though he tried a test and it did not go further. I had a liking for one matchbox, Cheetah fight, and started plotting a very elaborate sequence around it, how a cheetah and a man accidentally encounter each other and have no choice but to break into combat and freeze (as on the cover art). But the moment I opened the box there were so many such stories! It was not intended as a series but there were small moments of life in them and hence they ended up as a series
These are films I have done in between commissioned projects. To date, I have completed 12 matchbox covers - while the number of matchbox covers in the collection is so huge, that I wish to create volumes of such stories!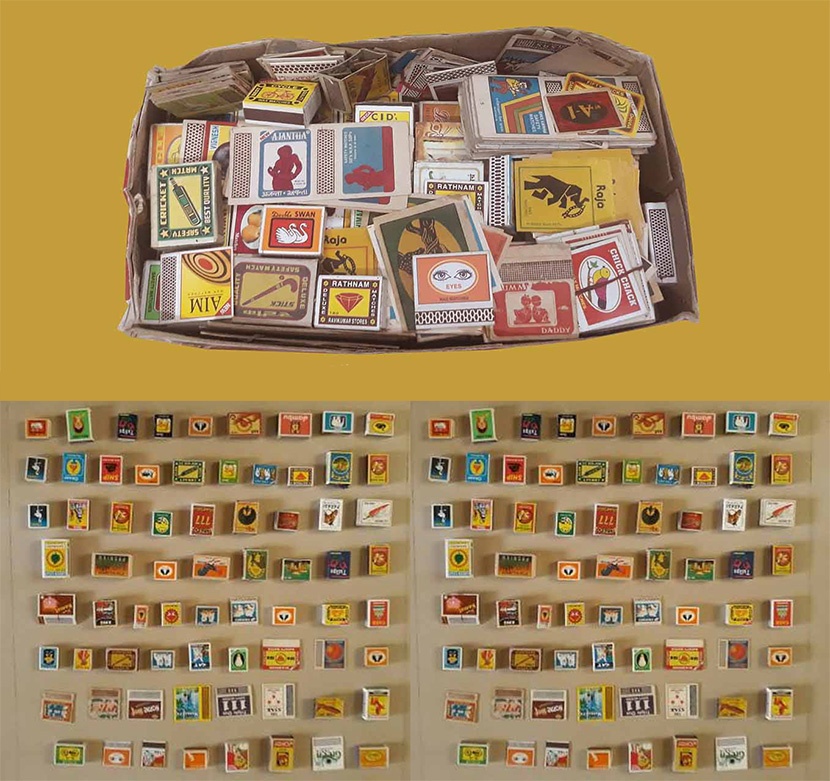 AG: What was the process behind creating each story. Are any of them from personal experiences?
Aithihya: I picked the matchbox covers randomly and started animating through the night. As a process, I excitedly jumped into animation without a storyboard because I was sure of the story. So the time was mostly spent trying out seamless transitions to narrate these stories. This could also be because I started learning animation, in my initial years, by trying out small clips in a progressive style. As the series grew I did do storyboards for just one or two.

The matchbox cover Radio was from my memory of how my mother has always been - her unconditional and companion like love for the radio and the singer Yesudas. I thought it would be nice to try and borrow from her life.
AG: Which one has been the most fun? Or the most challenging?
Aithihya: Each one was an exciting challenge as I had no idea how it will be told. The clips titled 'Blade' and 'We Two' were very enjoyable while arriving at the cover.
'Double swan' has two versions, but later I felt the second one brings out the fantasy element in the story.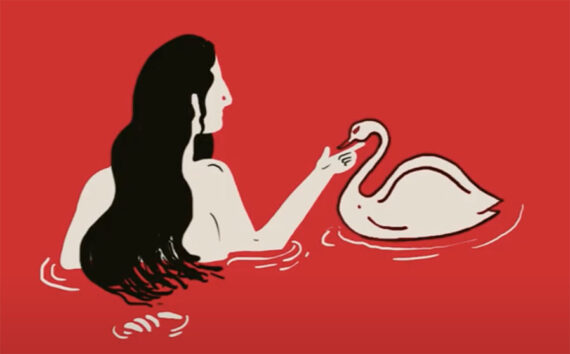 Trying out these small films has helped me understand the need for expanding my library of people and capture unique and relatable habits/mannerisms. The most challenging part for me has always been in knowing what to put within the characters.
AG:Tell us about some of the other exciting projects that are currently brewing!
Jagan: As all people bearing stories to be told, we are all constantly writing and editing in our hearts. Speaking of the projects that have been actualised:
An animated short film titled 'Lost in Transit' is also afoot by Aithihya
A live-action short film is in post-production, written and directed by me.
Currently, we are working on a commissioned 2D animated sequence for a web series.
'Bear Sailor' was made in 2018, on the impulse of trying something quick and fun. Since then this small film has found its place in a few film festivals. It was chosen as the finalist in Anifest2018 in the Independent category, ICFF 2018, and recently officially selected to be screened in 'Cartoon Festival Gandia 2020', Spain.
AG: What are your thoughts on the animation industry in India?
Jagan: In general, the number of animation projects is less and the presence of animation content from India is meagre in the mainstream media. One of the main concerns has been that though there are a good number of animators across India it seems like we are becoming merely good craftsmen than great artists. The hope is that this changes and we tell our stories by enabling a strong support system for artists doing independent projects.
In the past, I have created IPs and written feature-length content for animation films with which I had met producers and even participated in events like FICCI Frames where I had pitched these. Though the content was appreciated, investment for animation was considered risky back then. It's still the case for animation in India. A support system to fund and showcase the works of Indian artists will help develop a rich pool of artists to become good storytellers.
Aithihya: The ray of hope that keeps us inspired is when we are watching works like that of Gitanjali Rao's - eagerly looking forward to 'Bombay Rose'. There are independent animation directors that are leading the way, Krishna Chandran's films that we were able to catch during a session is very inspiring. Eeksaurus's 'Tokri' is a film we were able to see recently. Though we were not able to catch screenings of 'First Flight' by Ghost Animation, it is a great initiative to showcase works of independent films. Kokaachi has been behind some of the brilliant title sequences for films. It is always great to look out for new works by our friendly neighbour in Kochi, The Eunoians. These independent ventures from all corners are the pool of artists that we are all hopeful will shape into a movement.
Aithihya / Jagan: Sincerely appreciate you (AG) shinning the 'spotlight' on artists across India and to get a peek at the process and thoughts of artists who we follow along with the ones you feature!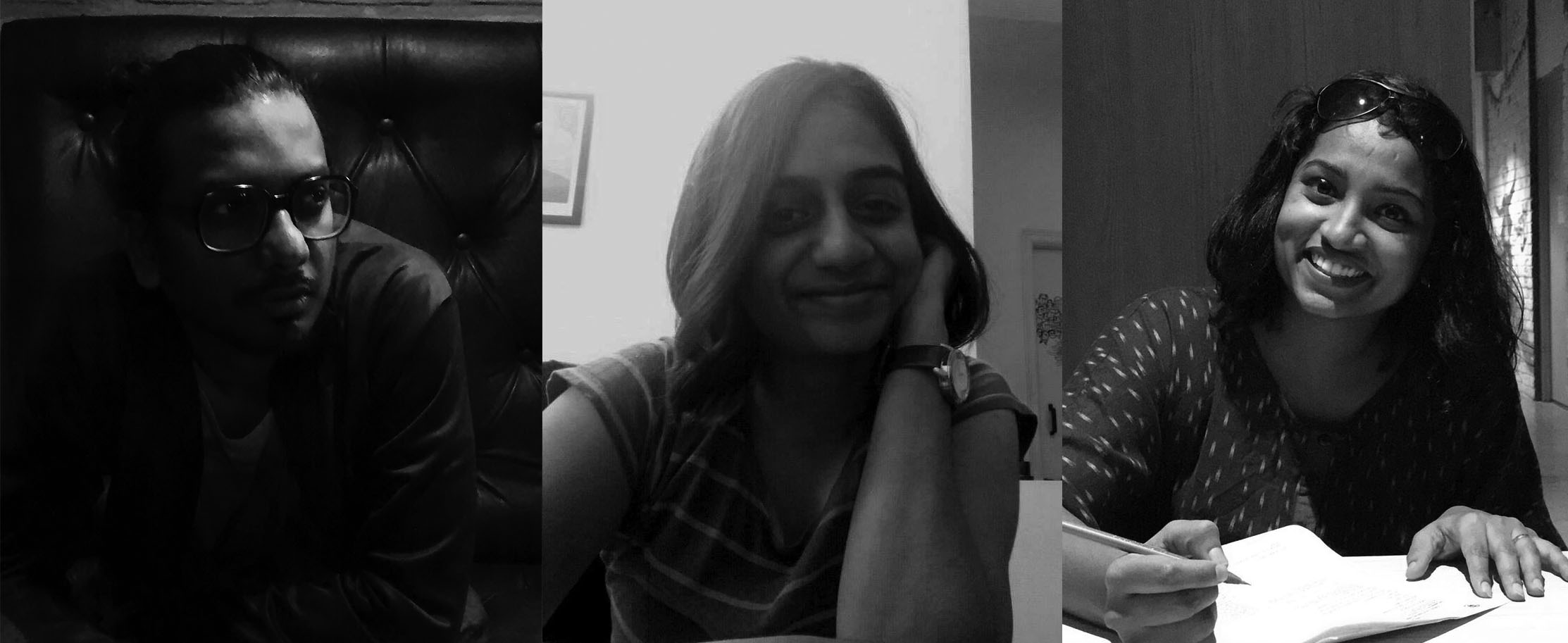 Jagan, Ainthihya and Vivette at Chitrakoothu Studio