From Mother to HMOG!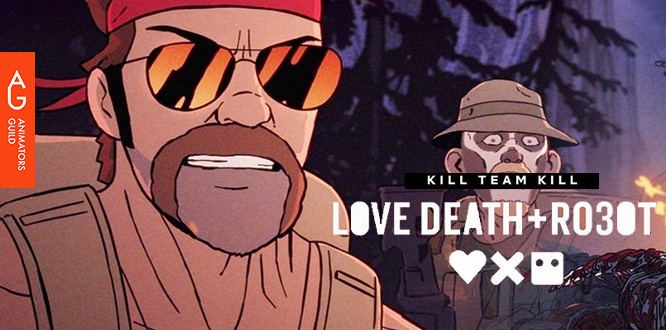 Waka talks about working on Kill Team Kill, LDR S3
Gaurav Wakankar, popularly known as "Waka" in the animation circles, recently got to animate certain scenes in the only 2D film in the season 3 of LDR Netflix. The following interview is our conversation with him regarding his experience as part of team "Kill Team Kill".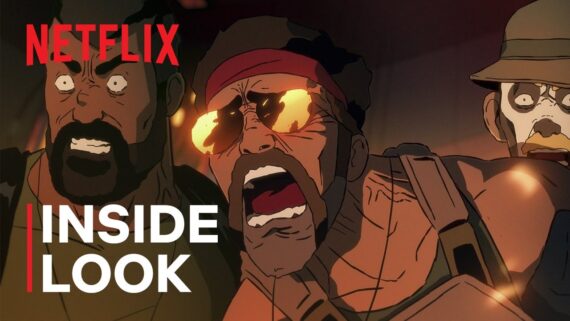 P: So hows married life coming along?
G: It's good. I am trying to get my work-life balance more structured now. I don't spend all the time working, but both of us are still trying to hit that right pace and structure to keep some time away for ourselves and other chores. I don't spend all day in office or working freelance. I put in the right amount of hours and my life is more balanced.
P: You've been freelancing for a while. When did you start, how's the journey been and tell as bit about the fun projects.
G: Since we're from NID and we made a lot of connections there, I got opportunities to get into freelancing from the people I know. I started working with Upamanyu and Kalp as an intern. Never been in a corporation or a company. Since my seniors were always freelancing, I picked up the freelancing spirit from them. Rather, I grew as an artist who enjoyed the freedom and variety of work and people it brought my way. Saying not having guaranteed income, and lookout for work sounds a little depressing 😅 and it's not really that bad. Yes, there are times where I wonder and have no idea what I'm gonna be doing a month later. But something or the other comes my way. I was freelancing even while I worked at Ghost Animation. We had no rules when we had to pick our projects with Ghost or have separate gigs going on the side. So there was lots of freedom. That's why we called it a collective. Over time we became dedicating our full time to studio projects.
I kept working on things like album art, concept art, music artists. If anything interesting turned up I'd always take it because I'd feel a sense of FOMO. I used to work all day on Ghost projects and later on freelance projects so I was on the computer 12 hours a day. As I started putting my work out, freelance projects started to pick up. I focused on 2D character animation, rough animation, key frames and character acting. Slowly clients who wanted that sort of work started to get in touch. I shifted from running a studio to pure animation in 2020 after we finished our short films and went on a tour. Things looked so bright for Ghost but COVID hit and we were stuck. Things looked pretty bleak and it made me focus on what I really wanted to do. I realized I enjoy doing 2D animation on a project with a director and not handle all the other departments like production, sound etc. Not that I did work on these departments necessarily, but I just realised that running and managing studio related chores was not what I wanted to do forever.
I wanted to work with people outside my known group of people. Especially internationally, to learn different ways of working and grow as an animator. As my contacts grew, I started working more with these people.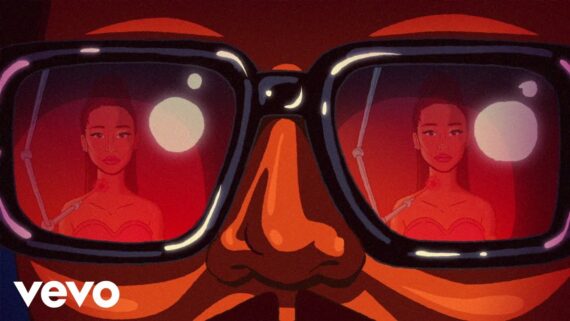 P: So how did Blur and Netflix happen?
G: It all happened with my friend Benjy, who I had been in touch with on and off for a long time. He wanted cleanup artists for a project and he put out a requirement on Instagram. I had worked with him on a music video for THE STROKES so he knew my skills as an animator. So immediately he sent my name ahead to the client. One thing led to another and soon I found out that it was for an episode for Love, Death & Robots Season 3. I realized that this was huge for me and the people on my team for the project turned out to be everyone who's work I followed online. It was crazy being on a team with them all.
I got involved in 2021 February to June. We finished final animations in this time period but they had been working for six months before, developing the scripts. They must've started working when the first season had just ended. Lot of studios had pitched to be a part of the project and Titmouse got it and that's why they were looking for animators. So, there was already a lot of concept art, writing, animatics already there. I got hired when they started actually animating, colouring, comping and stayed till the end. Six months for me and probably a year long for them.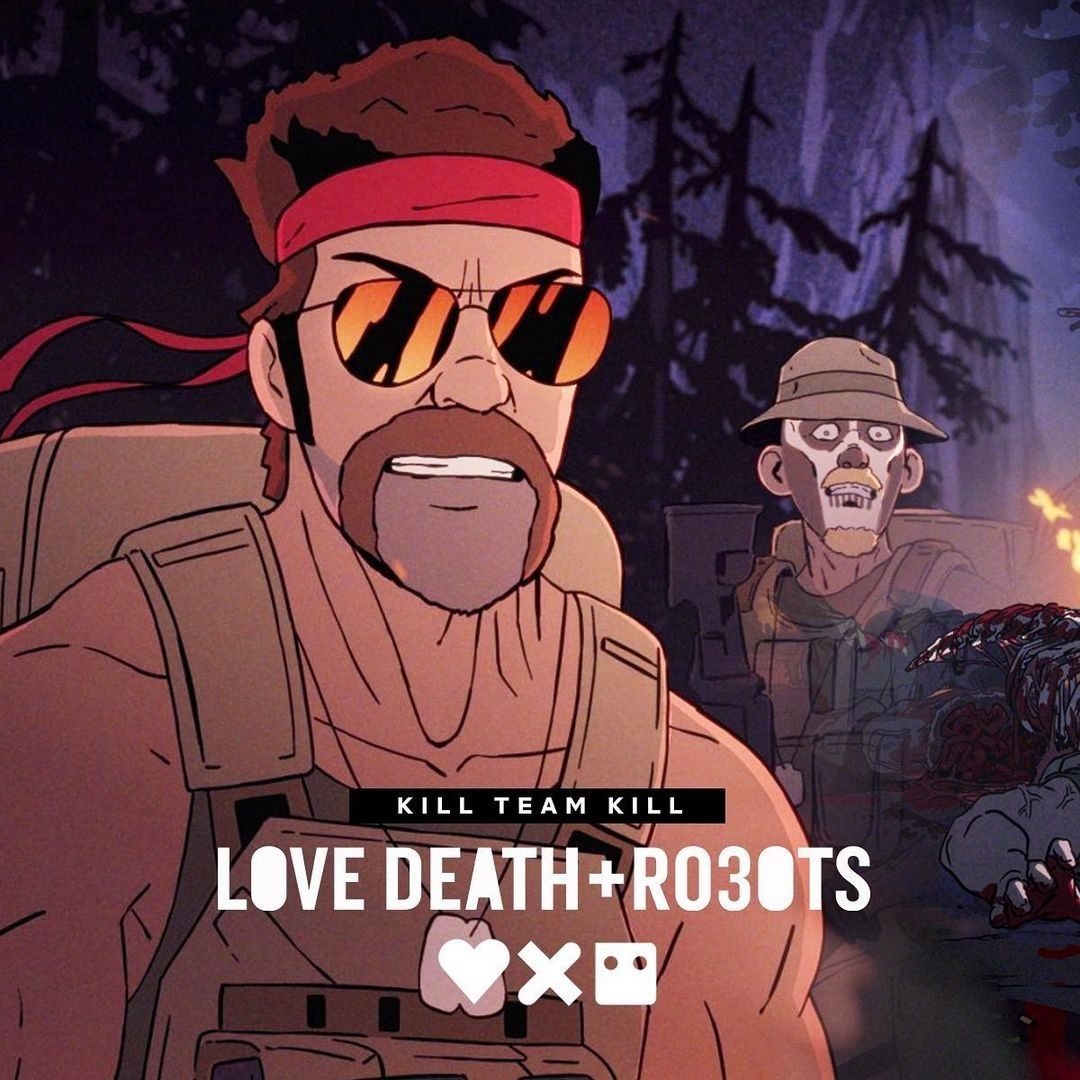 P: How was it like working on the project?
G: It was an eye-opening project for me seeing the flexibility and time they give to you to work in stark contrast to Indian clients. If a shot takes time, then they get more people on board instead of asking you to rush. At least on this project they never compromise on quality. Everyone worked with so much dedication and also obviously they paid really well. Being paid well, no one ever considered taking up new projects. Earlier I always juggled multiple projects, here I happily gave 6-8 hours every day and relaxed the rest of time.
P: Considering the international nature of the projects, what kind of software did you use for your pipelining?
G: In the week, twice we convened as animators on Tuesday and Thursday on Google meet. They also used this software called SyncSketch. We would put our art on a drive folder and shared it across. Then everyone could join and watch live as the director played the animation and gave notes on everything. Everyone's on google meets and watching on SyncSketch. Also, after the meeting you'd get an email from the producer with notes and feedback. The Animation Director would also sometimes take the files from us if we really struggled, he would make adjustments and send the files back and ask us to proceed.
There never was mental pressure to perform. They seemed to understand that everyone has strengths and limitations so made sure everyone was happy. There was a culture of openly asking for help.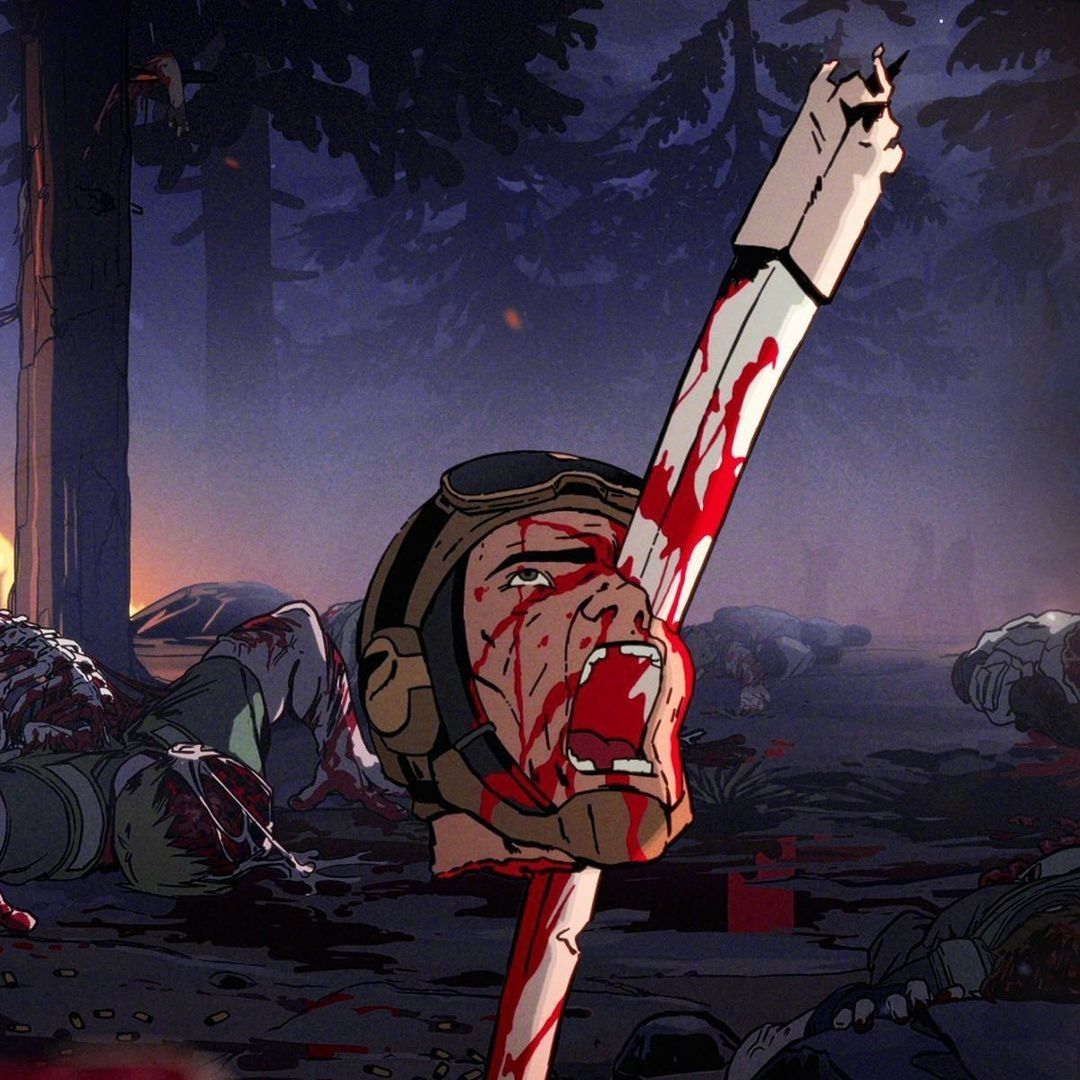 P: Did you see the full board of the film?
G: Yes, I saw the full board and animatics. And every few weeks we'd have a render of the finished shots from the editor to watch. It was a good experience as we felt a sense of accomplishment after our shots were put in. Sometimes we'd get to see them after they've been coloured or comped in. So, it was good environment as the end product was always in focus.
P: If you were to put this whole experience succinctly what would you put it as?
G: Very enlightening. A very safe friendly space to ask questions and grow. I understood the etiquettes followed in such environments. Sometimes as an animator your job is all encompassing and if the production pipeline is not structured, the quality starts to drop. So, my main takeaway is that quality improves drastically when there is enough staff dedicated to each department.
P: What were the parts of the film you were given to animate? How difficult or fun was it?
G: It was extremely fun! Not much difficulty because the animation director assigned everyone work according to our strengths and weaknesses. I was assigned a lot to talking shots and acting shots instead of action. I'd love get into action but this wasn't a job for learning, it was a job for finesse and quality. You can see my work when Maurice comes in with a broken remote control, they have a conversation about what the bear is… Later on, when they are in their bunker and its Christmas (For them, because they love ammunition) and they meet the robot dog you'll find a lot of my shots there.
After finishing all my animations, there was a phase of retakes. Once the heads of the film looked at the entire film, they wanted certain shots to be redone, so I worked on as a revisionist since I was free. I joined the retake team where I redid other animators' shots. The work was mostly correcting beards and stuff. I also did keyframes for shadows and it send it across to a specific art studio who was hired to do cleanups and then shadows also. So, with the large segregation of work, I loved being able to focus on character animation only and not worry about colour, cleanup, shadows and other stuff. I had a really long shot where they are tossing stuff to each other and talking. It's a ten-second-long shot with all four characters. So, I spent almost a month on just that shot.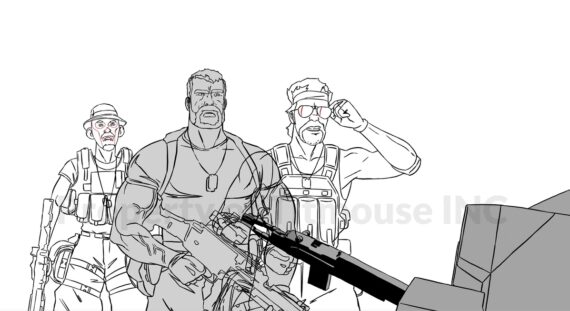 P: With the digital nature of things nowadays, which softwares did you use?
G: I used TV PAINT. There was a no limitation on softwares from the team but in the end the cleanup had to be done on TV Paint. Four studios were hired to do the cleanup, from India there was Studio Sideline from Bangalore. So, the final brush was in TV Paint but animators had freedom of software. If the output is not a TV Paint file then just animators just delivered the png's and the team would put them together. It was all in 4K resolution.
This project also taught me a lot about how to make great stuff. In Love Death and Robots, I also saw how 3D can be used in an amazing way. As you can see in my episode of LDR, the characters are pretty complex with a lot of stuff on their body. These guys got a blender 3D model of just the heads and the bear head. Before animators joined, they made 3D models of all volumetric non-living objects and the faces of the characters to help animators stay on model. So, then revision and retake also get cut down. We used to do a rough animation pass then take that into blender put our animation in low opacity and match the 3D model. Then take it back to TV Paint to finish the expressions and stuff. Its good to get the basic idea of goggles, chin proportions and other things. Now people are making better pipelines for things. Just because you work with 2D animation doesn't mean you can't make use of 3D. Whatever helps make it look good. Utilizing 3D sculpted faces in this way was a big thing since the audience looks at the face and the eyes of the characters the most. It helped a lot with animation and perfecting expressions. It's a common practice in that part of the world but it's getting picked up in India also. Adding 3D to the 2D pipeline is an exciting development.
P: How was the contract procedure? NDA? Process?
G: I signed an NDA and had a proper onboarding like a big company. Being an American company, they had a lot of forms to sign, work from home agreements. Nothing seemed out of order in general and it was standard so it went ahead smoothly. We were paid certain amount of dollars for each approved second of animation in the beginning since I was a newcomer and they didn't know my skill level or speed. Later as my contract extended to few more months, they put me on a day rate. It was 8 hours a day and 5 days a week which was great! I couldn't believe I had weekends off. Because of that you don't worry about how many shots you have delivered or how many seconds you have done. So, you can focus on the quality of the shot instead of the number of shots you are churning out in a day. Before, when I was on a per approved second rate, I worried about how much money I made. If it's a 4 second shot but it took me a month to make, then I've earned less money. So, I've to be fast but there's only so many hours in a day. Most of the seniors were on a day rate but later I got onto the day rate thankfully.
P: Have you guys been called in for Season 4? Since Blur has done quite a few films for the series.
G: So far haven't heard about anything yet. It might be getting made in the development stage. While I was working on the film, Season 2 had been released. So maybe it's still in the development stage. Earlier during the pandemic, I joined a clubhouse meet where the LDR directors were talking about why there was only one 2D animated film in Season 2.
If you've noticed there were 18 films in Season 1 but in Season 2 and 3 there are 8 or 9. So basically, they split the production over 2 years. Blur makes at least 2 films every season in their extreme vfx cinematic style. Season 2 and 3 were supposed to be together but they released separately because of the pandemic. They also said they've been trying to get in touch with 2D animation studios but there are very few 2D animation studios compared to 3D and VFX and every 2D animation studio was busy. They would've been thrilled to have more 2D animation but there simply wasn't enough studios available. Now things are picking up even though Netflix cancelled a lot of their shows. Amazon, Apple, HBO are all going all out on adult animation. The subjects are mature and not for kids. So, it's a good time for animation in general.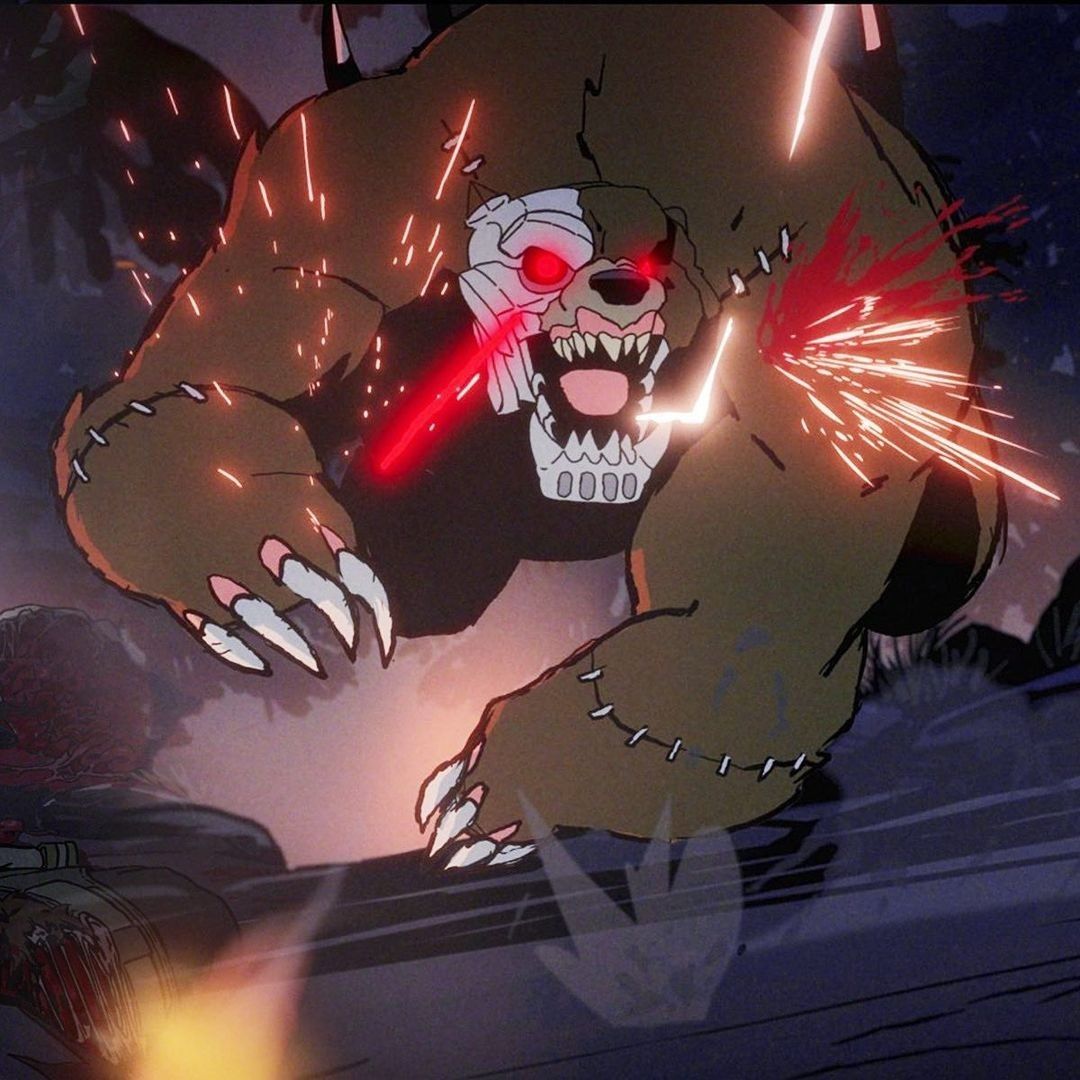 P: How's your schedule packed for the next month or so?
G: I had joined Titmouse as an animation revisionist on an animation TV series that they were making. But I left a few weeks ago since I wanted to travel to Annecy since I don't know what the future holds. If the world will even exist.
G: I mean pandemic and wars! You don't know what's going to happen in the world. So, I left that project since it was a long-term TV series. Every 2 weeks we'd have to deliver an episode. I was mostly redoing stuff they didn't like in the first round of animations. Mostly, I had a week or so to make my deliveries. I needed a break. Right now, I'm working with BlinkInk on a commercial music video that they are making. They are a studio from London, they had a stop motion film on Love Death and Robots in Season 2. They love exploring and sourcing different art direction and are a studio that wants to experiment. I had done a music video for Tom Mish in 2020 with a director from London who got signed onto BlinkInk. Then I worked with them on a The Weeknd music video. So that's how I got connected with BlinkInk.
P: All this sounds like a packed roster! When you are so packed you must be having to say no to people right? How do you do it?
G: I'm still struggling with that. Today I'll be refusing a client I said I'd help. I'm helping people and friends all time. Like I'm helping Debjyoti with something. He also makes awesome stuff. When I went through Love, Death and Robots and saw, I realized how they (the West) work. They work on one project at a time, are happy with their money and spend quality time outside of work. So, I decided to make a shift, now that I'm married, I wanted to give time to family as long as I'm getting paid enough. And keep things transparent about how many hours a day I work for a client. I still struggle in saying no I often feel guilty about my work for clients.
P: How do you spend your freetime? Do you exercise or are glued to your system?
G: Yeah, I'm exercising and loving it. Its good for you also. After marriage we got a dog which I wouldn't suggest to young couples! Its like having a child. Instead of enjoying your newly wed life, we spend a lot of time with the puppy. When it gets happy and excited, I have to take her out to let her expend energy. I've disconnected from video games. Hopefully I get back to it one day. My time is split between Shreeya, the dog, my family and watching stuff outside work.
P: What advice would you give to a young freelance professional in India who want to get into animation?
G: I'd love to say that there are no boundaries right now. The upside of the pandemic is that it broke a lot of barriers and Indian animators should not be afraid to apply to places outside India. Don't just ask for work but just become friends with them online and maybe something will work out eventually. If you keep posting your work regularly it's a bonus because it helps a lot. Sometimes you get tired of it but make sure you keep posting regularly.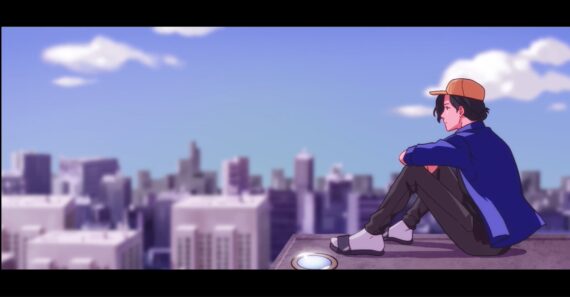 G: Instagram! My career has moved because of Instagram. Somehow the algorithm has worked in my favor and my work has reached many people. There's also a separate community on twitter mainly focusing on Eastern animators, Japanese and Australians. But the twitter algorithm doesn't work exactly like Instagram. If you tag 2D animation on twitter it doesn't mean it will get through.
So, the main thing is the post regularly and if you are regular and it shows growth… plus, it's something people like then they will reach out to you. Posting regularly keeps your name fresh in someone's mind so that when someone is looking for an animator then your name will pop up. In summary keep reaching out and post regularly. Become easy to be found out. LinkedIn is also a very good platform because a lot of bigger companies Nickelodeon, Disney are mostly active on LinkedIn as they recruit from there. Its important that your CV is available quickly. Instagram is a bit chaotic and unprofessional for some, LinkedIn is more formal. Building a website is good but it depends on the traffic.
P: What's your outlook for India? and how can we make things better?
G: More than the glamour of working on LDR and Netflix, I observed that a dedicated Line Producer and Production Manager is paramount to helping me work with a global team with different languages and time zones. In Live Action terms, a producer is often someone with the money but here it was someone who facilitates your work and makes your job easier. An animation director shouldn't be handling emails, onboarding, links, exports… that sort of thing because he has a lot of other things to consider. The production manager was giving us the details for the next shot, the background, the sketches etc and then letting us loose. So. with this so-called clerical work out of the way everyone enjoyed working on the whole process. I've noticed in my experience in India, there is no position like that. People who study Mass Media must be learning the management side of the filmmaking…
Here in India clients don't understand the process of animation, they think in terms of live action. And studios here are still struggling with making clients understand that once the animatic is locked you can't change things. Obviously, the client is also troubled because he thinks that the animatic is a rough storyboard and isn't able to visualize properly from it. So, the Line Producer really helped everyone realize their timelines and processes. You know that you will get weekends off. Even if you don't get weekend off you know you'll be paid overtime. There is a time given to visual development strictly so that the client understands everything clearly. Then test shots are done… only then animation starts. Production is very important. In the 2D animation field I've noticed a lack of producers.
P: Who is a dream director you want to work with?
G: There are so many… let's start with the biggest rockstar right now, Alberto Mielgo but he mostly works in 3d, but I'm sure theres always a way to work around.
There's Jonathan Djob Nkondo, my biggest inspiration since college. His editing and animation is just do fluid.
There's Genndy Tartkovsky, Masanobu Hirouka, hideo Kojima. Actually there are many more!! I realise that more than these big wigs, I'm more excited to work with any talented contemporaries, may it be any fields. May it be a musician, a rapper, an illustrator, film director, etc.
That's why I've loved working with Upamanyu, Debjyoti, Armaan Yadav (rapper from Delhi), Sumit Roy, Jack Brown( UK, now signed to Blinkink), Emonee LaRussa (2time Emmy winner, USA), Daniel Cuervo (Columbia) . All of these guys have a very strong voice. Figuratively. Like their medium of art has a style very specific to them, only they can tell stories that way. And that's why I love to be an accomplice with them in their adventure. You could say I love to contribute and learn new things myself. Probably that's why I loved freelancing and working with so many different artists. Rather than getting a job or working in the same studio.
There are so many of my contemporaries who are so talented, and these guys are the future. They are going to be what's hot next. I want front row seat in their celebration.
G: Generally, students get stressed out in the beginning with work. When they don't get internships or work or projects. They think where do we send our work to or what studios to apply to… Obviously, I'm coming from a different point of view right now considering where I am. Maybe they should be worried. But we as students, burn ourselves out trying to reach a crazy level. I never finished any film in college because I always wanted to reach a crazy level, but all I had to do was make something like Mother which was short, sweet and simple thinking about time and production. Don't try to reach for massive goals at first.
If you're in college try to enjoy everything that college is offering. Go easy on yourself. You don't need to be in a city like Mumbai where rents are high, you can do work from home. Be professional about your hours, be in your comfort zone but respect yourself and if the client sees that your respect yourself then they will respect you. Give time to yourself and keep working on yourself and good things will happen.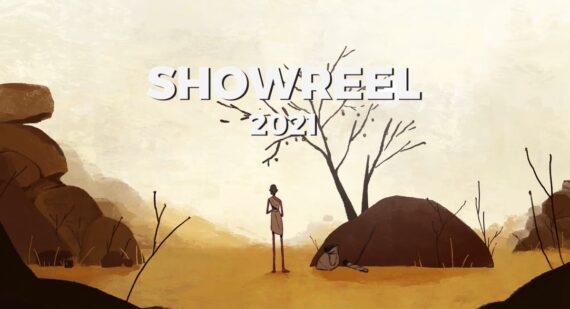 We are super proud of the work Waka is upto and hope he climbs to greater heights and more fantastic work! You can reach Gaurav Wakankar at: @gwakanaka on most platforms.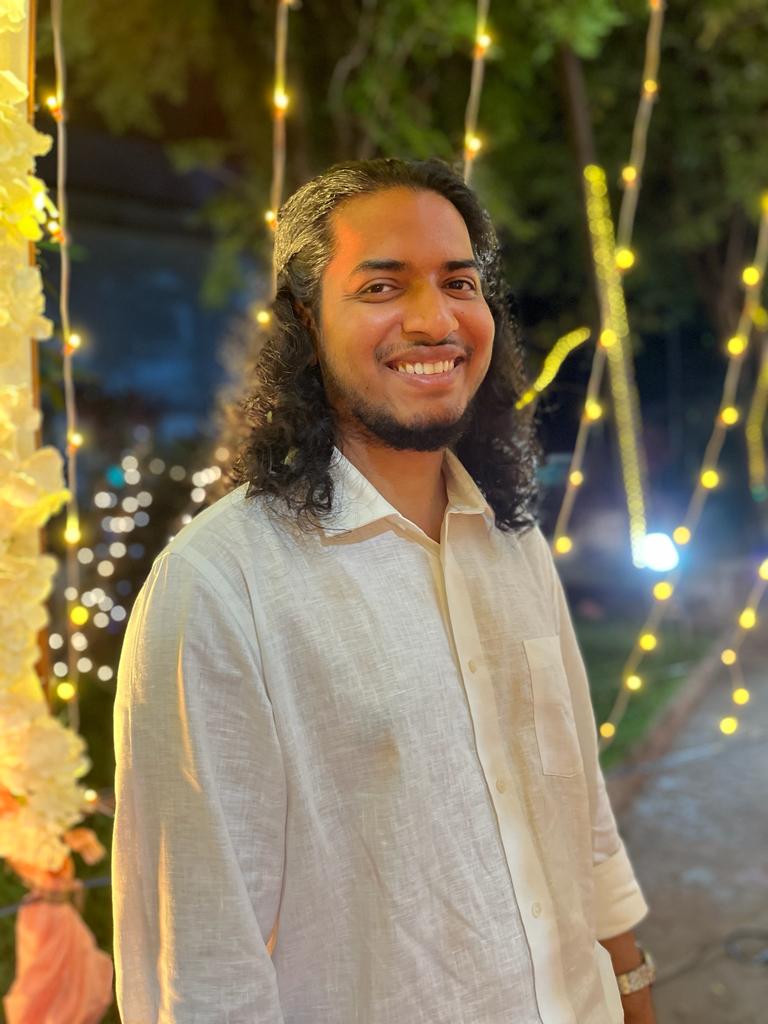 The opinions and thoughts expressed in the article are subjective and reflect only the interviewee's views.