Engineering Her Own Animated Journey: The Incredible story of Archana Senthilkumar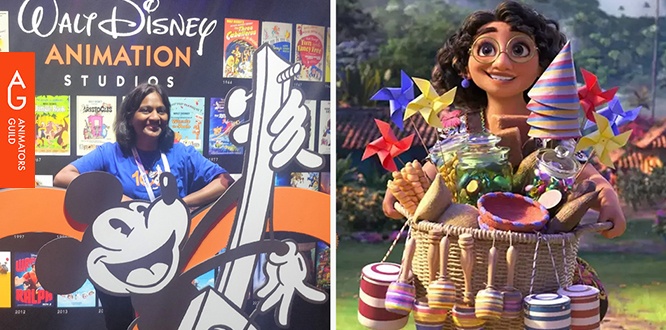 I first met Archana when she reached out to AGI expressing her interest to write for the zine and join the cause. After a long and heartfelt conversation discussing our individual goals, dreams, our love for Animation and telling authentic cultural stories from different parts of the World - I knew we'd found a kindred spirit. Today, Archana is the newest (nearly official) team member of AGI, helping us organise the upcoming AGIFEST 2022 - making it work through a 12-hour time gap!
Ernest and delightful, Archana Senthilkumar is modest about her achievements! From being a trained engineer to currently a Technical Director at Walt Disney Animation Studios in LA, her professional journey has been full of exciting pit-stops. Talking to her was an eye opener. She made me realise the extent of passion, hard-work and creativity put into creating a feature length animation by not just the direct creative team, as we all like to focus on, but so many other key contributors. We just knew we had to do a story on Archana's Journey.
(On a side-note, those of you who haven't watched Encanto the Disney's 2021 Animated Film yet - jump to it! It is a refreshing story, with a set of wonderful characters. A personal favourite for sure.)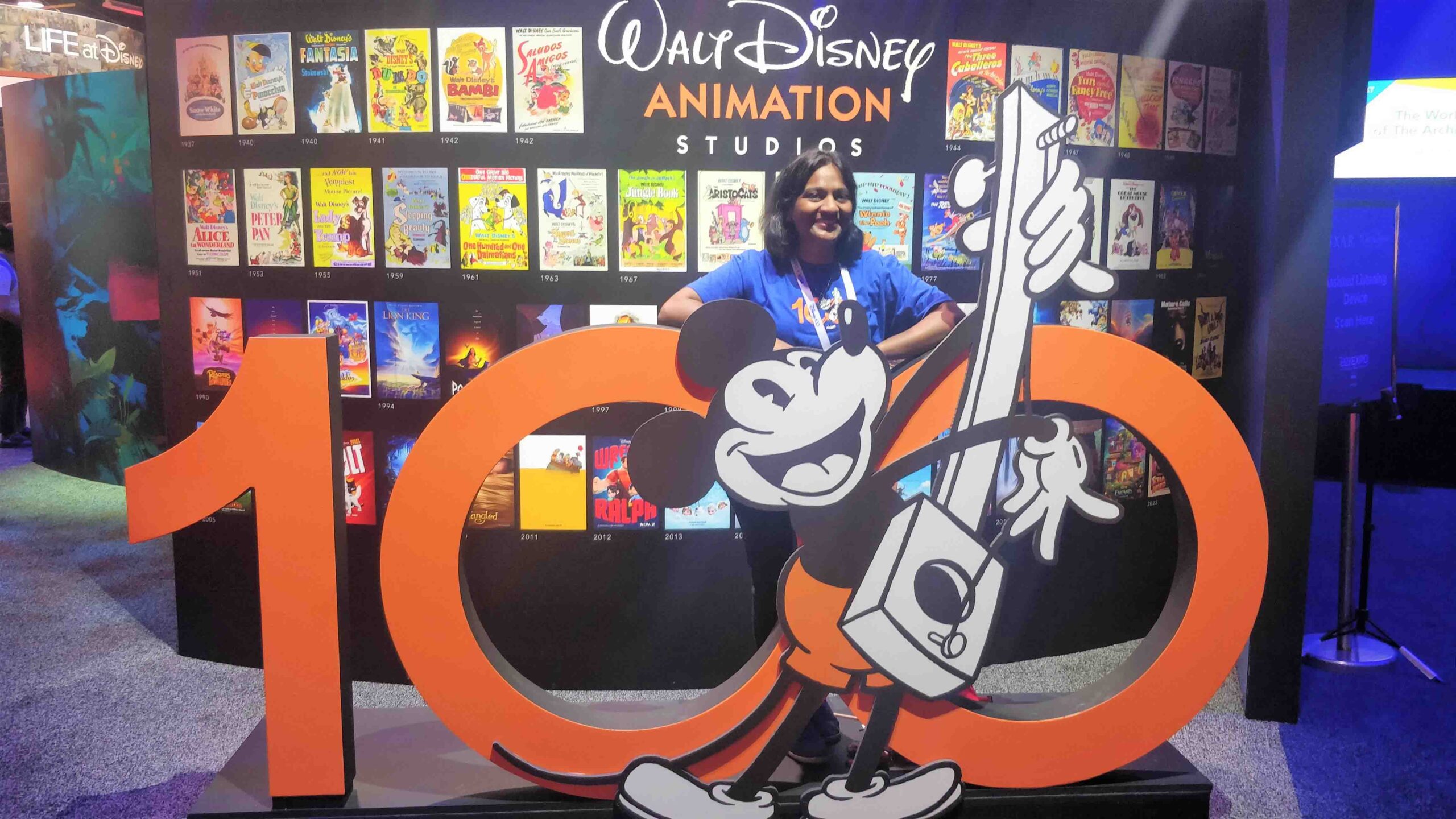 AGI: Let's start with an easy question: Who is Archana?
A: Such a tough question haha. I'm just someone with way too many interests and is eternally answering the question of what I want to be doing and learning. Currently, I work as a General Technical Director at Walt Disney Animation Studios.
AGI: Tell us a bit about your childhood - your roots in Chennai - and the start of your professional journey.
A: I was born in Chennai, grew up for a bit in the US, and then my family shifted back to Chennai when I was in 6th std. It was a big move, but I eventually realised I loved being around my grandparents, cousins and extended family. I made friends in school and found hobbies I loved. I was fortunate enough to have many experiences that made Chennai home.
Growing up, I watched every animated movie that came out and got introduced to anime as well in high school. At some point most of my friends grew out of it, but I haven't been able to and doubt I ever will. While I loved animation and dreamed of working on animated films, I was never consistent about practicing art, so I told myself I was being more 'realistic' by pursuing a degree in Electronics and Communication engineering. I enjoy science and math, so never had much to complain about. It was well into my first job as a software engineer, still in Chennai, when I had a moment of panic wondering about what I really wanted to do. I decided to take a chance to pursue something that I was excited about. It felt like, the best way to potentially get from where I was to where I wanted to be was to use the skills and experience I already had in software programming and so I moved to the US for a Masters in Computer Science.
AGI: On your resume we see an internship at NASA that sounds very exciting. Do tell us a bit more about it.
A: I owe that to the versatility of computer science. Technology and software programming is used in every field and with the basics, you have the key to find opportunities anywhere that interests you. I'm (also) obsessed with space science and exploration so I applied to and was able to land an internship at NASA's Jet Propulsion Laboratory in Pasadena, CA. I worked on a tool for JPL's legal department as well as on JPL's internal video sharing platform implementing 360 degree video features. While these projects weren't directly related to space tech, I had an amazing summer where I saw Perseverance, the Mars 2020 rover, being built and learnt about the incredible science being done at JPL.
AGI: How did you go from NASA to the very heart of Animation - Walt Disney Studios as Technical Director?
A: It was my Masters experience that truly broadened my view with regards to the different kinds of opportunities out there for someone like me who wanted it all with art, technology, storytelling and creativity. Working at an animation film studio was always the stretch goal, because even in the west, the number of animated films coming out in a year (read: the amount of work in animation) is far less compared to the number of people who want to work in animation, no matter how passionate and talented you are. So I was exploring Computer Graphics and Visualisation, AI, Augmented and Virtual Reality - anywhere technology and creativity seemed to intersect. I think I just liked being able to see the results of what otherwise felt like very abstract code and math.
I got to meet a professor at my university whose research career was entirely in video game design. After I expressed my interests, the professor recommended I join their experimental AR/VR class. As part of the class, I worked on a team project producing a virtual reality experience for a theatre company Apples and Oranges Arts. It was meant to accompany a play they were producing, so we had to understand the story and characters, write a script that would work well in VR, then actually develop and execute the experience for the Oculus Rift. It was a huge learning curve, but we were proud of what we put up at the end and it was honestly just a lot of fun to work in that sweet spot of technology and storytelling. I knew that was what I wanted to do more of. Though I quickly discovered it's not the easiest job to find, just because the job titles and requirements vary so widely across companies and industries.
I happened to come across a tweet from the Disney Animation Careers handle that it was the last day for the General TD Trainee applications. I had no idea what exactly a TD was at the time, but I saw some overlap in the requirements and scrambled to submit my application. I didn't think much about it after, so it was a huge surprise, when I got the call a month later to come in for an interview. The Trainee program is a 3 month program where 3-5 applicants are ramped up on everything about the animation pipeline and trained to support a feature film production at the end of it. I was thrilled to get into the program and moved to Los Angeles to start at Disney. I wanted to work on animated feature films, but never expected it to happen as soon as it did. At the end of the 3 months, I was asked to stay on as an Assistant Technical Director on Raya and the Last Dragon, and then as Technical Director on all the features since.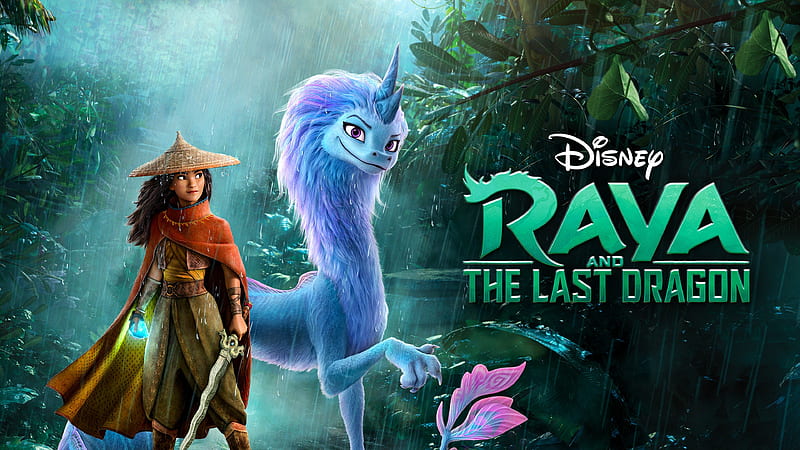 AGI: You mentioned (when we spoke earlier) about working as Technical Director on Encanto. Can you tell us a bit more about your contribution as part of the team, the whole experience, and challenges faced?
As a TD our job is to develop software tools and processes that can help (the artist / the creative team) technically achieve and efficiently produce whatever is required for the movie.
A: I supported the animation department on Encanto. As a TD our job is to develop software tools and processes that can help technically achieve and efficiently produce whatever is required for the movie. Once the tools are rolled out and artists start using them to make the movie, it's also a TDs job to troubleshoot and make sure all the data from various departments get downstream correctly. Because of the large variety of skin tones we see in the characters in Encanto, I helped develop a tool to assign the skin-tones of background crowd characters based on conditions the artist provides. They can go back and easily adjust the selected skin tones as well.
We also built and supported a tool that would allow an animator to easily pick up any geometry from a static environment and add controls so it could be manipulated quickly (rather than having to ask the rigging department to add them) This was developed especially for Encanto, because Casita, the house, is basically its own character and there are animated drawers, windows and tiles everywhere that interact and almost converse with all the characters.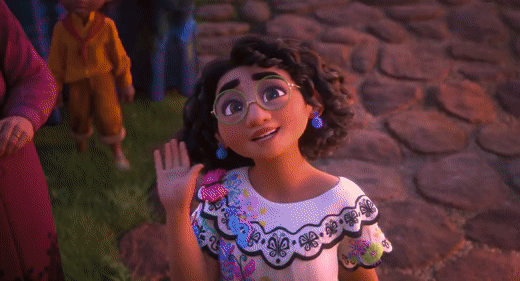 One of the challenges on Encanto was definitely the large ensemble of main characters. With 12 characters and many scenes having multiple characters in them, it was a challenge to make sure that artists were able to work on their scenes without too much slowness or memory issues.
Another tool that I didn't directly work on was an embroidery tool that's already released online. It was also developed for Encanto. Sharing a video to demonstrate the tool.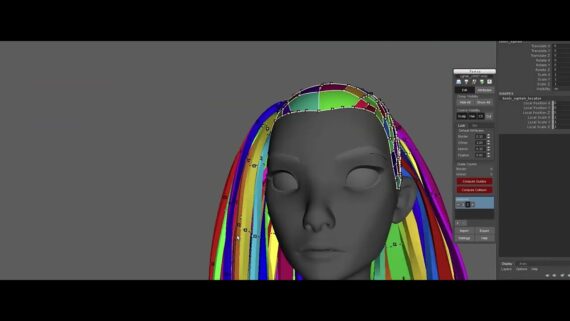 From the initial pitch, I loved Encanto - the characters were endearing, the setting was vibrant and it was so exciting to immerse in the cultural aspects of the film. You could almost feel the energy of everyone going that extra mile to make the film the best it can be, which is saying something since Encanto was entirely produced from home during the pandemic. Overall, Encanto was a great experience and it feels good to know that I had a tiny part in a movie that was well received by audiences.
AGI: You clearly stay very busy - you are also associated with the Women in Animation (WIA) LA Chapter!
A: I joined the Women in Animation, Los Angeles chapter as a way to meet other like minded professionals and students. In it, I've found a support network of friends and mentors that I'm so grateful for. Women face many challenges in the workplace and it's helpful to hear the experiences of people who have done what you're aspiring to do and learn from their successes and setbacks. It's a great avenue to not just get advice but also support others with things you've learnt from your experiences.
AGI: What are some of your other interests, hobbies, pet peeve, Ikigai?
A: I have way too many hobbies, but I've stuck with music and writing the longest. I started learning classical Carnatic Music as a child and continue to learn and practise today. Writing is my favourite way to relax and reflect. I've written articles and edited for school and college media and more recently I've started focusing on writing for animation. I'm hoping that in the future, one of those ideas can be brought to life.
As for ikigai, I love the thought of leaving the world a better place than how we found it and try to remember that in all my interactions and work…
AGI: What are your thoughts on the future of animation?
A: I'm excited! There's a huge untapped audience that's slowly finding animated content of different genres (outside of children's animation) and discovering the depth of storytelling possible in the medium. I'm especially excited about animation from India and South Asia, because I definitely missed seeing stories that reflected life in India growing up. I've also been paying more attention to shorter form animation and comics on Instagram and Youtube. The amount of talent and creativity out there is so inspiring and makes me want to push myself to do more.
AGI: Last but not the least, any word of advice you'd want to leave our readers with?
A: Do it now! Whatever it is you want to do or learn about or try out, just start now. Don't wait for the right time or when you feel ready. I still struggle with this, where I'll have ideas and then work very hard on perfecting them only in my head. It's better to just get started. You learn more from mistakes than from preparation.