Academia Nuts About Animation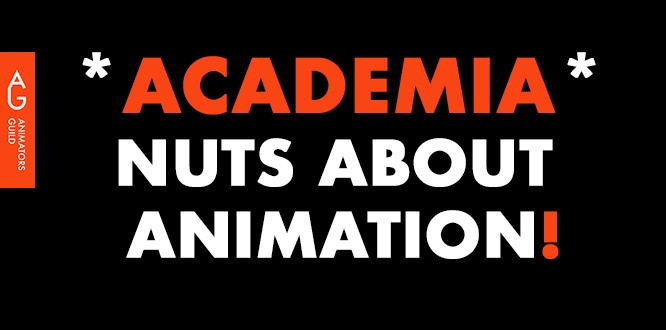 It is the start of a new decade and new beginnings.
A time to start from where we are and to make headway into the unknown.
The Animators Guild is attempting to forge connections and start conversations about things that really matter. With our current situation, building a common platform is now far more important than it was ever before. We need to come together to understand the future needs of the animation industry and to change the current face of animation in India.
But I do believe that change starts in the classroom… so why not start there today and find out what is going on in classrooms today anyway?
We asked some of the most influential minds teaching design and animation across the top educational institutes of the country for advice and discussed the future of our nascent industry.
Sandeep Ashwath Srishti Institute of Art Design and Technology, Bengaluru
Gautam Benegal Srishti Institute of Art Design and Technology, Bengaluru
Binoj John MIT Institute of Design, Pune
Snigdha Rao Pearl Academy, New Delhi
Priyankar Gupta ISDI School of Design and Innovation, Mumbai
Tony Singh DICE VFS: School of Entertainment Arts, Mumbai
Here are some excerpts from the interviews:
1. What does the new animation graduate need in their arsenal to survive in the industry and stay afloat?
While creativity, passion and perseverance will certainly take you places,
collaboration and teamwork is the key to any new project. Being open, flexible
and adaptable will help you navigate the trends and flow of the market that keep changing. This pace has only accelerated in the recent past – newer platforms, newer tools, newer avenues.
Being up to speed with the latest software can certainly be an asset, however Tony Singh aptly says "Software / technology / skills (tools) are ever evolving and though important, should never be the end goal."
The new animation graduate should be a fearless polymath, stresses Sandeep Ashwath. They have to try and be comfortable with two or more modes of working and be malleable in developing their practice further. They have to be intelligent and sensitive storytellers giving importance to brevity, precision and lightness.
2. What do you think of the need to establish a strong Indian contemporary style of animation. Is there one? Is there a need for such a base to grow?
Gautam Benegal reminisces 'Films Division used to have these characters based on the 1950's and 60's American UPA (United Producers and Artists) cartoons which were designed to be limited animation because after the WW2 there wasn't much money going around in studios like Warner Brothers/ Hanna Barbara and even Disney. Our adoption of their styles fell in with our limited budgets too, and we also adopted some East Europeans styles as well. But outside the govt ambit, we developed distinctly Indian styles which were organically rooted in our folk arts, and of course NID pioneered that. The work of Nina Sabnani, Binita Desai and Chitra Sarathy is valuable to the development of animation in the 1980's. And of course the base is growing already with animators like Gitanjali Rao and Shilpa Ranade among others.'
For the longest time the only design language identified with India has been that of Kitch (visually), and that's only one facet of the rich plurality of our nation', writes Snigdha Rao. 'The TV era gave us a few memorable characters, like Simpu, Poga, which were both Indian and Contemporary (and relatable). Glimpses of different approaches have been seen, for example, in the work of idents, fillers, ad films from channel V, MTV, Cartoon Network, Nickelodeon etc. in the 2000s.
In animation in particular, there has been a stark divide – of either being too western influenced or too strongly rooted in the past (arts & craft tradition). This stands true of both the narratives themselves, which oft lean to mythology, as well as their visualisation.'
Unfortunately anything contemporary, has cross cultural references - reflects Priyankar Gupta.
The need is to get back to basics' says Tony - 'with a focus on story development and story telling. There are tons of stories out there that cater to our local sensibilities, let's start looking at telling our stories in our own way and the visual and narrative style will follow.'
The expression in style should be as diverse and varied as India itself, and hence the impetus is on the creative process - agrees Sandeep. 'Educational Institutions should encourage students to critique and unlearn the unconscious absorption of dominant and popular international animation aesthetics and support them in venturing into the unknown, drawing from influences that are local and looking beyond the medium of animation for inspiration.'
3.Where do you see the Indian animation industry going in the next 10 years starting in the classrooms of today?
'We need to become more of an animation content producing industry and less of a supply side group of units' writes Gautam. 'Financiers and producers need to have more confidence in the potential of revenue generation and not cop out and take the easy way as they have been doing for the last 25 years. The occasional Little Krishnas, Chota Bheems and Ghatotkaches are not cutting it. And we need to get our head out of mythology that seems to be the only acceptable genre to our financiers, and explore broader areas.'
To get somewhere, classrooms of today have to put far less importance on tools, and a lot more on holistic development - stresses Tony Singh. 'Skills and education are 2 sides of a coin, yet I believe education is the heavier side. Music, Performing Arts, Tactile Crafts, Storytelling, Design, Aesthetics, Reading, Research, Soft-skills and all things fundamental have to be put on the map… technical knowledge is a minuscule part of holistic development.'
On the other hand, animation coupled with tech allow for infinite possibilities to explore new mediums and avenues for storytelling. The storytelling medium is now far more exciting with the advent of AR/VR and new media. Hence one can expect some fascinating collaborations.
Binoj John is optimistic. 'Looking at the new way of movie sharing such Netflix, Amazon, Idea, Airtel and now Flipkart, I think there is a new platform getting prepared for the dramatic rise of the Indian animation industry.'
Sandeep sees change with a new kind of work culture. 'Moving towards a combination of individual, co-working and a shifting-teams. Spaces that can support strong individual as well as group projects, and allow for a mixing of roles will create support systems for animators and form a robust creative pool for the local market. There are already collectives of this kind taking root, and more should emerge.'
4. How has teaching and learning changed with the advent of the 'Insta' generation with free access to all content available?
Social media is a double edged sword - warns Priyankar Gupta. 'If you are not in it you are dated. If you are in it then you are suffering from anxiety attacks. The references to look at and get "inspired" from are endless. But most dangerous is performance pressure to prove to the world your worth. Several times I have noticed similar works of three students from three different colleges, not knowing who is copying whom.'
Sandeep elaborates, 'Free access to content is very good, but the nets of fervent and discerning minds that can be cast into these seas need careful cultivating. The constant exposure to content at your fingertips leads to constant reacting, quick forming of opinions and an ahistorical act of consumption. This could mostly be a like/not-like and move on type of reception and the unconscious registering of parameters that are seldom reflected upon. It poses a challenge in the culture of teaching and learning spaces, where modes of thinking need to be learnt with focused effort and a deep dive into topics is necessary.'
On the other hand: 'Independent learners couldn't have had it better' writes Tony. 'With comfortable access to information, tutorials, guidance, it's so much easier to acquire knowledge if you're really looking for it.'
Snigdha agrees that 'teaching has also moved beyond the classroom with the multitude of MOOC courses available at the click of a button. The students of today have a lot of resources (and exposure) at hand compared to our heydays! It is of course our role as educators to help them understand, navigate and apply these and stoke their curiosity!'
There oft rests the fear of the loss of value of traditional education (in the eyes of the students) in such a context. However, that's all it is – a perceived threat. An online course is a great supplement, however the role of the teacher as a guide continues to be important.
'You can have all the free access to the tools but original content generation and development of personal aesthetic is the real challenge' adds Gautam.
5. What in your opinion, is the need for a magazine like the Animators Guild to exist and is there a void to bridge the gap between the industry and the institutions?
'We need to find and amplify the voice(s) of Indian Animation and AG aspires to be this very platform.' writes Snigdha. 'The chat around animation has rested in small circles or as a small tab on other websites. By aspiring to be a repository of information on the "scene" it will hopefully fill the void that has existed between the industry and colleges.'
Tony reinstates that 'Targeted media that can help share knowledge is always a boon and must-have for any industry. Insights from practicing professionals, film-makers, industry experts - if available to educators, will help reduce the lack of industry participation in education (not training).'
Sandeep sums it up well when he says 'Platforms like the Animators Guild are very important in showcasing animation as an art and design practice. It should include not only animators and animation, but thoughts of animators on other art forms and issues too.'
WATCH THIS!
(Top recommendations for the aspiring animator from the Academics.)
1. Anna and Bella by Borge Ring
2. The Killing of an Egg by Paul Driessen
3. The Old Man and the Sea by Alexander Petrov
4. The Triplets of Belleville by Slyvain Chomet
5. Yellow Submarine by George Dunning
6. Howl's Moving Castle by Hayao Miyazaki (for that matter all Miyazaki Films!)
7. The Jungle Book (1967) by Wolfgang Reitherman (Walt Disney Productions)
8. Lion King Original (1994) by Roger Allers, Rob Minkoff (Walt Disney Productions)
9. Father and Daughter by Michael Du Dok Dewit
10. My Neighbour Totoro by Hayao Miyazaki
11. Hedgehog in the Fog (1975) by Yuri Norstein
12. The Hill Farm (1989) by Mark Baker
13. Looking at a Cloud (2005) Naoyuki Tsuji
14. Fantasia (1940) by Multiple Directors (Walt Disney Productions)
15. Prince Achmed by Lotte Reiniger, Carl Koch
16. The Man Who Planted Trees by Frederic Back