In conversation with Taniya Vij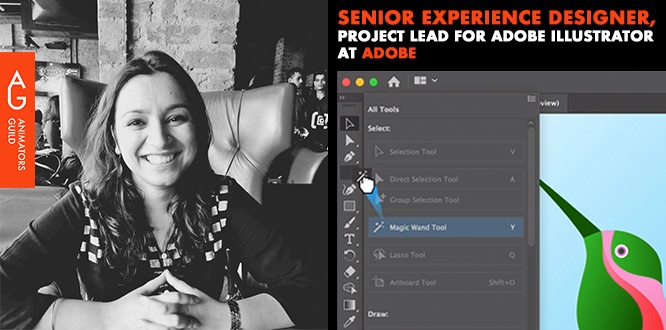 Recently on a lazy Sunday I got a chance to catch an old childhood friend and make her tell us about her steller work. It is referred to the quintessential Chance Pe Dance (CPD) ya Tukka Mardala ya Mauke pe Chauka or Ask and lets see what happens. Meet Taniya Vij. She is an architect, studied at IIT, an Industrial designer, avid doodler, experience designer, potter, sporadic rant queen and today we are going to get to know about her awe inspiring work.
AG: Tell us about yourself and how you got to do what you do?
Hi, I'm Taniya and I have been on this Earth for a little more than 30 years. I've been part of a lot of things post school. I did my under grad architecture, five years of drilling college work, went ahead and practiced more in conservation-restoration, because I love historic monuments. I then, ventured into Masters in industrial design, where I was actually doing product design, a little bit of automobile projects too and somehow after that life took another turn and I got into UX design. It's been more than eight years that I've been doing User Experience Design projects. The journey has been very crazy and wonderful.
What, where and with whom were you doing automobile design? How does it All add up?
My masters was a little wild, so I did projects which I knew I will never do in my life, ever! Practically, I was picking up things which were adventurous and also influenced sub consciously by my father's automobile industry background. One of my projects was interior redesign of a bus as a mobile Crèche (a nursery where babies and young children can be cared for during the working day) for construction workers. This was my final year project in Masters. (which won me an award later)
My journey has been a total rollercoaster. From Architecture, to Industrial Design and designing a Crèche for Industrial workers and their children to now user experiences for millions of people.
It's an interesting thought, when I look back, in architecture, we were designing houses or settlements for Humans. I mean five years we were bred on this concept that you are designing for a client, you are designing for someone else. Whether it's a house whether it's a settlement or a Township, whatever scale you are designing for. It's always someone that you had in mind. Their needs, their expectations, their Lifestyles and then you design a physical space around it. When it came to Product Design again, you have a user that you are thinking of. You're designing the product for a user. You are thinking of limitations or opportunities for that particular problem that you're solving for, for that user in a physical or non-physical way of a solution. And I think UX or this existing work that I'm doing, experience design is a seamless manifestation of this larger thought. Again, you are doing it for users. You are thinking of their needs you are trying to solve some problems, difficulties or seeing an opportunity where you can intervene to make their lives better. So, all throughout somehow, it's always for someone that you're designing.
...all the design principles I've realized over the years are the same. You can apply to a physical space, to a digital space...
I think in my journey, architecture was a lot more macro and now what I'm doing is a more micro version of that. It's designed throughout, its thinking of the user and their unmet needs which is what you are designing for at the end of the day. So, I think it's not contrasting. It's not like poles apart. Actually, the main ingredients around it are the same. Because it's being designed throughout is why I feel that I've been able to transition so well, seamlessly in all these three phases of my career.
You are a senior experience designer and Project Lead for Adobe Illustrator.
What does that mean?

The title 'Lead' corresponds to being the design brand ambassador of the product. I'm involved in lot of collaborative works within the Adobe Creative Cloud product portfolio, whether it's with Photoshop, InDesign any other product design team in Adobe. If there is any need or if there is any question, we know the product well enough to collaborate smoothly with other teams, and the product leadership as well.
I am also a Senior Designer and it entails doing feature work, taking care of whatever is the requirement and making sure the team is also aligned and collaborate more seamlessly with everyone within the organization. Within a product team there are a lot of segments, lot of mini teams, you can say. You have your engineering team, quality engineering, product management, a marketing team, program management and of course we belong to the Global Design team.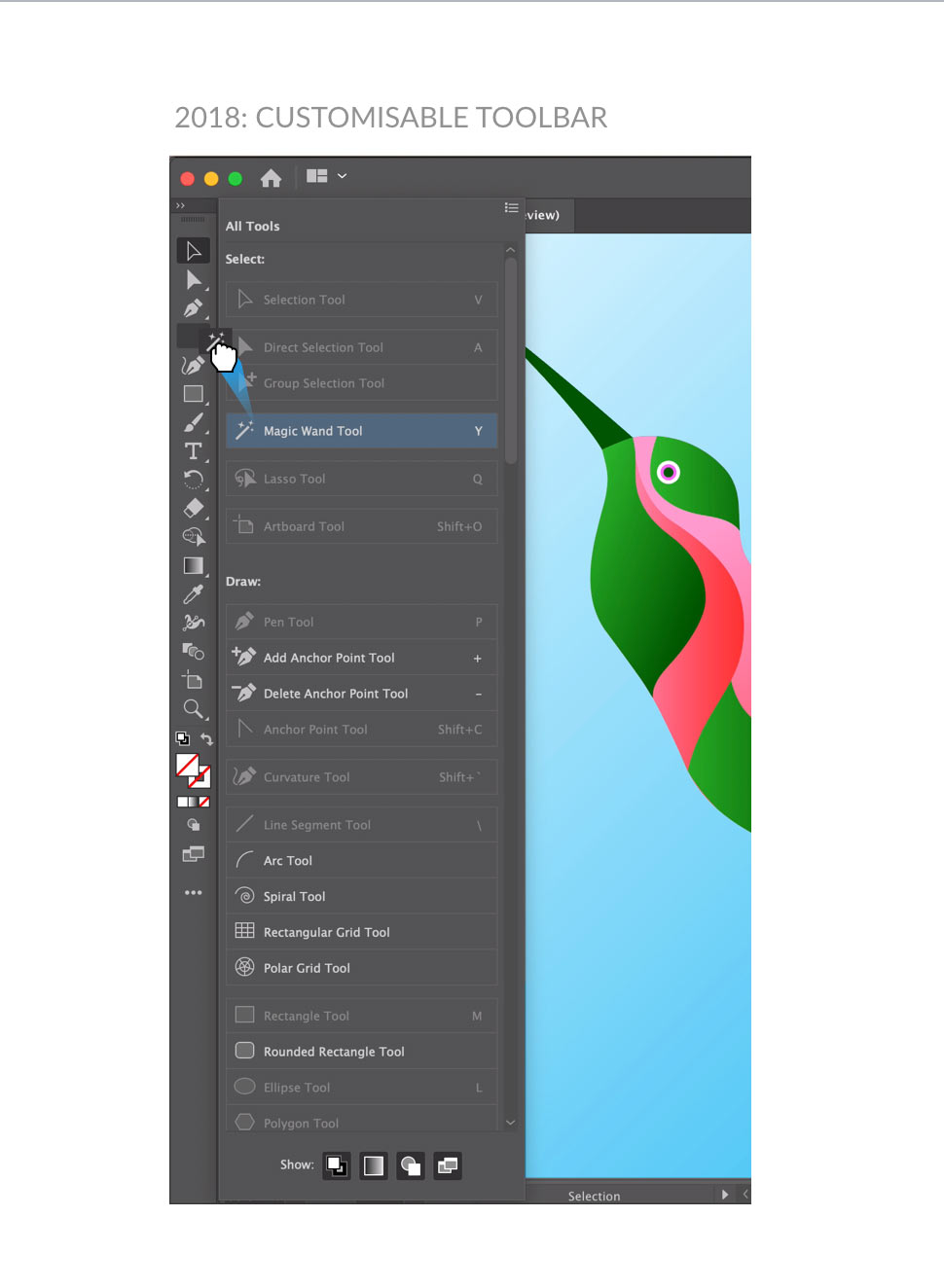 T tell us a little bit about your work flow... like from concept to execution or how do you go about your time and the tools used?

Types of features done in Adobe Illustrator could be broadly classified as:
• Domain specific technology innovations – introducing new product capabilities in the vector drawing space (example: Puppet wrap, Freeform gradients)
• Experience improvements – simplifying the product's experience for new users as well as for existing (Simplified workspace with the introduction of properties panel, simplified toolbar, and other UI improvements)
• Top user requests that are either to improve an existing feature or a workflow – addressing common pain points or stated ask of a larger userbase (Presentation mode, multi-page pdf import)

We undergo three phases in any project, namely, Discovery, Definition, Design deliverable. The team works in the Sprint model for delivering the designs.
The Design Process differs largely in terms of Discovery and Definition phases
• Domain specific technology feature requires more emphasis on discovering the problem and ensuring that one is designed for real user needs with real user scenarios. Hence, a lot of research is needed at the beginning of the design process to define the problem and the need.
• Experience improvements and top user requests – require lot more rigor in solving for ease of use, simplicity, efficiency and thus more focus on user validations
There are six spheres that work cohesively as the Ai team:
• Product management,
• Design,
• Engineering team,
• Quality Engineering and
• Marketing
• Program management
A typical feature implementation process begins with defining its scope and intention. We then do deep-dive research and analysis of the problem that we are trying to solve to come with a typical user workflow or journey and gather insights. We share the research within the design team and start ideating on the whiteboard. At times we organize design charrettes - where the rest of the design team comes together and conceptualize ideas and peer brainstorming sessions.
The outcome is summarized and shared with Product managers and Engineering managers for feasibility evaluation in terms of time and available resources, that would require to fulfill the updated feature scope and direction. It may get divided into phases for a bigger feature. For such cases, a balanced MVP is agreed upon and taken forward.
The concepts are further developed into low fidelity design wireframes, which are critiqued by peers and Senior designers/leaders. This would lead to refinement of designs which are then converted to high fidelity for further user validations-end user community, evangelists, influencers, pre-release forums.
A feature typically undergoes multiple design iterations, internal reviews and the final designs are also tested internally-externally for usability issues.
Once the designs are updated with the relevant feedback in form of redline specs, it is then shared with the Engineering team for execution. We may reach out to our centralized icon team, in Germany, for any new icon requirement.



The design team would regularly review the interim builds and also resolve any design bugs which may surface during execution. The QE team would also do their checks and log bugs. The design specs are also shared with the Marketing and Branding team for review and approval on content and text strings.
When UI freeze is declared by the design team, the feature is reviewed by the localization team as Illustrator's UI is translated into 18 languages.
And about the tools that we use to design our features…
When I joined Illustrator, I could proudly say that we designed Illustrator in Illustrator. Initially, it was a little confusing for me, which I can now admit openly. Designing an interface and also clicking on the same interface to design it was a bit baffling for my brain at that time, but I overcame it eventually.
Last couple of years the whole Adobe Design team has transitioned their design work to Adobe XD. We use Adobe XD to do our all Concepts, sometimes presentations as well and all the red line specs that we need to deliver. We collaborate and share within our XD cloud files. One can prototype as well and share it or use it for user research. The product has come a long way now and It's doing wonderful things and it's a good feeling because the product we are creating is what we are using. So that's again a big deal to improve upon a product that you are yourself using.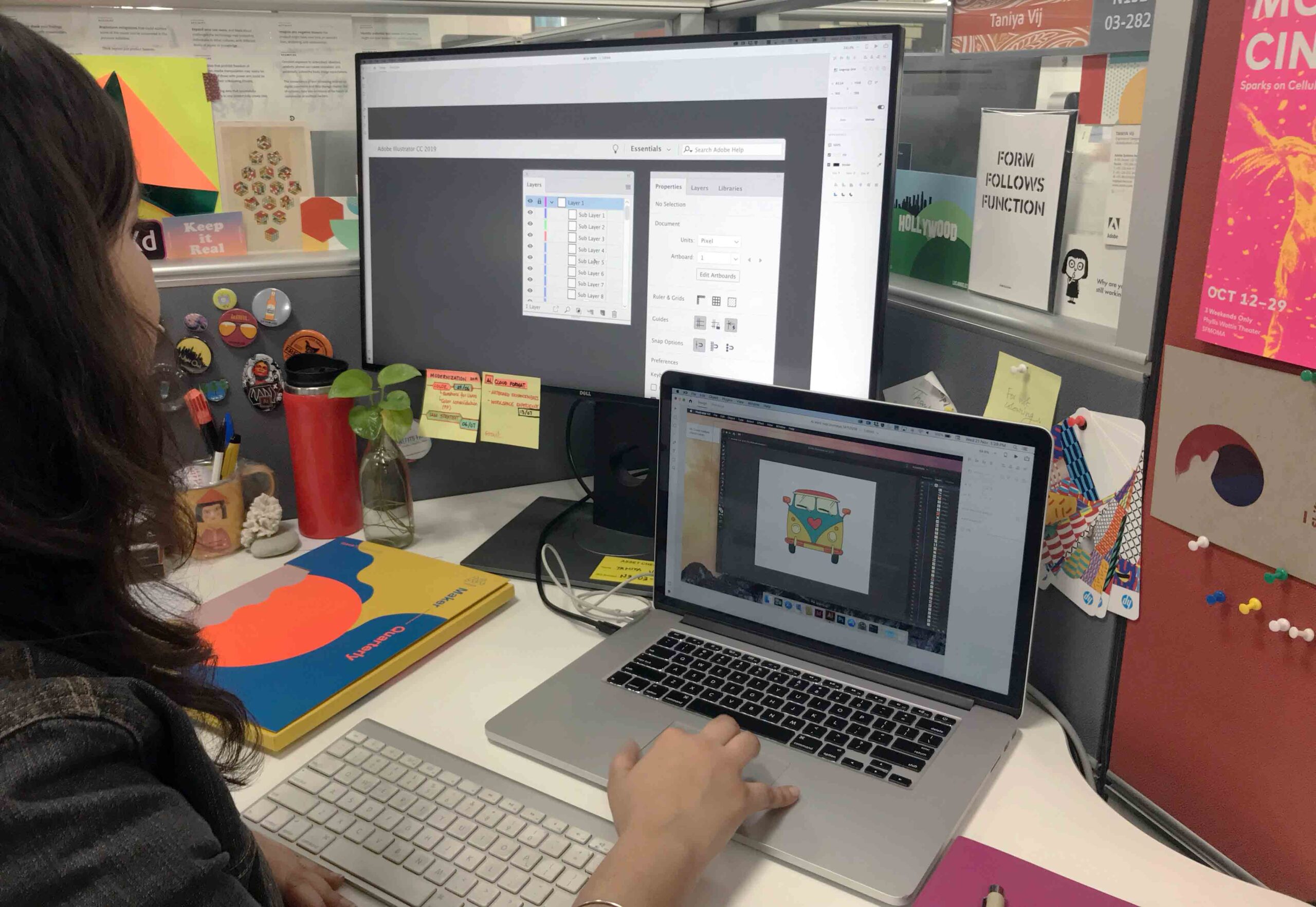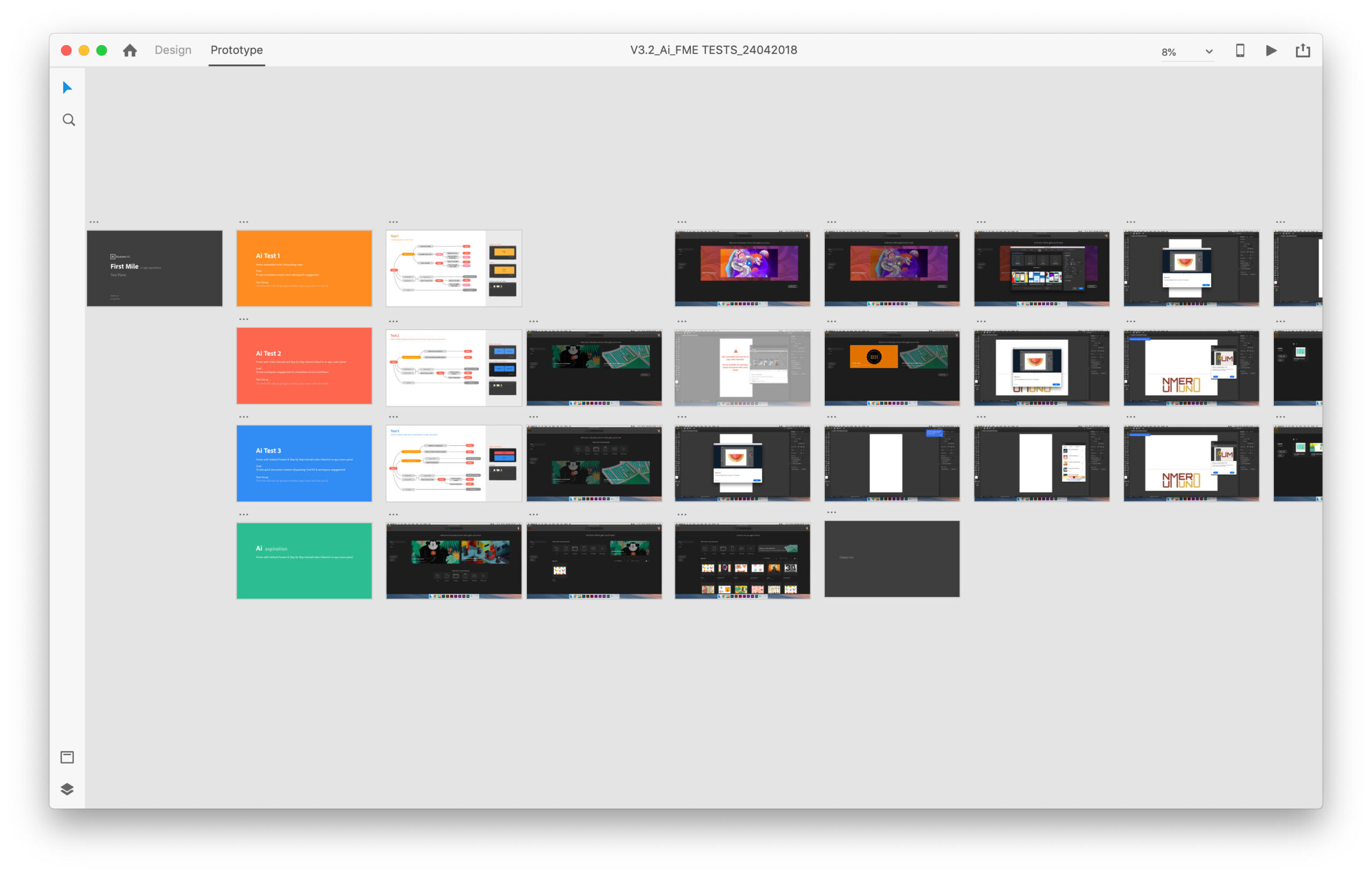 Who's in your core design team?

We are four core designers in Illustrator, along with our design manager and India-US design leadership to whom we all report to. Overall Adobe Design team, working in varied Adobe products- Creative Cloud, Experience Cloud and Document cloud, globally is around 300+ designers spread across multiple locations.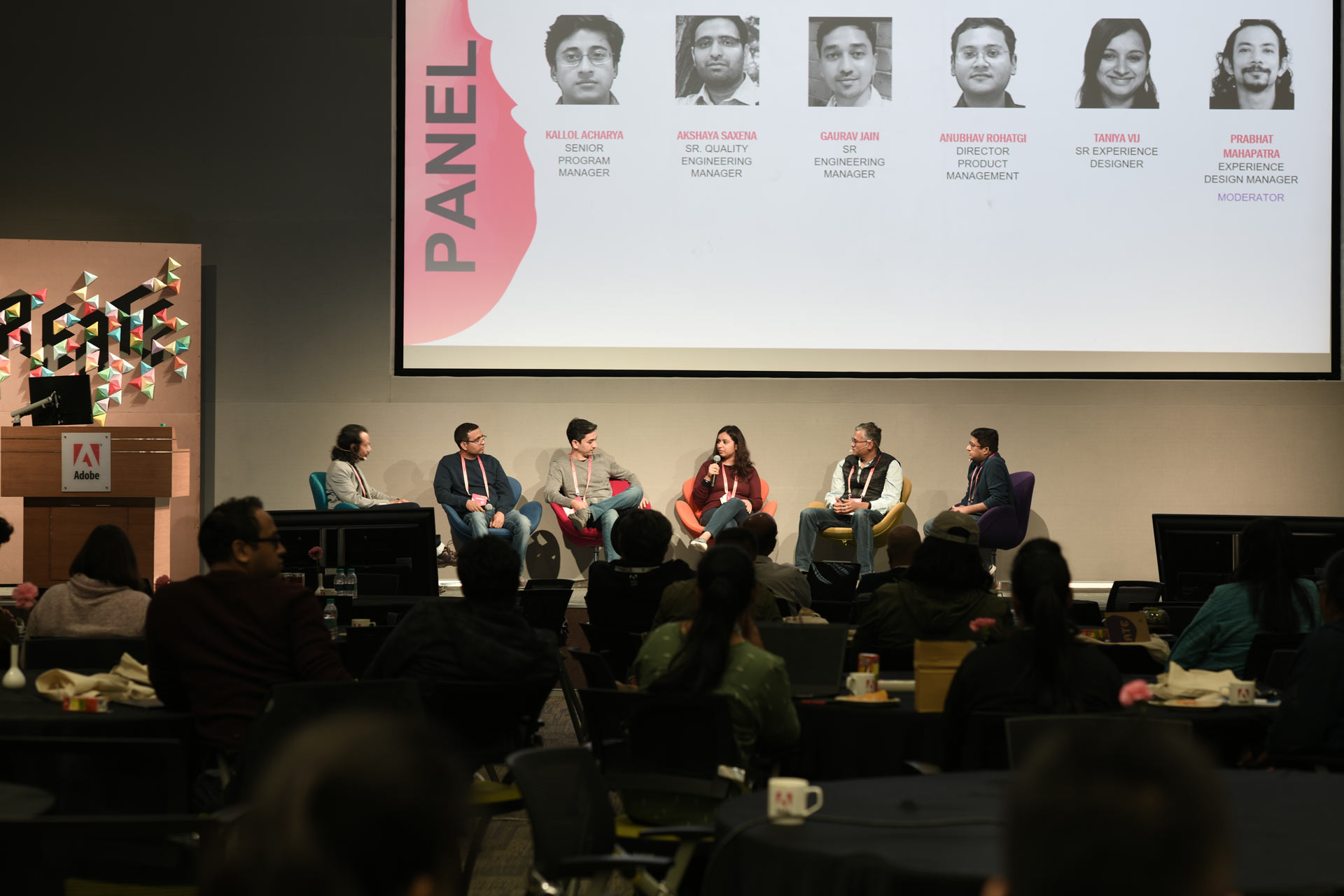 Illustrator Team panel discussion 2019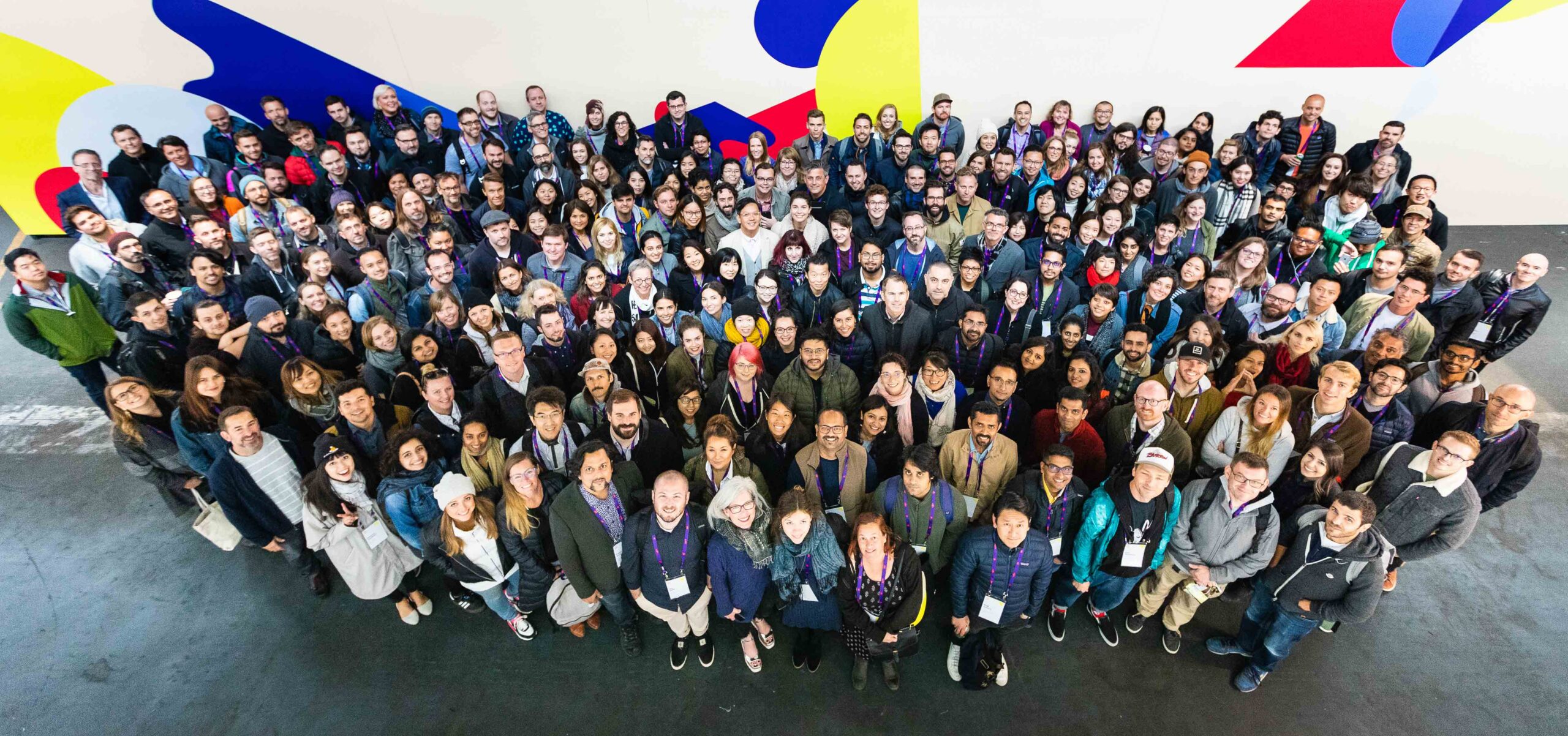 Adobe Global Design Team 2019
Illustrator is a legacy product with over 30 years. How does it feel to be a part of this incredible journey?

The beginning of Illustrator happened in 1985 the year that I was born! The first Illustrator version was launched in 1987. I don't know if it's destiny or what, that I was chosen to design the product as old as me. Freaky!
Any memorable moments that you had while working with these guys, any funny moments, quips?

I think my personal memorable moment would be working on my first feature when I joined the Illustrator team. I have used Illustrator before joining Adobe in a very different way. I picked it up on my own using just a few tools. I had heard about something called image trace and a few features and I just experimented that much. I did not really get into much detail because primarily I was a Photoshop user, from architecture days. The best part of Illustrator Is that because it's such an old product and it is a power packed product, when I joined the design team, it was like discovering something new about it every year and I think I felt the same with Photoshop also as a student, I could never say that I know Photoshop in and out.
I don't think anybody can say they know Photoshop in and out! ?

I felt the same for Illustrator also, although I know more about Illustrator now because I am designing it but it's again the same feeling that you could still discover something new in it every time. In a new feature or some requests when someone is asking us to fix something and I get intrigued "okay, where does this exist?" So, it's very enriching and gratifying at the same time. But I think my favorite moment would be, when the first feature that I worked on was shown on the Adobe Max keynote stage 2017 by my Senior Design Director to a global audience. Everyone says your first Adobe Max experience is always special, for me it was extra special because they showcased something I've worked on.
Meeting world famous graphic designers-illustrators from around the world in person like Erik Spiekermann, Aaron Draplin, Dan Stiles, Stefan Sagmeister, Tina Touli, John Maeda, etc is definitely a highlight of my exposure at Adobe that I'll be eternally thankful for.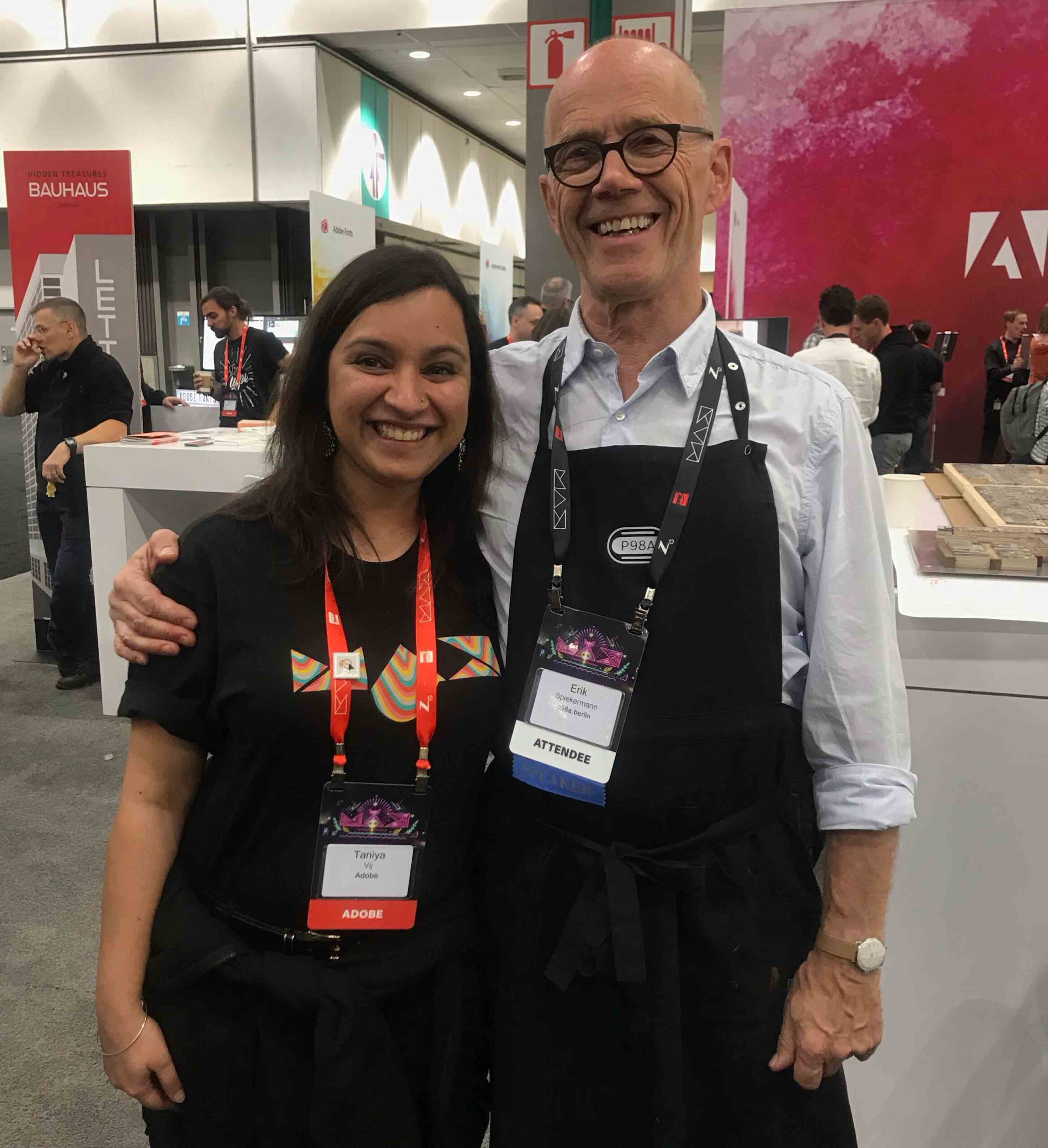 Taniya with Erik Spiekermann at Adobe MAX
When you go to Adobe MAX where you actually see people using your product or hear people talking about how they use your product, It's another level of what can I say? …gratifying or it's a different feeling altogether of all the hard work that we put into the product.
This time in 2019, I was standing in the line to get an autograph from Adam Kurtz and as soon as my number came he saw my Adobe badge and he asked "Oh, so where are you from? What do you work on adobe?" I said, "I'm a senior designer on Adobe Illustrator. His jaw dropped the people behind in the line, their jaw dropped.
I was blushing red because I did not know what I said that everyone was just staring at me. It humbling that they respect you in a different way because of the work that you put in a product like Illustrator via which they earn their living out of. So they see you in a very different light. I still fondly remember, there were people queued up to take autographs from my product managers during one of the Adobe MAX conference. They were like, "you don't know how much of an impact you create to our lives". This actually shakes you and makes you more conscious during decision making while designing for such a varied set of users.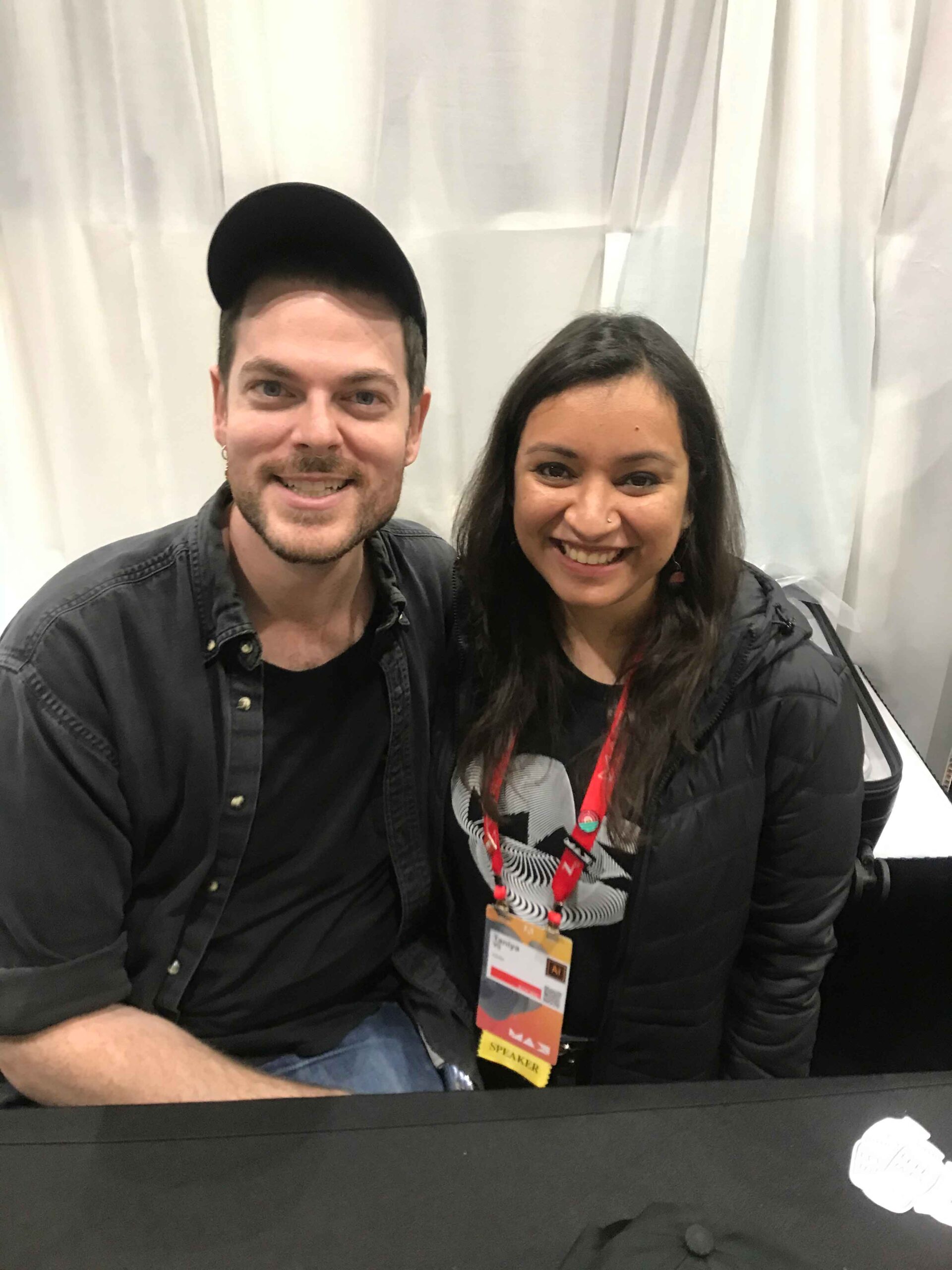 Taniya with Adam Kurtz at Adobe MAX
It's not only about whether you can solve a problem the best possible way, or whether we have enough time to develop multiple features, but in the end it's actually all about whether what we release is a good quality product. That sort of an ownership is a big deal. If a release goes bad well, then it's on all of us or if it goes good, then it's a celebration for all of us as a team. I see our product team as a close knit family , is passionate about the app and luckily we are all based out of the Noida office. So we work closely with each other. Yes, Adobe Illustrator application is completely designed and developed out of the India office.
I feel it's an honour because as a designer we're actually designing tools for other designers.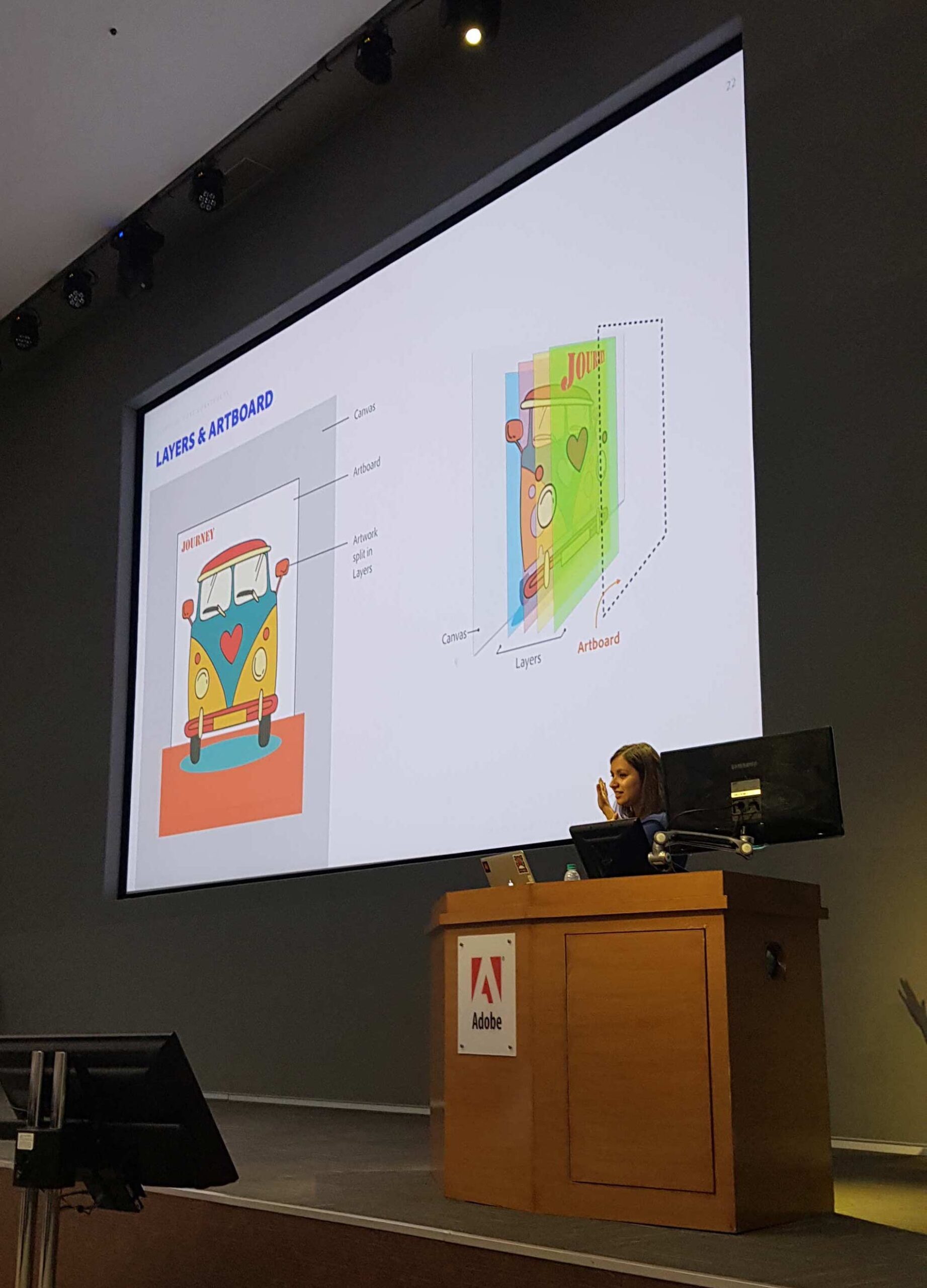 How does it feel for you as an artist or as a designer yourself and with your own set of arts and beliefs? Does being a part of such a crazy team give you time to be able to explore your own creative potential?

I have always been a very analog sort of a person. I still like to draw and sketch by hand. I doodle a lot of patterns and it's actually coming from my Master's time when I got introduced to Penrose tiling, Cairo tiling and all of these lovely concepts. This is where my passion for patterns began and that's how I work now. A lot of my colleagues and friends are doing a fantastic job in illustration work, in Illustrator as well as part-time, but for me, because I'm spending so much time on the laptop designing the tool, I end up switching off and doing something Analog at the end of the day, if I have downtime. Plus I've gotten into Pottery. That's something I do over the weekends and it's my way of meditating I guess. I lean more towards doing something tangible with handwork, away from mouse and keyboard.


I am one of those guys who enjoys seeing Indians in credits and your name has been there on 3 editions of adobe products. How does it feel?

If you were the kind of a student like I was in college, when I started using Photoshop. You remember the splash screen used to come when it was being loaded? and the names used to come in and you just wonder who these people, were? oh.. and then there were a couple of Indian names popping up…
That's how I am feeling now, of course the loading screen experience has changed. So now if you have to see the credits, you have to open Illustrator, go to 'about Illustrator'. It still feels unreal to me.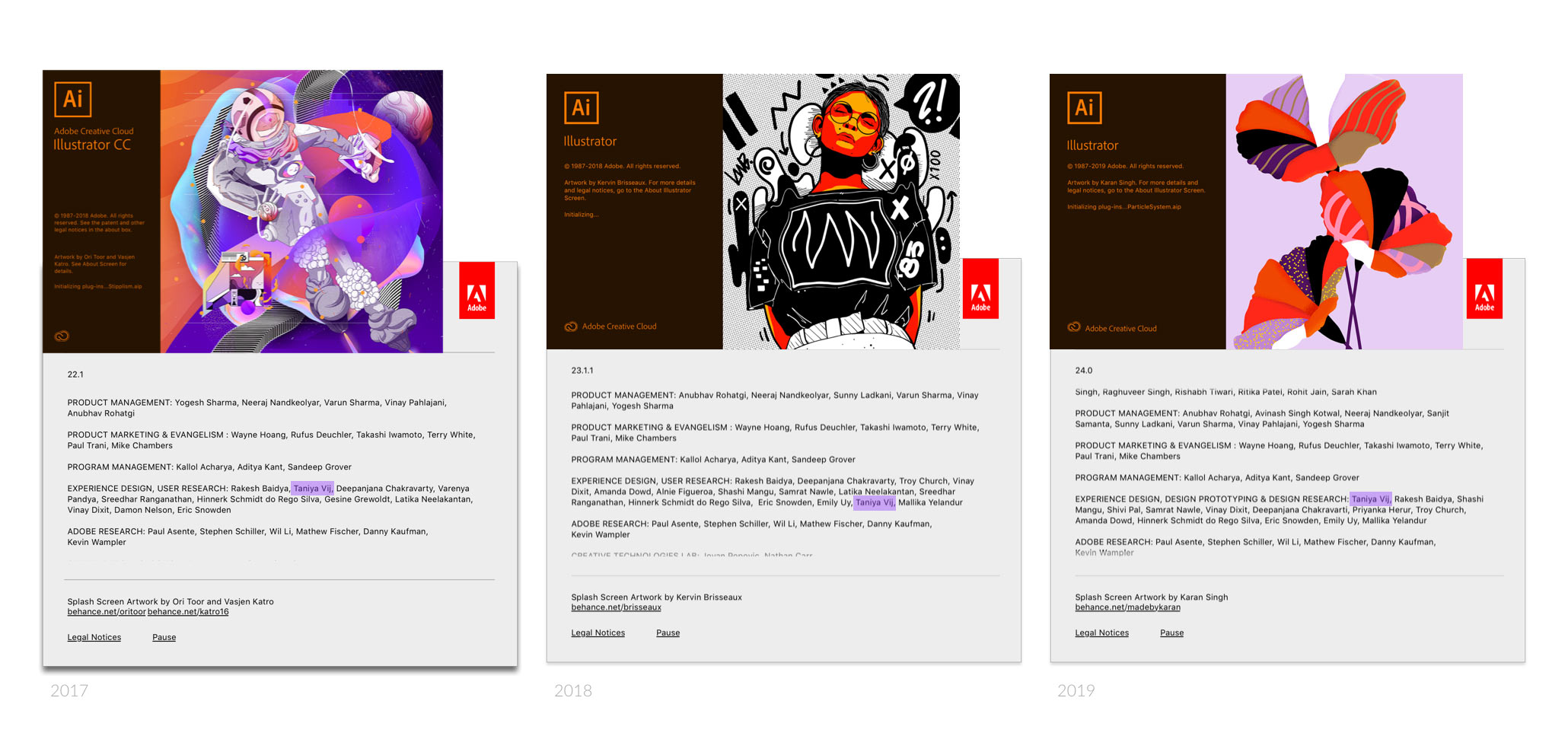 What's next for Illustrator?

The Illustrator on Ipad.
It's a newer experience it's not exactly a direct translation of the desktop application on iPad but we are modernizing a lot of core functionalities and capabilities of Illustrator for an iPad. We are planning to launch it in 2020 and hopefully, this time we would be doing 2 MAX events. One is in Europe in Lisbon sometime in June and our annual bigger MAX is in US during October. Things are moving faster now because of what we are planning this year. From a product, it's becoming like an ecosystem.
What advice would you like to give Young Artists, Illustrators or people in the design field?

I think they are doing a fantabulous job by breaking away from traditional boundaries of aesthetics. Believe in your craft and submerge yourself into it.
Five Indian designers you look upto?

Five..tough..take 6 atleast!
• Ranganath Krishnamani
• Orijit Sen
• Laurie Baker
• Thota Vaikuntam
• Amrita Sher-Gil
• Parul Zaveri
Five International designers you look upto?

• Van Gogh
• Escher
• Mallika Favre
• Santiago Calatrava
• Hayao Miyazaki
• Banksy
Why are you in Delhi? How much time do you spend travelling?

Yeah, I wanted to answer, like the daily delhi traffic drives me to be more creative and patient, to be honest… more than anything else (Laughs). With the state of affairs at the capital... I am spending three to four hours on road every day… minimum. Still Delhi is home for me. Even though I lived in different cities and countries, Delhi will always be my hometown.
It was great chatting with Taniya and we wish her the very best in her future endeavours and hope to see more stellar work going forward. You can reach her at: