Studio Kokaachi and the Art of the Titles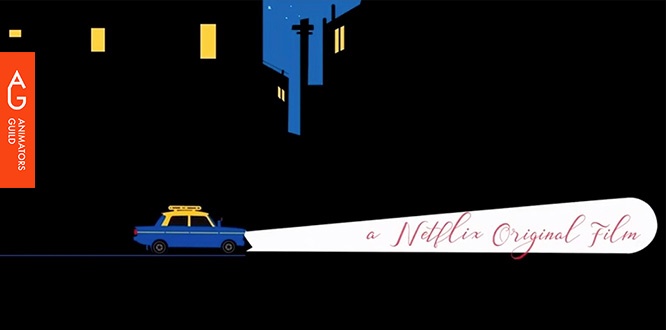 "For the average audience, the credits tell them there's only three minutes left to eat popcorn. I take this 'dead' period and try to do more than simply get rid of the names that filmgoers aren't interested in. I aim t set up the audience for what's coming; make them expectant."
- Saul Bass
The Art of the Title Sequence - is one art form that has been wholly neglected in the Indian film Industry. Most films, even the high budget Bollywood ones, never seem to bother with creating interesting titles. They are, more often than not, treated as an oversight - a last minute basic post-production exercise, that even the film makers themselves are trying to get over with as fast as possible. Sadly, an opportunity missed to engage with the audience.
But thankfully, one studio seems to have managed to successfully nudge the Industry to tell them how much fun can be had by putting some more thought in the titles themselves! Studio Kokaachi, currently based in Kochi - has been creating some wonderfully memorable title sequences combining their unique background of comic books, animation and their love for forms of story telling. Kokaachi has now worked with some massive regional hit features such as Mani Ratnam's OK Kanmani, Bollywood blockbuster Gully Boy and some original Netflix anthology features such as Lust Stories and Ghost Stories, to name a few. Today we are in conversation with Pratheek and Tina from Kokaachi.
AG: Who is Kokaachi? Tell us about what the word means and what you stand for.
Kokaachi: Kokaachi is Pratheek + Tina and our darling doggies – Dash, Bolt, Sox and Surumi.
Growing up in the foothills of the Western Ghats in Southern India, one of the first stories we were told was that of the Kokaachi – a monster who gobbled up little kids who were fussy at mealtimes. This imaginary monster was the character in the first story we've ever heard and years later, when we discovered that the Kokaachi are gentle creatures, we named our storytelling house after it.
At Kokaachi we tell original stories through graphic novels, comics, picture books and animation. We love to tell stories of real people and their real (and sometimes, fantastic) lives. We don't like to tell rehashes of Indian mythology and or typical tales of superheroes going out to save the world.
AG: From Manta Ray to Kokaachi - describe the shift from comics to videos and animation.
Kokaachi: In 2010, Pratheek co-founded Manta Ray comics with Dileep Cherian, where Tina moonlighted as a writer. Manta Ray was launched with the release of Hush, a silent graphic novella about child sexual abuse, written by Pratheek and illustrated by Rajiv Eipe. The first two volumes of Mixtape comics were also launched at Manta Ray. Apart from these in-house comics, we also had the privilege of creating The Small Picture. This was a weekly, full-page comic in the Mint newspaper and it ran for three consecutive years. Dileep was based in Dubai and Pratheek was in Bangalore, and over time, the long distance communication (or lack of) took a toll on the running of the company, so Manta Ray closed operations in Dec 2013.
However, we wanted to continue our journey in storytelling, and so we started Kokaachi in February 2014.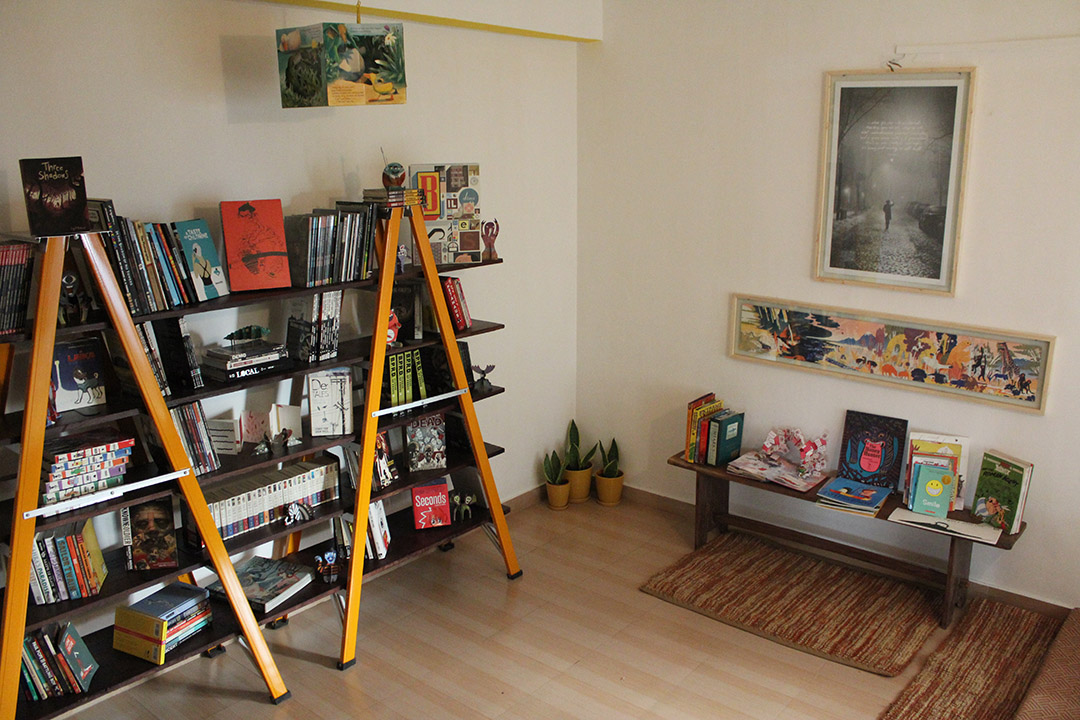 Gangster, a Malayalam movie directed by Aashiq Abu was our first animation project… and the project came to us via our comics. We had launched the second volume of Mixtape at Papaya café in Kochi, and Aashiqettan was a part of the Papaya team. He saw our comics at the event and reached out to us… at first, the idea was to create an animated trailer for the film… but it then grew into 13 minutes of 2D animation, including the climax action sequence. We collaborated with the erstwhile Dreamcatcher Studios to create these sequences. So, Gangster was the break into the realm of animation.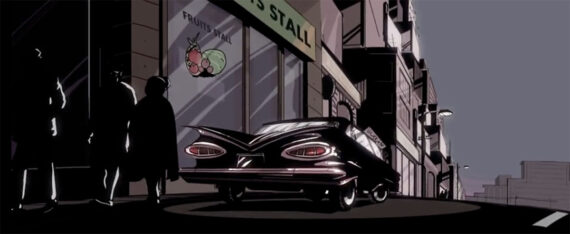 AG: You've worked on an animated chase-sequence for the Tamil feature film OK Kanmani. What was it like working with the great Mani Ratnam?
Kokaachi: We've looked up to Mani Ratnam since our school days… his films are amongst our all-time favourites… and never, in our wildest dreams did we imagine that we'd be sitting across a table with him, working on his film OK Kanmani, designing characters and worlds and storylines with him.
Pratheek worked closely with him on the scripting of the game in the film. The animation process commenced only after we got the game sequences script approved by Mani sir. Mani sir was closely involved in every stage the project – from concept to script to treatment styles, storyboards and animatics and of course, the final animation… and as is the case, some of these went through multiple iterations. It was exciting and exhausting but a huge learning for everyone who worked on OK Kanmani.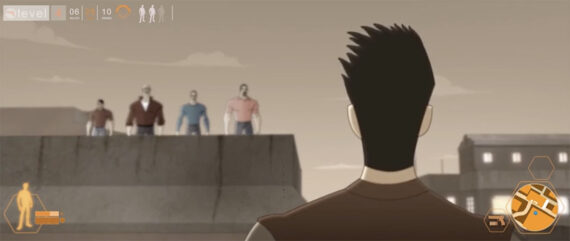 AG: In Gully Boy, you've deviated from your usual comic art / 2D animated style to create a typographical title sequence. Was that by choice?
Kokaachi: In Gully Boy, Zoya (Akhtar) didn't want animated or illustrated sequences; she wanted something simple and typography-based. After watching the film, we pitched four different treatments for titles – all of them were inspired by the world of the film. The Hindi-English sequence that you finally see in the film takes inspiration from Muraad's (Ranveer's character) lyrics, which are primarily in Hindi with a smattering of English.
We teamed up with our longtime friend and collaborator Prabha Mallya for the type design. She made a hand-written font using stencils and animated them for the English-Hindi transformation of the text.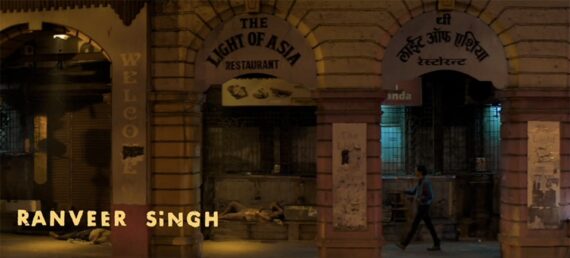 AG: The beautiful title sequence from Lust Stories seemed to be inspired by the famous Hollywood title sequences from the 1960's. What was the brief given? How was the experience of appeasing four directors instead of one?
Kokaachi: We'd previously worked with the production company Flying Unicorn Entertainment on Kaalakaandi. We had a completely open brief; in fact FUE wasn't even looking for a narrative in the titles. But we were keen on weaving together narrative strands from the four films, and when we pitched the idea, they loved it.
We had less than two weeks from pitch to the final animation, so we decided to go for a simple visual treatment. Actually, we didn't take inspiration from the 1960's title sequences, but from Mallika Favre's illustrations.
We didn't interact with any of the directors in Lust Stories; instead, we were working with Ashi Dua Sara (who heads FUE). I think the directors saw the title sequence only at the preview of the film.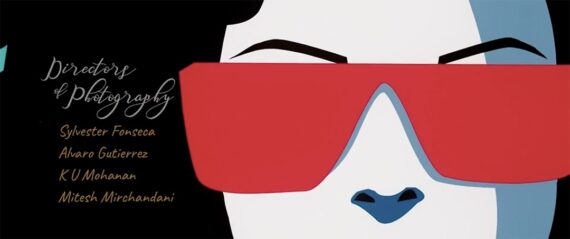 AG: Let's talk about the latest Ghost Stories title design. If we ever had to NOT 'judge a book by its cover' it would be for this one. The titles are so much better than the films themselves! You've taken elements from the various stories but stitched them up into a separate narrative of its own. Describe you creative process in coming up with the idea.
Our first concept was shot down as it mostly anchored on one film in the anthology and hinted at some of its secrets too. For the second concept, we went as far as possible from the films and came up with three completely new ghost stories - but sadly, that wasn't the approach Ashi was looking for. Thankfully, she liked our fifth idea - it had elements from all the four films and still was a narrative by itself too. For the treatment we took inspiration from campier, retro horror styles; the colours are more garish, the visuals are more lurid this time.
Our friend Mohith O did the film title and designed typography for the credits by hand. We'd initially thought of animating blood splatters within the typography elements but eventually decided against it.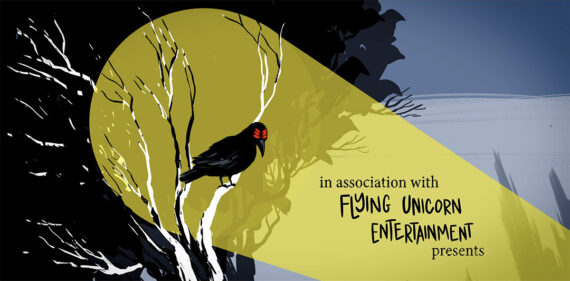 AG: What aspect of creating title designs do you enjoy the most? Describe your typical process of conceiving and directing each one and the time taken to create each.
Kokaachi: We are storytellers. So our primary focus in any project, is the narrative. We conceptualize the animation sequences, work on the narrative, share the script and treatment note with the filmmakers and get them approved before we hand it over to our team of animators. While we work on the narrative, we also pick reference visual styles and that would work for the narrative within the budget and timeline of the project.
Being storytellers (and not animators ourselves) the conceptualizing part excites us the most. Once we read the script/watch the film, we look for ways in which we can communicate the themes of the film through the titles… it could be through the characters and situations – like in Lust Stories or Ghost Stories or by alluding to the world of the film – like in Gully Boy. Figuring this out is our biggest joy… and of course, once the animation team comes in, it takes on a whole new life… and that's a different kind of joy altogether.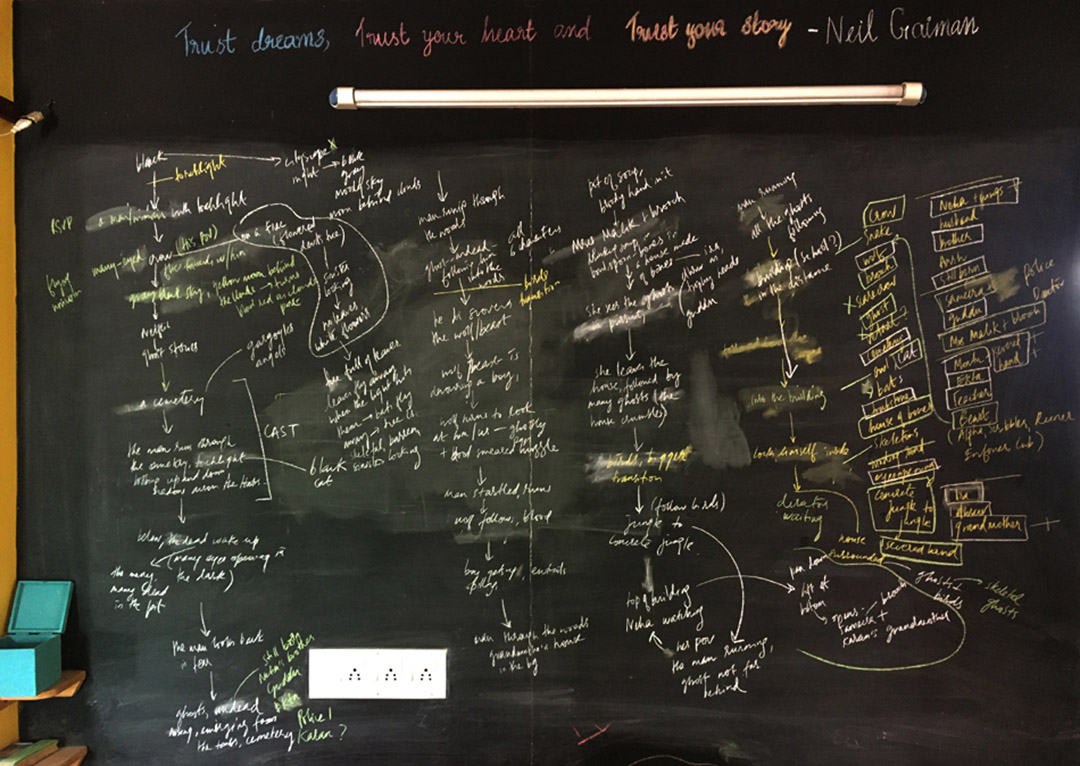 The Storytelling (Ghoststories)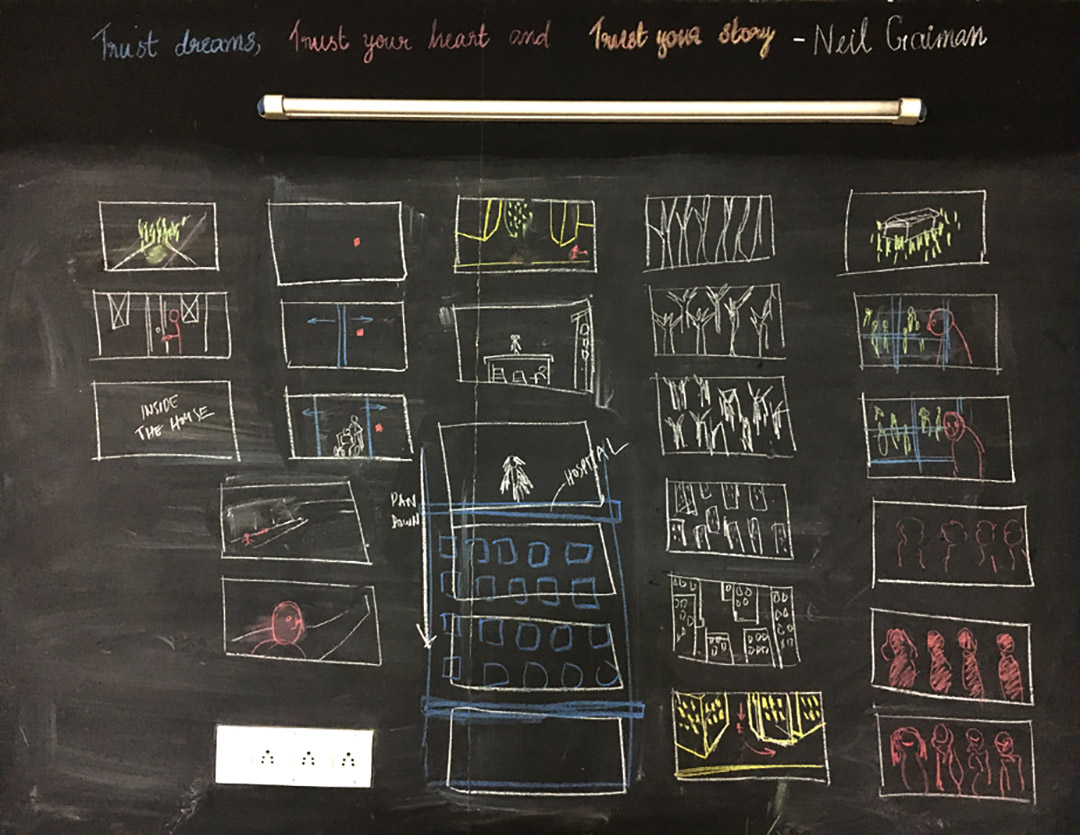 The Storyboards (Ghoststories)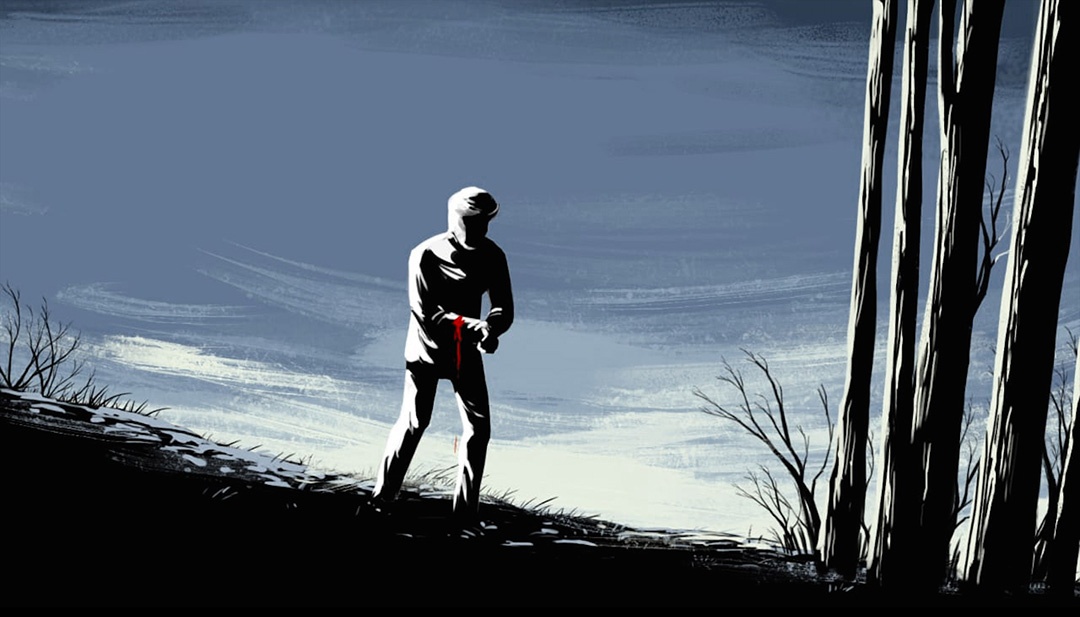 The Concept Art (Ghoststories)
The time taken for each project varies according to the duration of the sequence and the treatment style. OK Kanmani had both 2D and 3D animation segments and very limited time. So we collaborated with different animation studios and directed the sequences. For Lust Stories and Ghost Stories, we chose animation styles that could be executed within the project timeline and since the duration of these sequences were much shorter, we collaborated with a small team of freelance animators to create them.
AG: It's exciting to see you bringing focus back to the titles, here in India, where they were rarely explored earlier. What would be your one line of advice to other creators in this field?
Kokaachi: We are not sure if are the right people to give advice, we're still so nascent in the realm of storytelling and animation. The one thing that we have learnt is that we see the world in our own ways, so we bring our sensibilities and influences to everything we create. Each one of us has a unique perspective and approach to how we see the world and the things we like… So try and bring that to the stories your telling, to everything you're creating… only you can tell those kinds of stories and create these images or animation or whatever you're creating… And of course, never give up. Keep creating and making things and putting it out into the world.
AG: Let the readers get to know about Pratheek and Tina, the people behind Kokaachi a bit more. What makes you guys tick? What inspires you? Who are your favourite artists / illustrators / shows / films / food.
Kokaachi: We think it's the joy of telling stories, of making things up - that keeps us going. The characters we create, the worlds we build and put them in… this act of creating something that didn't exist before - that keeps us encouraged, inspired and alive.
We have been fortunate enough to work with some of the best artists and illustrators in the country. It would be impossible (and unfair?) to pick favourites from this long list. But amongst international creators, we love Miyazaki's films. We are big fans of the books by Nobrow Press and Enchanted Lion. Of the stuff we've seen recently, we loved the series Paatal Lok, Tales from the Loop, Unorthodox, Sex Education and the French movie Portrait of a Lady on Fire just blew us away.
We both love different kinds of foods. A glass of cold coffee can keep Pratheek charged through the day, a bowl of steaming, spicy Maggi is his comfort dinner and the Kerala spicy red fish curry with rice is his all-time favourite meal. Tina cannot start her day without her hot coffee and she can never say 'no' to prawns and cutlets.
AG: Would you care to comment on the current animation scene in India for our readers?
Kokaachi: We just LOVE what Ghost Animation is doing. They are real change makers in the Indian animation scene… their vision and drive to make amazing content is so inspiring and encouraging and exciting. We hosted the Kochi edition of their India tour, and we just loved the four films they brought out… and are eagerly looking forward to their new films.
These days, we discover the works of many young animators through Instagram. Off the top of our head, there's Anand Babu, Adithi Krishnadas, Balaram J, Debjyoti Saha, Kely… these guys are so good and it's such a joy to see their short animations.
We really hope that this is the decade when Indian animation grows out of its mythology baggage and tells the kind of original stories that the world hasn't ever seen before!
From L to R - Pratheek, Sox, Surumi, Tina, Dash (on Tina's lap) and Bolt.