The very conspicuous "Invisible Rabbit"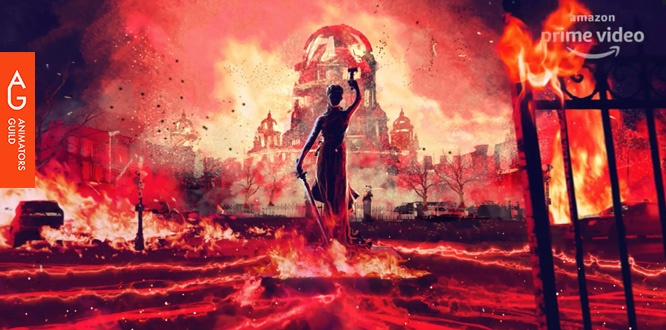 Started In 2009 this small studio has been making some big waves in the Indian film and television space. We recently got into conversation with their co-founder Nupur Bhargava on some of their recent projects.
AG: Why the name Invisible Rabbit?
NB: Alice in the wonderland had a white rabbit. I liked how Lewis Caroll started the whole story. Animation is the invisible magic that happens between two static frames and this was the inspiration for the name.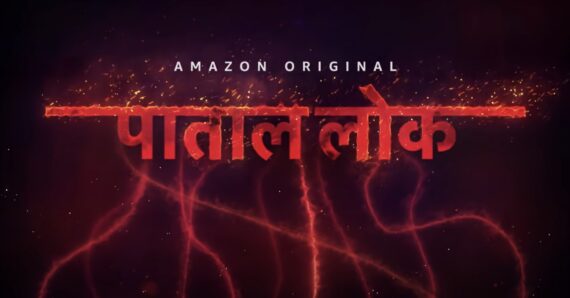 AG: We really liked the Pataal Lok title announcement promo. Tell us about it.
NB: We were contacted by the marketing agency Trigger Happy Entertainment to pitch for this Title announcement. We received a detailed brief about the show series story and it's Trailer along with some promotional creatives already in place for the show. Taking the essence of the show from it, we created our pitch.
We wanted to visually explore Pataal Lok creeping into the real "normal" world and turning it upside down. The two worlds become one. We symbolically also wanted to explore the fact that the Pataal is inside each one of us, not just outside. We tried to add symbols and icons that create deep impression in a short span of the promo.
Our pitch was incredibly detailed with mood board for color palette, styles, effects. We wanted a larger than life styling in composition to exaggerate the worlds. Promos always are "Chota package" which needs to "punch with big bold taste". Vishal Makhija from Trigger Happy got the script written that worked wonderfully for the visual pitch & idea.
We start the promo from a place of justice with symbol of fairness, Lady justice and created a visual shock by violating it with the deep molten liquid that turns it into its darkest. Taking cue from a main character from the series we continued with a media newsroom and changed it into a symbolic hell with Raava-nish man with multiple heads and the mikes turning guns towards the viewer. We tried to use symbolisms where we could as it remains in synch with the essence of the brilliant show. We moved on to an open fertile garden with common people in it, which becomes a death bed. The child's swing turns into a hanging rope through which we watch the entire city burn. The end is when both these worlds merge with a 180 degree camera turn forming the show name.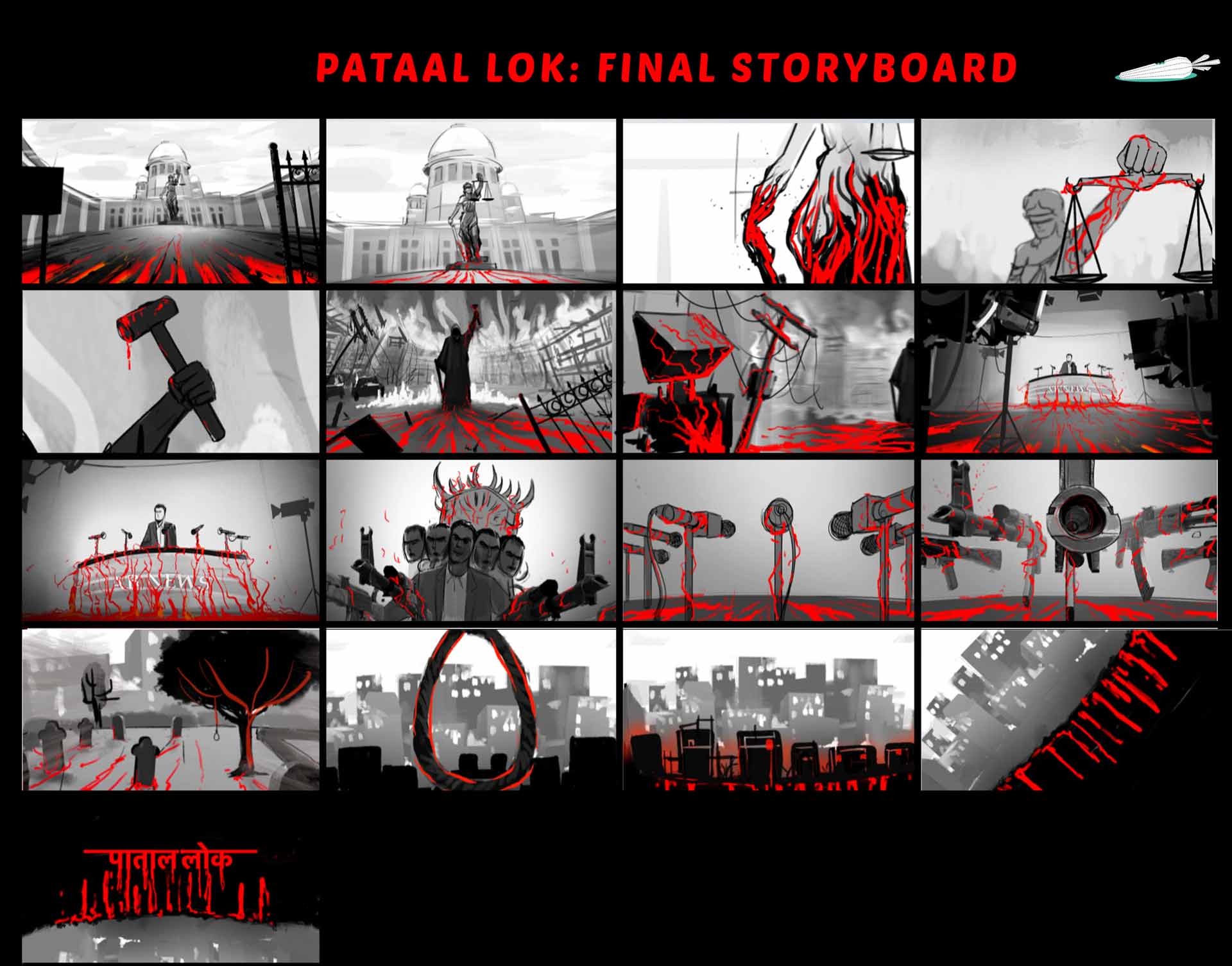 AG: Share with us the production process, thoughts and notes?
NB: In terms of colors and look more than blood red we explored the redness of the underground molten lava that burns the ground it spreads on. More than fire yellow which for me looks very
man made", we wanted to explore the Vibrant bluish red that signifies the underbelly and Indian mythology of "Pataal Lok". The red we choose has darkness associated but has a fantasy glow in it instead of the typical fiery yellow or bright red that feels more realistic.
In terms of compositions we really worked hard to create extremely stylized & exaggerated frames that feel like Graphic novels. We added foreshortening and lots of elements that help in create depth so that when we animate and move around these scenes become a more immersive experience.
We worked and reworked on the storyboard frames, ideas, and compositions before presenting the final storyboard. Once the storyboard and compositions were finalized, we worked on each background scene. We treated each Background as a piece of art before & after. We worked on several drafts till we got it perfect. It had to have several elements that move and animate, and we created hundreds of layers for each scene. Each element was created thinking about the impact and movement in mind.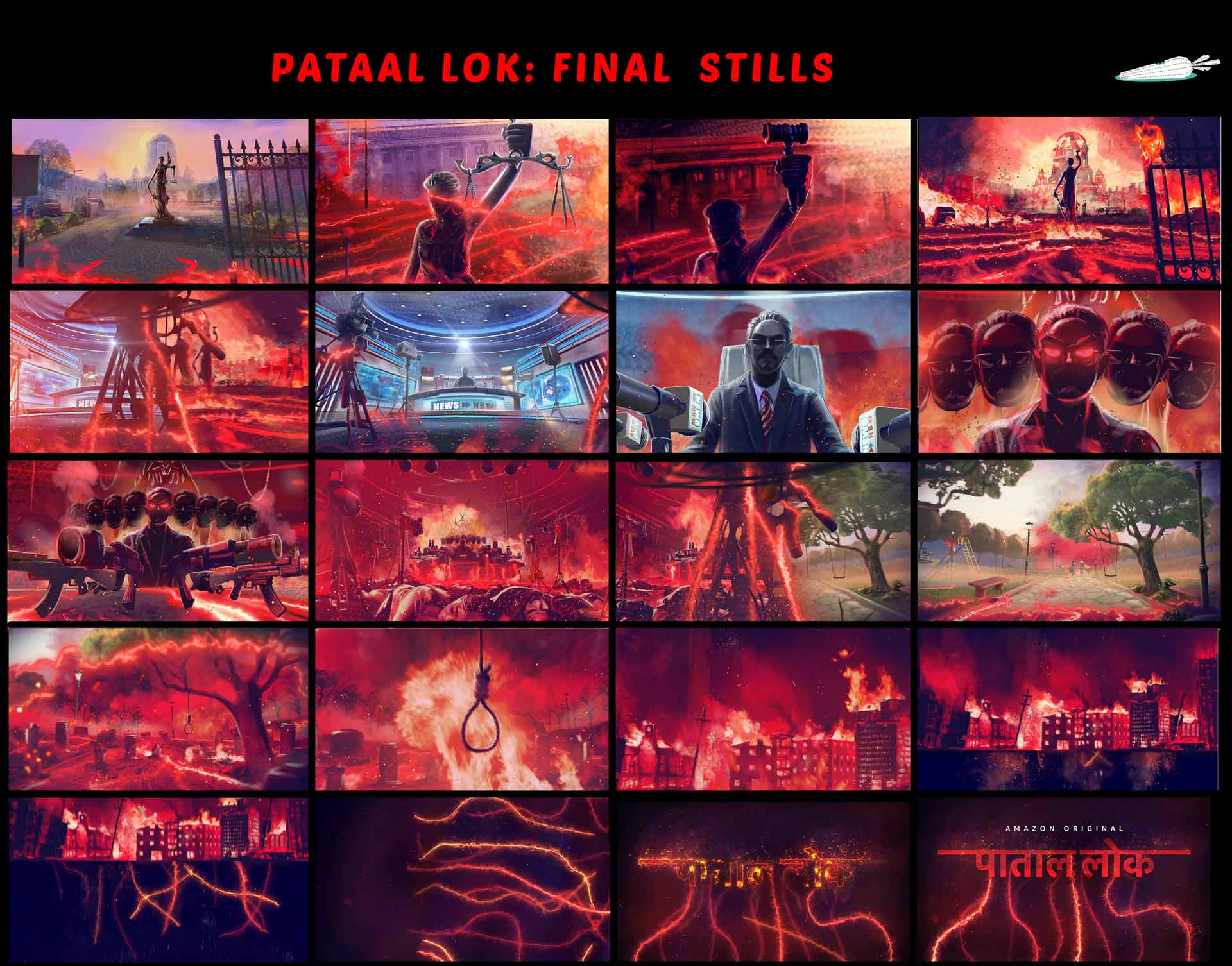 AG: How did you manage your time? What were the deadlines?
NB: The biggest challenge was creating this entire promo in the covid lockdown in 15 days. We were all new to this lockdown and everyone juggled with additional household & family responsibility with work on a tight schedule. We all supported one another, and I am proud of my team for being there and giving it their best.
I must add that there was a wonderful creative synergy, support & trust amongst Clean Slate Filmz Private Limited, Amazon Prime & Trigger Happy Entertainment that helped us create this promo.
We always try to create work that we can be proud of. No one will ever ask how much money, time we had for any project. Only the work stands in the testimony of time.
AG: How did you keep a positive outlook working through such a heavy and dark topic?
NB: That's an interesting question. I usually stay away from watching content that is Dark, Violent and horror in personal life. But I love exploring new styles, ideas and themes as a director and designer.
I loved exploring the darkness of the subject and the freedom it gave us visually. The red was never red enough and Dark was never dark enough! Art is always a creative extension of what we see around us.
In fact our latest project was also a genre I am personally scared off!!! We created 5 character teaser promos for Bulbbul, a supernatural thriller film on Netflix.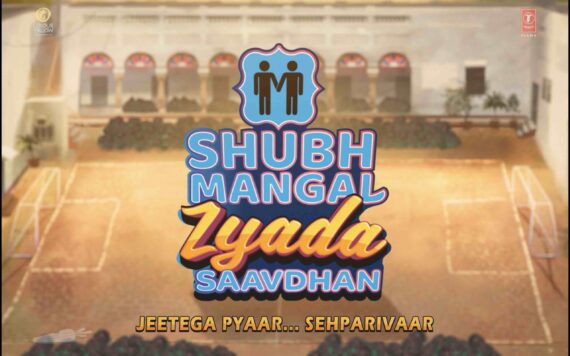 AG: Shubh Mangal Zyada Savadhan. The cast announcement promo is hilarious. Tell us more about the project.
NB: We had created a fun promo for features Shubh Mangal Saavdhan and Zero. When Shubh Mangaal Zyada Saavdhan was in production Aanand Rai asked me to create something fun again. I started with just creating head caricatures for all the cast members. Once the lineup of the caricatures were ready we brainstormed on how to best introduce them.
Hitesh Kewalya who is the writer and Director of the film, wrote the fun script for this Promo. The script was like a sports commentary which introduced each actor. Do note this promo happened before each actor's look was finalized and the film shoot had not begun. I started creating caricatures of full body and looks for each actor. I asked the costume designer Ankita Jha of the film to share her exploration on each actors styling. I explored the reccee images and we created the Haveli and its Aangan.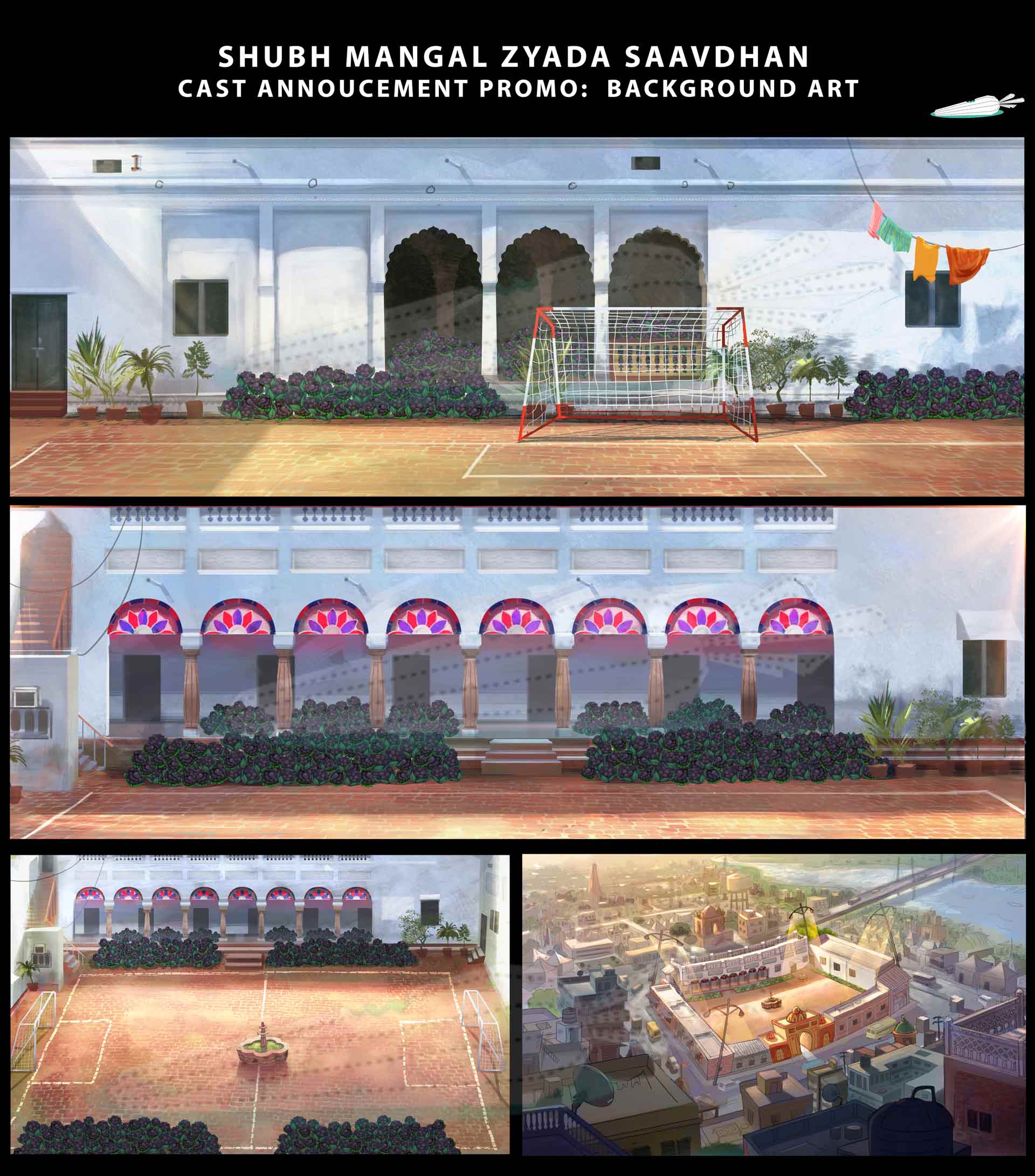 We followed a similar production process that would be required for a short film. We created the storyboard & animatic. We create expressions sheet and body angles that will be required and provided it to the animators. We created background angles as per the board.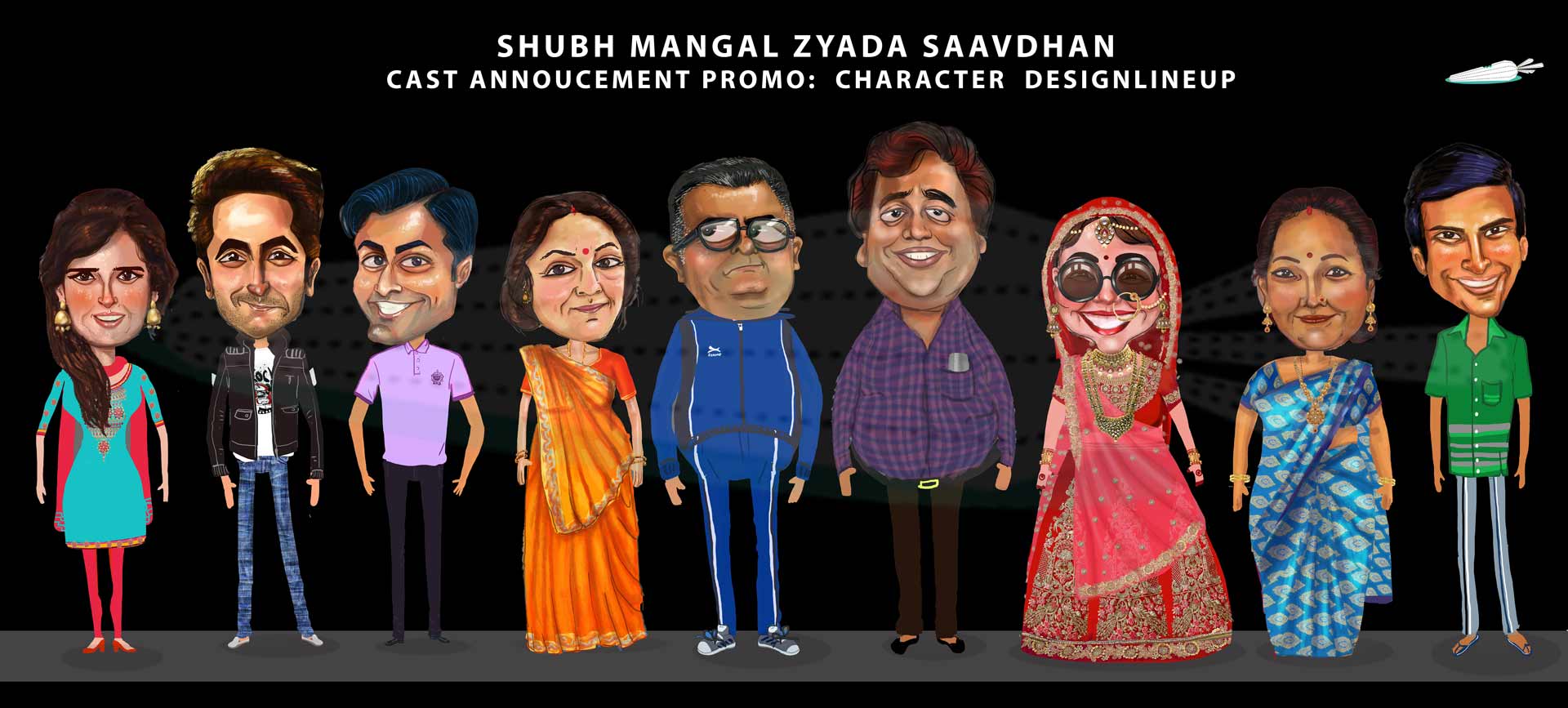 Maintaining the caricatured faces of the actors while animating them in a fast sporty action was a real challenge. One animator animated on flash which was a real challenge for him as our artwork had lots of layers created on photoshop and another animator used Aftereffects to animate. However, both proficient animators eventually managed to provide a seamless character performance. Animating the saree was a big challenge, there we took inspiration from the film, Fish and the monk By Michaël Dudok de Wit .The monk had a similar outfit saree/gown below and was animated fabulously . We created our own solution which did not look too cartoony.
Working with Aanadji and Shubh Mangal Zyada Saavdhan's team is always a pleasure. The creative freedom and respect you get as a creative is unmatched along with a real dose of honest feedback.
The promo script is very funny so we had a lot of laughs seeing our characters moving about. Having our friend and film Director Suresh Triveni giving his voice to this, added to its quirkiness.
AG: Your thoughts on the future, in the current covid scenario?
NB: Covid is a very unique situation. No one could have been prepared for this. I feel the learning is more personal than professional for me. We need to respect nature and fellow living beings if we want to be worthy of this unique planet.We need to consume less, share more. Waste less love more. I have become more active on my OOee.ma page on Instagram, a place that gives me most creative artist freedom. Where I create content that comes from my heart.
Work wise I have always remotely/digitally collaborated with artist/professionals/clients all across Mumbai and beyond for more than 10yrs now. In fact when I was one of the finalist at the British Council's Young Screen Entrepreneur Awards, 2011, I had shown my work model to the jury. Everyone was a litte skeptical about it because it is vastly different from the typical "Expand hire expand fire" model in the industry.
I prefer to keep my overheads to minimum and Invest my time and money in the best quality software, hardware and People. There by giving a wide range of design solutions to my clients and keep myself afloat from the fluctuating workflow.
Something I tell myself to motivate myself which maybe useful to others is , we need to value the work we get, give our best effort in it and when we have a lull period from work, we learn new things and keep creating. Time is tuff for everyone, but good work and good work ethics will never be out of style.
Also my son is my constant inspiration, a child's ability to learn, question and make a play from it is something we all can learn from.
"We're all mad here." ? ? With that quote from the moodily inconspicuous cheshire cat, I would like to thank Nupur and team Invisible Rabbit for their time and hope to see more exciting work from them soon. ☺️